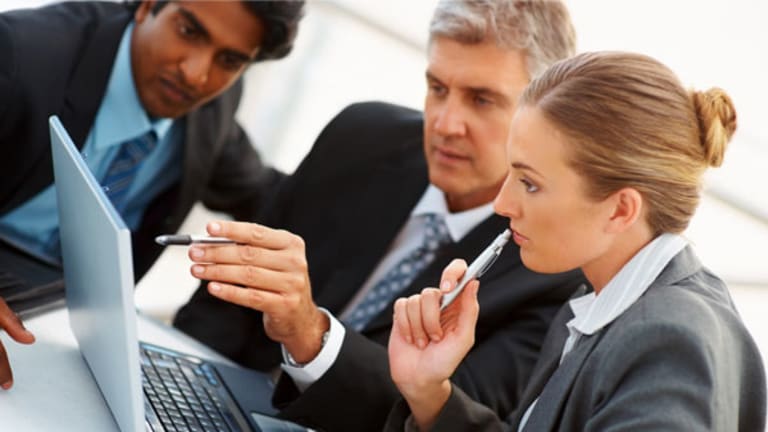 Bank of America Dumps Customers Over $5? -- Today's Outrage
Bank of America, losing money from merchants, makes its customers pay.
Bank of America, losing money from merchants, makes its customers pay.
BOSTON (TheStreet) -- Bank of America (BAC) - Get Report said Thursday it will begin charging customers $5 a month to use debit cards. Much like Netflix's (NFLX) - Get Report recent gaffe of hiking prices for a service people have come to expect -- without actually adding any value to the service -- Bank of America appears ready to throw away loyal customers over a paltry $60 a year.
The bank insists the move is necessary to make up for lost revenue as a result of new regulations. The Durbin amendment in the Dodd-Frank Act caps the amount of money banks can charge merchants for debit-card transactions.
As you probably know, when you use a credit card or debit card to pay for a dinner out on the town, a new TV or a cup of coffee, the issuing bank keeps a small share of the transaction -- not unlike Ticketmaster's "convenience fee," but far less egregious. That's why credit card companies offer reward points: They're skimming 2% to 3% of every sale, so those kickbacks are really coming to you courtesy of your local restaurant,
Best Buy
(BBY) - Get Report
or
Dunkin' Donuts
(DNKN) - Get Report
.
Because of the new regulations, banks are now limited to charging merchants a maximum of 21 cents per transaction, plus 0.05% of the sale, on debit cards.
>>
Poll: Will You Leave Bank of America Over Debit-Card Fee?
This helps retailers small and large -- witness furniture superstore
Ikea
, which now offers some customers a 1% store credit when they use a debit card instead of a credit card -- but obviously cuts into a revenue stream that banks had grown accustomed to. And Bank of America isn't the only bank taking this step:
Wells Fargo
(WFC) - Get Report
and
JPMorgan Chase
(JPM) - Get Report
are experimenting with the idea as well.
Still, really? I've been a more-or-less satisfied Bank of America customer for years -- which I figure is as good as you can hope for when dealing with a massive financial institution -- and because of its "Keep the Change" program, I've been conditioned to use my debit card to pay for just about everything: coffee, lunch, gas, clothes, groceries -- you name it.
Wall Street has worked hard to persuade us to use debit cards instead of cash. In a series of
Visa
(V) - Get Report
ads, out-of-it customers who pay with cash throw a monkey wrench into the well-oiled cogs of commerce:
Now they're telling us we're a drain on their finances? Because of a habit they helped create?
I've jumped through Bank of America's direct-deposit and minimum-balance hoops, and I even keep a decent chunk of savings languishing in my account to avoid their fees, even though it's earning next to nothing in interest.
Between my rampant debit card use and the nearly interest-free loans they're able to make with my money, they've been banking on me for several years.
And, now, they're willing to throw all that away over an extra $5 a month? Because, let's face it: If they start reaping a $5 fee from me for something I can do elsewhere for free, I'm gone. Done. I've left plenty of banks over smaller transgressions. There are local banks, and online-only options like
ING Direct
(ING) - Get Report
, which will happily accept my reliable 21 cents or more a day as I swipe my way across town. (Thank you, competitive free market.)
The only other explanation I can think of is that Bank of America is trying to spark enough public backlash that lawmakers are forced to change the bill. It seems unlikely, but if BofA is bluffing, I'd consider sticking with them.
But if not? Count me out.
--Written by Jon Gorey in Boston.
Readers Also Like:
>>
Private Equity Ready to Buy and Flip Small Banks
>>