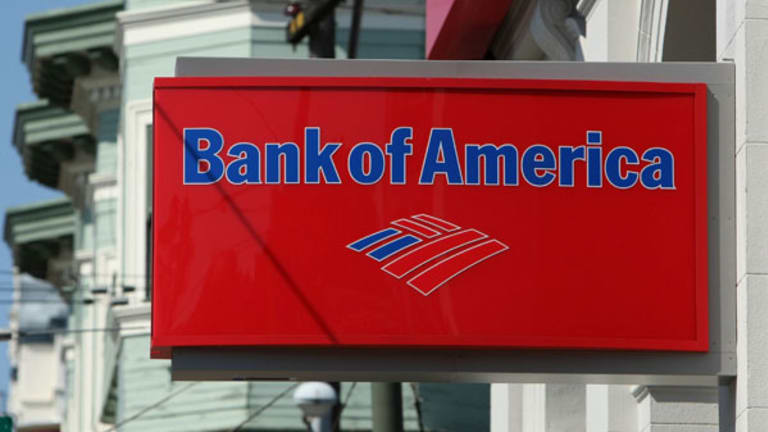 Bank of America Disappoints Now but You Just Wait
Thanks to its $4 billion capital miscalculation BAC shares are in bargain basement territory for buyers.
NEW YORK (TheStreet) -- The CEO of Bank of America (BAC) - Get Bank of America Corp Report is likely still recuperating from the company's annual meeting on May 7. Brian Moynihan had to face nearly 200 people and explain the discovery of a $4 billion error in calculating the company's capital.
The mistake, undetected for several years, forced the bank to announce it actually had $4 billion less capital than originally reported. Although not catastrophic, an error of that size adds mistrust about the company's internal accounting.
It also made the bank's shares a bargain.
After Bank of America reported the error to the Federal Reserve it was required to suspend an approved  share buyback and a planned 4 cents increase in its quarterly dividend. Since the March 21 52-week high of $18.03, shares of BAC have cratered more than 20% to a low of $14.39 on May 15.
Shares closed Thursday at $14.55, down nearly 7% for the year to date.
If the Fed is satisfied with the bank's solutions, it will likely be allowed to increase its dividend -- though Bank of America officials indicated at the annual meeting they expected the distributions to be less than originally announced.
If you're considering the stock, this $4 billion embarrassment helped depress the share price into the bargain basement, in my opinion. The 52-week low of $12.13 back in July 2013 is another 16% below. Although I don't expect the stock to fall that much it is possible.
Bear in mind that the three biggest individual shareholders of the company are the CEO, the Chief Financial Officer and the Co-Chief Operating Officer Thomas Montag. Between the three they own or control more than two million shares of BAC, according to the latest filings.
"With my entire net worth in this company...my interests are completely aligned with yours," Moynihan told shareholders at the annual meeting. This is one reason I anticipate management at Bank of America will work hard to demonstrate the behemoth bank isn't too big to manage.

Bank America and the other five largest commercial banks increased lending to businesses in the first quarter of 2014 by over 8%, according to my research. I've been heartened to learn that banks are loosening their lending standards to commercial borrowers to offset the big declines in mortgage lending and refinancing.
Let's look at a one-year chart of Bank of America that not only examines the stock's price but illustrates two key financial statistics that are important to its turnaround.

The orange quarterly revenue line is headed in a very positive direction. The trailing 12-month (TTM) operating margin turned south in the first quarter of 2014, but I expect it will stabilize as BAC increases both its commercial lines of credit and loan activities.
As of the most recent quarter, Bank of America's stock was trading with a price-to-book ratio of about 0.72 and a price-to-earnings-to growth (PEG) ratio of only 0.83, according to numbers provided by Yahoo! Finance. These numbers suggest shares of BAC are undervalued.
Now is the time to consider accumulating BAC, which I believe will rebound to $20 within a year.
At the time of publication the author had no position in any of the stocks mentioned.
This article represents the opinion of a contributor and not necessarily that of TheStreet or its editorial staff.
>>Read more: Geithner's Most Candid Crisis Moments as Told to Jim Cramer
>>Read more: Buffett's Berkshire Builds Verizon Stake, No IBM Buying Spree
Marc Courtenay is the founder and owner of Advanced Investor Technologies, LLC, as well as the publisher and editor of www.ChecktheMarkets.com.