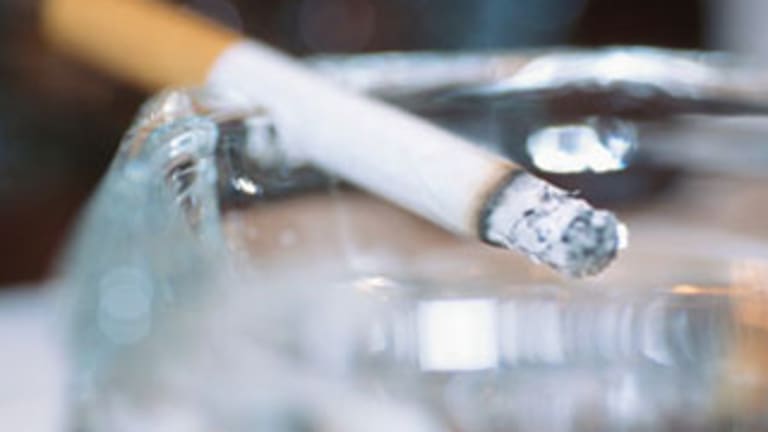 Bank Mortgage Solution Rooted in Tobacco Settlement
An attorney suggests a way forward for the U.S. economy, with President Obama brokering a settlement of mortgage problems between the banking industry, regulators, local governments and investors.
NEW YORK (
) -- With so many stakeholders in a potential mortgage settlement, it would take a big silver bullet to satisfy everyone.
According to Frank Mayer III, a partner in the Financial Services Practice Group of Pepper Hamilton LLP, in Philadelphia, the multibillion settlement between 46 states, the federal government and the tobacco industry in 1998 can serve as a model for a national settlement of several mortgage-related problems.
Many of the banking industry's legal problems could go up in smoke.
Under the Tobacco Master Settlement Agreement, participating tobacco manufacturers agreed to pay at least $206 billion, including nearly $196 million paid to the states over a 25-year period, and roughly $10 billion to various special funds set up as part of the agreement.
The agreement settled litigation against the tobacco industry brought by over 40 states, after the industry's decades-long argument that its products weren't harmful, was no longer tenable.
"The macro settlement is important for the country," says Mayer, who cited the tobacco settlement as a model, since there would be so many interested parties in any mortgage settlement.
Mortgage stakeholders include investors making putback claims against large mortgage lenders, including
Bank of America
(BAC) - Get Free Report
,
JPMorgan Chase
(JPM) - Get Free Report
,
Wells Fargo
(WFC) - Get Free Report
, and
Citigroup
(C) - Get Free Report
; federal and state regulators who have taken action on mortgage servicing and foreclosures; and local county governments that "have lost millions and millions from lost recording fees, every time a mortgage is assigned through a securitization process," according to Mayer.
Just considering the thousands of counties that may have lost document recording revenue when mortgages were assigned by lenders -- with borrowers agreeing when they signed loan documents -- to Mortgage Electronic Registration Systems, or MERS, shows how complicated a potential settlement will be.
Mayer cites the local angle when making the analogy to the 1998 tobacco settlement between 46 states and four large tobacco companies, since in that settlement, the parties were "dealing with economic and health issues, including Medicare and Medicaid."
Illustrating the mortgage settlement complications are challenges to Bank of America's attempt to settle mortgage putback claims against Countrywide, which it acquired in 2008. After
trying to block the bank's $8.5 billion Countrywide settlement
with institutional investors -- announced in June -- New York State Attorney General Eric Schneiderman was later
between the panel representing the 50 states in settlement negotiations with large mortgage industry players.
The White House has announced that President Obama will outline major job creating proposals right after Labor Day, and there is some expectation that the president will also make a major address related to settling the mortgage mess.
Among the myriad complications to a settlement will be the "absolute open issue," according to Mayer, of the assignments of mortgage rights to MERS, which was considered essential to streamlining the mortgage securitization process. With so many lawsuits on behalf of foreclosed-upon borrowers against MERS tying up state and federal courts, "you have a threat to the securitization industry," which is also "a threat to credit access for consumers."
County governments' efforts to recover millions of dollars in lost revenue for recording fees, which "MERS should have paid, but never did," according to Mayer, will also need to be addressed.
The "MERS problem can be tied into the securitization problem," according to Mayer.
As part of a macro foreclosure, loan origination, servicing and MERS settlement, the president may "suggest that government sponsored enterprises use tools arranged for directly or indirectly by the administration and Congress to encourage and facilitate" mortgage refinances to current, lower rates, with "match funding coming ultimately from mortgage banking industry settlement funds and as approved by congress to resolve bondholders' constitutional claims," since the bondholders would be losing their contracts.
Mayer says "the government has to do something to address this housing issue" and that government-sponsored mortgage giant
Fannie Mae
(FNMA)
is working on a policy "to be more flexible on loan to value ratio issues."
--
Written by Philip van Doorn in Jupiter, Fla.
To contact the writer, click here:
.
Readers Also Like:
Soros Makes Wholesale Changes to Fund
Paulson's 10 Best New Investment Ideas
Philip W. van Doorn is a member of TheStreet's banking and finance team, commenting on industry and regulatory trends. He previously served as the senior analyst for TheStreet.com Ratings, responsible for assigning financial strength ratings to banks and savings and loan institutions. Mr. van Doorn previously served as a loan operations officer at Riverside National Bank in Fort Pierce, Fla., and as a credit analyst at the Federal Home Loan Bank of New York, where he monitored banks in New York, New Jersey and Puerto Rico. Mr. van Doorn has additional experience in the mutual fund and computer software industries. He holds a bachelor of science in business administration from Long Island University.