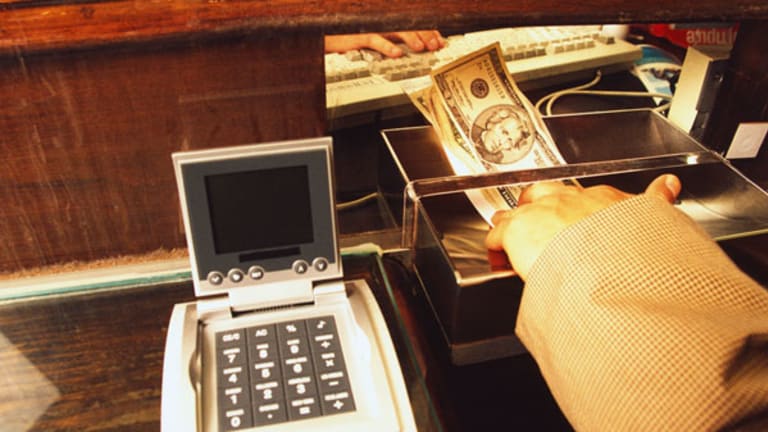 Bank Branches Still Lure Consumers, Despite Alternatives
The convenience of mobile banking isn't enough to bring a sea change to consumers' banking habits. It turns out that most consumers still prefer antiquated brick-and-mortar branches.
NEW YORK ( TheStreet) -- Despite the convenience of mobile banking, most consumers still rely on antiquated brick-and-mortar branches, according to a survey released by RateWatch, a banking data and analytics service owned by TheStreet.
Of the roughly 550 financial institutions surveyed by RateWatch, here is how customers at these institutions banked:

62% of banks say customers used branches as their primary banking method.
29% say the Web is customers' most-used banking channel.
1.6% say customers rely on mobile devices for their banking.
Must Read:
5 Money Lessons You Can Learn From Watching Your Favorite Holiday Movies
"Consumers have tiered needs at banks," said Wedbush Securities analyst Gil Luria in an interview with TheStreet. "If I have one check that's very easy to read, I'll deposit it on my phone. If I have a stack of them, I'll go to the ATM, but if a check has a problem or I need cash back in hundreds or a cashier's check, I'll go to the branch."
The survey found that 82% of banks offered mobile banking, yet people still turned to their branch location for more complicated banking services that can't be done on a smartphone.
"Mobile only does a certain number of things like checking balances and paying bills, but at a branch you can open an account or take [out] a loan," Luria added. "The branch offers the full set of services, while the phone offers the most common services that don't require a physical presence."
Despite the flexibility of mobile banking, only 13% of respondents said they had deposited a check using their smartphone over the past year, according to an August 2014 annual survey of 1,000 consumers from the American Bankers Association.
" People are still suspicious of doing finances over apps or phones, so for larger checks or transactions, consumers are more inclined to use a branch, since there is more security there," Luria said.
Aside from the services, branch locations play a role in attracting customers. "Customers pick banks based on the branches they see near their home or office, even if they intend to do all their banking online and have no plans of stepping into that branch," Luria noted. 
Must Read:
6 No-Brainer Tax Moves You Absolutely Want to Make by Dec. 31
-Written by Scott Gamm in New York.
Follow @ScottGamm.