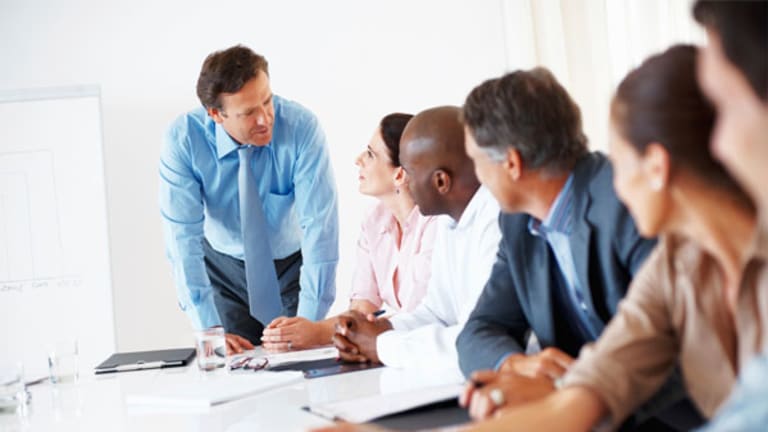 Ban Robo-Trading? That's so 1980s
Knight Trading was just the most recent incarnation of an old problem plaguing the stock market.
Knight Trading was just the most recent incarnation of an old problem plaguing the stock market.
NEW YORK (TheStreet) -- It's taking up a lot of headline space, but this business about out-of-control computers messing up the financial markets is nothing new.
Neither is the inability of regulators to stay ahead of what's happening at places like
Knight Capital Group
(KCG)
or Bats Global Markets, both of which have shocked markets after suffering computer glitches this year.
I started thinking about just how long we've been agitating over the role of Wall Street computers that trade on autopilot while reading obituaries last week of John J. Phelan, Jr., the former CEO of the New York Stock Exchange who died on Aug. 4.
Phelan was considered both a hero and a goat for having pushed the NYSE to invest hundreds of millions of dollars in technology in the 1980s. His fans loved him for saving an exchange that risked becoming extinct. His detractors panned him for busting the human-run trading monopoly on the exchange floor -- the collection of people known as specialists.
The technology of Phelan's time looks like the abacus compared to today's trading. There have, however, been constants over the years. Regulators are always playing catch-up with the creations of Wall Street's geeks. Then, as now, market meltdowns result in the same demands to rein in technology, whether it be the program trading of 1987 (the late Louis Rukeyser suggested it be abolished) or the high-frequency trading of 2012 (the blogger Felix Salmon wrote Aug. 6 that we should give it "the funeral it deserves.").
Phelan lobbied to get the luddites at the exchange to agree to pay the tab for computers that would take them into the modern world, but he had no delusions that technology would mean a walk in the park. The stock market crashed on Oct. 19, 1987, with the
Dow Jones industrial Average
losing 508 points, or 22%, in one day.
Sounding warnings, months before, that program trading could lead to a meltdown like that was Phelan himself.
I sat down with Phelan in his 11 Wall Street office 10 days after the 1987 event known as "Black Monday." He was a cool customer with a poker face and a dearth of chit-chat, though he did allow that he'd "leaned" on his wife, Joyce, in the stressful days since the crash.
As if it hadn't already been clear that these were extraordinary times, Phelan told me he'd picked up his ringing home telephone on the previous Saturday to be greeted by then-president Ronald Reagan, who was checking in about the crisis.
Dealing with a 22% decline on a 600-million-share trading day -- a record back then -- had similarities to the disasters he sometimes confronted as an avid gardener, Phelan told me. "Just when everything looks perfect, you get a blight or fungus or bugs," he said in the interview he granted me for a story in
USA Today
.
"Bugs" is an apt description of today's problems. A software malfunction at Knight triggered crazy price swings in dozens of stocks on Aug. 1, and sent the firm to the brink of collapse after $440 million in losses. Problems at
Nasdaq
botched the initial public offering of
Facebook
(FB) - Get Report
on May 18.
Bats Global Markets withdrew its initial public offering in March after problems with its trading system set off erratic losses in some stocks it traded. And who can forget the May 6, 2010, "Flash Crash" in which the Dow plunged almost 1,000 points in minutes?
The mounting examples of market failure have led to talk about there being too much speed in the markets. "I think the only way to stop this arms race is through regulation that forces delay onto the markets," said Frank Partnoy, author of the recently released "Wait: The Art and Science of Delay."
It is a sensible idea, but not a new one in the 25-year debate over how to keep computerized trading in check. Two years after Black Monday, the Dow lost 6.9% on Friday, Oct. 13, 1989, in a rout attributed in part to program trading. "We've got to find some way to slow those things down," Phelan said that weekend.
We have, to some degree. There are circuit breakers that kick in if a stock moves sharply in a five-minute period, for example. But circuit breakers don't address whether computers trading in fractions of seconds can trade ahead of customer orders to buy or sell.
That's not a new worry, either. In an interview in November 1989, Phelan told me he was very concerned about "self-front running" where firms engaged in index arbitrage trade ahead of imminent trades for customers.
We can save taxpayers the expense of the inevitable studies. There's a good one that already lays out many of the same automated trading problems we're experiencing today, and it was published in 1990.
The independent Office of Technology Assessment, which was subsequently done away with by Republicans looking for budget cuts, published a 200-page report that outlined the public's anxiety over volatility, market fraud and manipulation, and the increasing odds of a derivatives-related crash that could put the financial system at risk.
The OTA report also detailed how ridiculous -- my word -- it is to have a Securities and Exchange Commission and a Commodity Futures Trading Commission in charge of different aspects of the derivatives market. A divided regulatory structure can hinder enforcement efforts, the report said, describing relations between the two agencies as ranging "from cordial cooperation to polite teeth-gritting."
Before anyone draws the conclusion that it's time to return to the good old days of specialists on an exchange floor, let's be clear that the specialist system wasn't exactly breeding altar boys. The SEC and NYSE brought enforcement actions against five specialist firms that paid $241 million in penalties and disgorgement in 2004 for executing orders for their own accounts ahead of the public.
At least there were actual people to fine or bar from the industry in that case. With computers making more and more trading decisions, the inevitable brokerage firm cop-out will be to dismiss the madness that computers cause as the by-product of a glitch that couldn't be helped.
Smart regulators, if only we had some, will be ready with punishments to make humans accountable when their machines wreak havoc in the markets.
Susan Antilla is a freelance financial writer and columnist at Bloomberg View.
This article is commentary by an independent contributor, separate from TheStreet's regular news coverage.