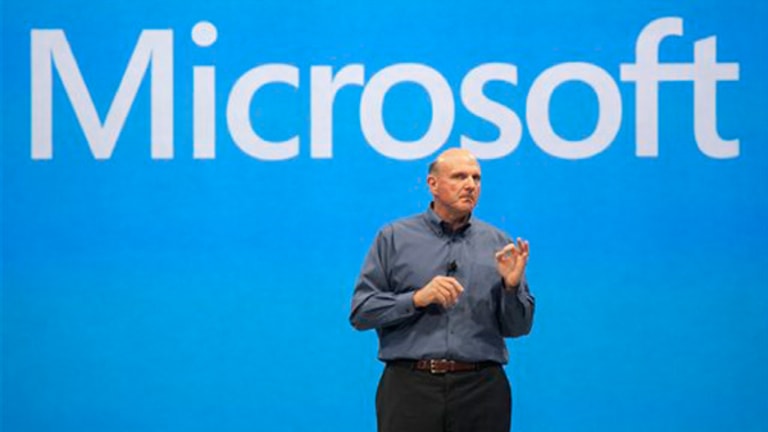 Ballmer Will Drive Microsoft to Its Death
Steve Ballmer thinks things are "great" as Microsoft shifts to a holistic approach with more devices ... again.
Steve Ballmer thinks things are "great" as Microsoft shifts to a holistic approach with more devices ... again.
NEW YORK (TheStreet) -- With Steve Ballmer's reorganization of Microsoft (MSFT) - Get Reportnow public, it's probably appropriate to, uncharacteristically, give the wild man some credit.
it's brilliant that he wrote:
We will see our product line holistically, not as a set of islands
.
That's been a gripe of mine for quite some time
. And, while Microsoft's rah-rah memos have triggered some enthusiasm, this is not the first time we have heard Ballmer speak of synergy:
Firmly establishing one platform, Windows, across the PC, tablet, phone, server and cloud to drive a thriving ecosystem of developers, unify the cross-device user experience and increase agility when bringing new advancements to market.
That's from the company's
2012 annual report
to shareholders.
So this is nothing new. This reorganization and refocus, while official, worthy of press releases and the subsequent regurgitation by the tech and financial media, is nothing new. Microsoft still needs to show it can execute. There's no evidence it can.
On the hardware side, you can point to nothing other than Xbox. A product most of the public -- and it appears, until recently -- Ballmer didn't even know Microsoft makes. That's Microsoft's only hardware home run.
You certainly can't call the Surface tablet a hit. (Heck, according to
, Microsoft is already set to reduce the price of the Surface RT). And Microsoft still hasn't told us how it's going to extricate itself from the standard third-party produced laptop and desktop. All of this comes on the same day as, yet again,
.
Ballmer mentioned the words "device" or "devices" umpteen times in Thursday's memo. If Microsoft intends to focus on "devices" it better up its game or find a partner willing and able to produce "devices" people, en masse, actually want to buy.
While it's certainly brighter, it doesn't look much better on the software and services side.
Consider this conjecture -- companies such as
Google
(GOOG) - Get Report
continue to see success giving away the stuff individuals and business currently pay Microsoft for. Things like
Word
. Maybe
Apple
(AAPL) - Get Report
ups its game, improving the quality of
Pages
,
Numbers
and
Keynote
to remove one of the few obstacles -- outside of price -- that keep PC users from making the switch to Mac.
But, beyond that, the future does not lie in software for Microsoft or, for that matter, Apple. With the emergence of Google and a zillion apps that help us do everything under the sun (from
Evernote
to
Waze
), there's no reason for anybody -- the rank and file, students and the enterprise -- to pay a dime to purchase or license software. Even if Microsoft can keep Office on the radar, it's not going to be the cash cow it has been historically.
And that's Microsoft's problem ... a problem of arrogance. The company remains a powerhouse from a balance sheet perspective. Loads of cash. A seemingly never-ending supply. I can only think that's the reason why, in his memo, Ballmer went on and on about how great (ten times in one form or another) things have been, are and will continue to be at Microsoft.
Is he insane? Or does he just have the most cush job in America?
--
Written by Rocco Pendola in Washington, D.C.
Rocco Pendola is
TheStreet's
Director of Social Media. Pendola's daily contributions to
TheStreet
frequently appear on
CNBC
and at various top online properties, such as
Forbes
.