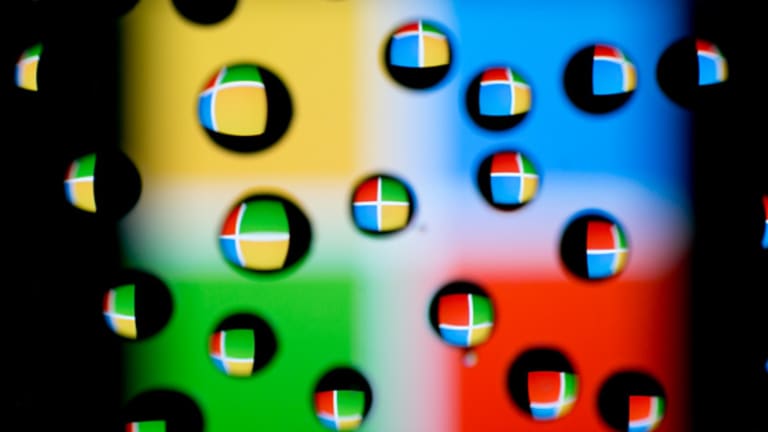 Ballmer Must Go: Windows Blue Won't Save Microsoft
Microsoft should stop trying to arrange a marriage between desktop and mobile. Rocco Pendola says look to Xbox.
NEW YORK (TheStreet) -- It seems absurd to call Steve Ballmer, the billionaire CEO of Microsoft (MSFT) - Get Free Report, a failure. However, as billionaire CEOs go, it's not all that crazy.
Here's a guy who gets a free pass from the media as well as shareholders. He never gets asked the tough questions. He rarely puts himself in a position to get asked the tough questions. The Microsoft board gives Ballmer a free pass as well. Is it because of the company's massive cash hoard, seemingly endless free cash flow and Ballmer's presumably close relationship with Bill Gates?
Ballmer should be synonymous with MSFT's 12% dump over the last year, yet the collective known as "we" lets Ballmer slide, giving him chance after chance to bring something resembling excitement to Microsoft's product line.
Over the weekend,
told us about
Windows Blue
, which apparently fixes much of what's wrong with the current iterations of the Windows 8 desktop and mobile platforms. It's set to come out later in the year or something like that. We don't need details. Looking forward to another wholly uninspiring Microsoft offering should not be the focus.
While I understand that companies regularly put out OS updates, this one, at least as presented in early media reports, sounds like little more than a do-over. Another Ballmer-led attempt to fit a round peg into a square hole. To salvage the dying PC industry via an arranged marriage between the desktop and mobile. This is 2013, Balms, arranged marriages tend not to fly.
So Ballmer continues to oppress MSFT shareholders
and the rest of us just dying to see
a company other than Apple (AAPL) - Get Free Report
bring something innovative to market
.
The need does not exist for an OS that melds the desktop and mobile. That loud flop we heard late last year -- the Microsoft Surface tablet -- pretty much proved the point.
What makes this whole thing all the more sad is that Ballmer has the answer right in front of his face. It exists inside his own company, but I'm not sure
Balms even knows that Microsoft makes Xbox
.
A marriage -- which, despite Ballmer missing the point or at least failing to execute, should have been love at first sight -- between Xbox and everything else Microsoft does makes perfect sense.
Tinker hard. Get all of your interns, innovative engineers and marketing people on the task of finding a way to make the connection between this really great gaming/entertainment platform and Windows 8, Office and tablet/smsartphone-based mobile.
Instead Microsoft will stay a losing course, gets its bum handed to it by
Intel
(INTC) - Get Free Report
and, sooner or later, start to bleed what once looked like an endless pile of cash.
--
Written by Rocco Pendola in Santa Monica, Calif.
Rocco Pendola is
TheStreet's
Director of Social Media. Pendola's daily contributions to
TheStreet
frequently appear on
CNBC
and at various top online properties, such as
Forbes
.