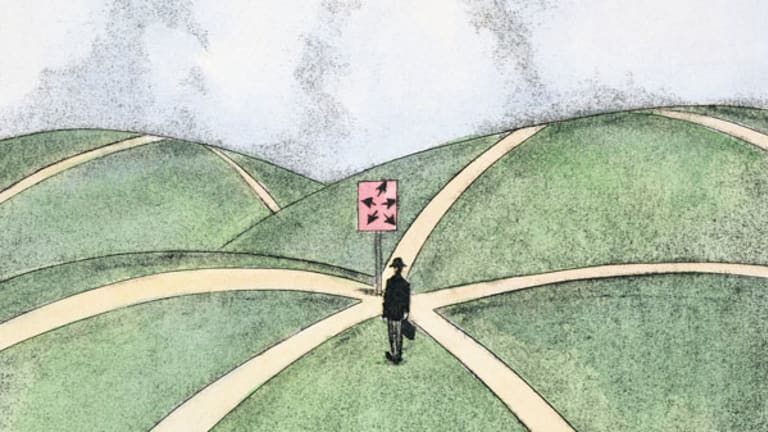 Ballmer, Gates Sell Microsoft: Should You?
Microsoft CEO Steve Ballmer faces criticism at the annual shareholder meeting for a big recent insider stock sale.
(Microsoft insider selling poll story updated for Microsoft retail expansion plans)
NEW YORK (TheStreet) -- Microsoft (MSFT) - Get Microsoft Corporation Report CEO Steve Ballmer and Chairman Bill Gates faced frustrated shareholders at the tech giant's shareholder meeting last Tuesday, and recent insider selling by the Microsoft executives was front-and-center among Microsoft investor gripes.
Inside sales within the S&P 500 companies has received a lot of attention of late, as the first week of November saw the highest level of insider selling within the S&P 500 universe in several years.
Investors read into the heavy insider selling a signal that stocks are overheated, and company executives were signaling that their shares are due for a haircut. Given the action in the markets on Tuesday, with all three major market indexes back to August levels, the heavy insider selling in early November -- when many stocks were at multi-year highs -- now seems prescient, if not just lucky timing.
>>Top 10 S&P 500 Insider Sales of 2010
Microsoft is the largest insider seller among the S&P 500 universe of companies this year, and it's been that way for several years running, so it's not a surprise for shareholders to see the insider activity.
It was when Ballmer announced he would sell up to 75 million shares before the end of 2010 that the spotlight was focused back on Microsoft insider selling. On Nov. 4, Ballmer sold 49.3 million shares, or 12% of his shares, at a value of roughly $1.3 billion, according to inside sales watchdog
Insiderscore.com
. On Nov. 12, Ballmer sold 3.2 million shares, or just under another 1% of his Microsoft shares, at a value of roughly $84 million. The selling still leaves Ballmer with 22 million to 23 million shares left to sell to reach his 75 million insider sales target before year-end.
Gates sells 20 million shares every quarter as part of his foundation funding, and Gates' insider selling alone makes sure that Microsoft is among the biggest insider sellers among S&P 500 companies year in and year out. Ballmer, on the other hand, has not been a seller of Microsoft shares since 2003.
Investors at the Microsoft annual meeting on Tuesday zeroed in on the Gates and Ballmer insider sales as a way to vent their frustration over the lack of growth in Microsoft shares. Over the past three years, Microsoft shares have traded as low as $21 and as high as $37. Year-to-date, Microsoft shares have traded as high as $31 and as low as $23. Meanwhile,
Apple
(AAPL) - Get Apple Inc. Report
adds a cool $90 to its share price this year.
Indeed, last Thursday Ballmer was on hand as Microsoft debuted its new retail store in Bellevue, Washington. It's the seventh retail location opened by Microsoft, but the first in its "hood", and Ballmer was front and center at the ribbon-cutting. It's all part of the tech giant's aggressive bid to develop a retail storefront profile in the coming year, for gadgets like its
Windows Phones
and the
Kinect
cameras for the Xbox, and the
Wall Street Journal
couldn't help noting last Thursday that it all bore an uncanny similarity to the Apple Store retail success story, which now includes more than 300 locations - one of them four doors away from the new Microsoft store.
Vote Now on the Microsoft Outlook
Microsoft: Buy or Sell?
Coincidentally, securities firm
Trefis
completed an analysis this week showing that the
iPhone
alone would be valued at $209 billion as a spun-off company, and only 10 companies in the world would have a greater value. At least Microsoft is still winning on this score, with a value of $262 billion, according to Trefis.
Ironically, some Microsoft shareholders and a Goldman Sachs analyst support the idea of breaking up Microsoft to generate greater value from the sum of its parts, a strategy that Ballmer ruled out at the annual shareholder event, saying the Street just needs more time to understand the value not yet embedded in shares.
The
WSJ
described the long tables displaying an array of technology gadgets in the new Microsoft store as virtually lifted from the Apple retail store design playbook, which arguably wouldn't be the first time Gates pilfered the Apple playbook. Whether the Microsoft strategy will help spur the growth that has eluded the tech giant's share price is open to debate, but it's clear that Microsoft is trying to perk up its aging brand: free tickets to a Miley Cyrus concert were part of the store opening fanfare.
Miley Cyrus and Microsoft may not go hand in hand, and by displacing frustration over the lack of pop in Microsoft shares through the insider sales issues, it can be argued that Microsoft shareholders are making an ironic error.
The kind of insider sales that raise eyebrows are the ones executed when shares are at a 52-week high or a multi-year high and C-suite executives signal that they better get out while the getting is good.
The tight trading band in which Microsoft shares have traded, on the other hand, doesn't play into the conspiracy-thinking that Ballmer or Gates are signaling a peak in Microsoft shares. If only they could get Microsoft shares to a frothy peak. In Microsoft's case, the insider sale skepticism isn't about a massive correction in shares being foretold, rather, it takes the shape of shareholders questioning whether the tech giant's share have run out of steam for the foreseeable future.
>>9 Insider Sales That Are Raising Eyebrows
For a stock that has average daily volume of 63 million shares, like Microsoft, it might seem like much ado about nothing to focus on the insider sales of the two tech titans.
Ballmer said in a statement after the sale was complete, "Even though this is a personal financial matter, I want to be clear about this to avoid any confusion. I am excited about our new products and the potential for our technology to change people's lives, and I remain fully committed to Microsoft and its success."
TheStreet
tech columnist Scott Moritz noted that even if Ballmer is being straight in terms of the reasoning behind his big selling, the fact that the Microsoft CEO chose to announce the sale after the market close on a Friday -- the best time to release bad news -- in the least, should perk up a skeptical eyebrow.
>>Ballmer's Sweet Tooth Sellout: Tech Edge
During the shareholder meeting webcast last Tuesday, Ballmer responded to the complaints about insider selling by saying, "If you look at the amount of shares sold by insiders it's really a very small percentage of all of the shares that sell, it's not a material factor in the stock price."
The logic of this argument falls short of covering any and all arguments to the contrary about insider selling. Investor skepticism about insider sales, especially when it's the top executives of a company, isn't about the immediate impact on stock price; it's about the sinking feeling, right or wrong, that a CEO like Ballmer is backing away from a more bullish outlook for his company.
Yet Gates and Ballmer are still the No. 1 and No. 2 shareholders in Microsoft.
The Ballmer comment did relate to another wrinkle in the Microsoft shareholder discontent, though. Bill Gates faced questions during the annual shareholder meeting as to why he didn't structure his annual share selling in a way that would benefit shareholders, by reducing active share count as opposed to selling Microsoft shares into the open market.
Vote Now on the Microsoft Outlook
Microsoft: Buy or Sell?
This year hasn't just been a big year for insider selling among S&P 500 companies, but the biggest year in recent memory for share repurchase activity.
>>Top 10 S&P 500 Buybacks of 2010
Ballmer noted that there is no way to just take the shares off the books, and that Microsoft is an active repurchaser of shares in general. In its 2010 annual report, for the period ended June 30, Microsoft stated that it had repurchased 380 million shares, or close to $11 billion in repurchase activity.
A few Microsoft investors seem displeased that Gates is funding his global do-gooding empire with the sale of Microsoft shares, but isn't doing it in a way that does any good for shareholders, and at a time when stalled Microsoft shares could use a little push.
Gates responded to this question by saying, "I think the thrust of the question is 'are the current grantees of the Foundation more deserving than sort of turning the money over to Microsoft shareholders?' I guess I've made the decision that that wealth is going to go to the Foundation and the causes of the Foundation as opposed to being some reduction in shares outstanding for Microsoft."
Another frustrated shareholder said about the company's stock price during the Microsoft annual meeting webcast, "It's been wallowing in the 20s for almost ten years now, and the dividend has been a pittance, even though you want to say it's increased. I might ask the same question: What are you going to do for the individual stockholder to increase the price of the stock, which has been wallowing in the 20s for a long, long time?"
The debate about insider sales is a long running one. There are academic economists who claim that they can empirically prove that there is no correlation between insider selling decisions and peak being called in a company's shares by corporate managers. There is also always the case to be made by executives that being the most highly concentrated shareholders in their own companies shares, it's just prudent financial planning to diversify.
With concerns about changes in the capital gains tax rate this year, in particular, inside sales experts expect more corporate executives to exit shares as part of tax planning, and in some more dubious cases, even use the capital gains tax fears as a cover story.
Insiderscore.com
, which is in the business of telling investors when C-Suite is signaling it's time to sell, said that the Ballmer transaction was more of a headline event than an actual "sell" tell.
"Ballmer's sale makes for good headlines, but analytically speaking, it's not very relevant. Assuming he completes the sale of up to 75M shares, Ballmer will still be MSFT's second-largest shareholder behind Gates and will still hold stock valued at around $9B. Ballmer's annual cash compensation averages $1.3M and he doesn't receive stock awards or option grants, so at some point it stands to reason that he would once again want or need to sell MSFT stock. All that said, is timing an issue here? Looking at MSFT's stock action and recent news flow (record quarterly revs and EPS reported on October 28th), not really," the insider sales tracker wrote.
The Street consensus opinion of Microsoft is to give the company more time. More than-two thirds of analysts rate Microsoft shares a buy, and the remainder of the Street is at a hold. All the recent earnings revisions have been bullish as well, with Microsoft numbers for the full year 2010 and 2011 revised higher by 27 analysts since its third quarter report, according to
Yahoo!Finance
. There are a total of 26 analysts with a buy rating on Microsoft, according to
Yahoo
.
Even so, the insider sales issue isn't going away, and as Microsoft shares struggle to gain momentum, it raises the question for Microsoft shareholders:
If Ballmer and Gates are selling Microsoft shares in droves, should you be too?
Take out poll below, to see what
TheStreet
has to say.
-- Written by Eric Rosenbaum from New York.
RELATED STORIES:
>>9 Insider Sales That Are Raising Eyebrows
>>Ballmer's Sweet Tooth Sellout: Tech Edge
>>Top 10 S&P 500 Insider Sales of 2010
-- Written by Eric Rosenbaum from New York.
>To contact the writer of this article, click here:
Eric Rosenbaum
.
>To follow the writer on Twitter, go to
.
>To submit a news tip, send an email to:
.