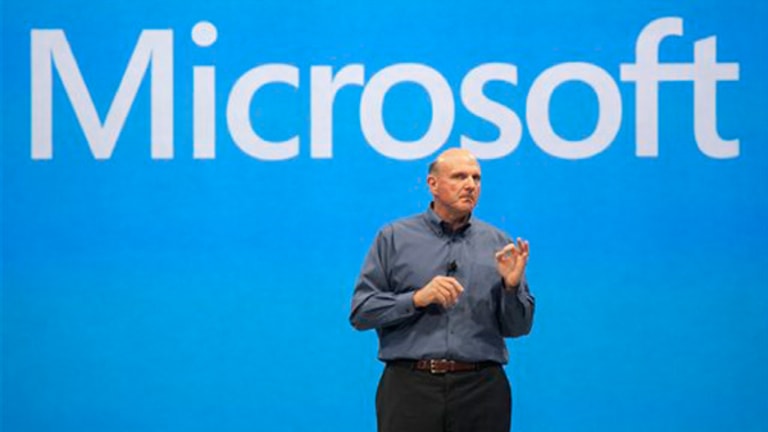 Ballmer Can't Save Microsoft From Death to Blackberry, Google, Apple
Rocco Pendola thinks shareholders should call for the collective head of Microsoft's board of directors over Ballmer's failures.
NEW YORK (TheStreet) -- From South by Southwest, I a.) called Blackberry'sundefined rise and b.) associated it with Microsoft's (MSFT) - Get Free Report certain demise.
Since
, we have heard nothing but positive things about the Blackberry Z 10 with BBRY stock popping roughly 14%. In the past, I would have called the former false optimism and the latter a dead cat bounce; however, times have changed.
When you decipher the writing on the wall, Blackberry's resurgence presents almost as clearly as its 2011-12 implosion. The concurrent death of Microsoft -- that's just obvious.
The headlines popping up shortly after I announced my bullish turn -- such as
Nearly Half of Blackberry Z10 Buyers Switching From iPhone and Android
via
-- should have applied to Windows Mobile, but they never did, do not and never will.
Somehow, Steve Ballmer keeps his job pathetic failure after pathetic failure. And with much less bravado, Thorsten Heins impressively turns Blackberry around. But why?
First and foremost, Blackberry's marketing department has finally taken its collective head out of its rear. And its key partners have jumped back on the bandwagon. Dig how the company positions the new "Zed 10" in this excellent commercial:
I saw this
BCE, Inc.
(BCE) - Get Free Report
spot on Canadian television while watching hockey over the weekend:
Solid work. These messages will resonate throughout North America.
As I riffed last week,
I just cannot see a scenario where Windows Mobile comes even close to taking third place from Blackberry
. In fact, before the end of the year, expect
the artist formerly known as RIM
to firmly establish itself as a formidable No. 3 among mobile operating systems. My work from last week establishes this. While my Blackberry bullishness resonated, swaths of people from the intelligentsia to the peanut gallery didn't quite comprehend just how dire things will become/are becoming at Microsoft.
The clusterscrew at Microsoft goes far beyond the company's continued failure to gain mobile traction. We know its hardware -- across the board outside of Xbox -- is doomed. Over the weekend we hear -- via the great folks at the
-- that
Samsung
is seeing "lackluster demand for Windows-based products."
By default that means -- obviously -- they
are
seeing demand for products that run
Google's
(GOOG) - Get Free Report
Android operating system. But, beyond that, the typical retorts that the enterprise will refresh its PCs, adopt a few Surface tablets along the way and keep blindly mailing in Windows licensing fees will not fly much longer.
Google continues to build out its empire
. By the end of the year, Google services, which include productivity tools, will poach consumers and enterprises away from Windows.
And, if Tim Cook has any semblance of a clue at
Apple
(AAPL) - Get Free Report
, he's quietly preparing to, once and for all,
beef up the iWorks and aggressively go after Microsoft with consumers and corporations
. When you consider how business has embraced Apple products without viable OS X and iOS productivity software, imagine how sticky the Mac/iPhone/iPad ecosystem becomes with something better than today's iterations of Pages, Keynote and Numbers.
Steve Ballmer has done nothing but position Microsoft to die at the hands of Blackberry, Google and Apple. How the man keeps his job is something only Bill Gates and the rest of the Microsoft board of directors knows. In fact, in addition to and outside of Ballmer and Gates, MSFT shareholders should be calling for the collective heads of that Board's other seven members.
--
Written by Rocco Pendola in Santa Monica, Calif.
Rocco Pendola is
TheStreet's
Director of Social Media. Pendola's daily contributions to
TheStreet
frequently appear on
CNBC
and at various top online properties, such as
Forbes
.