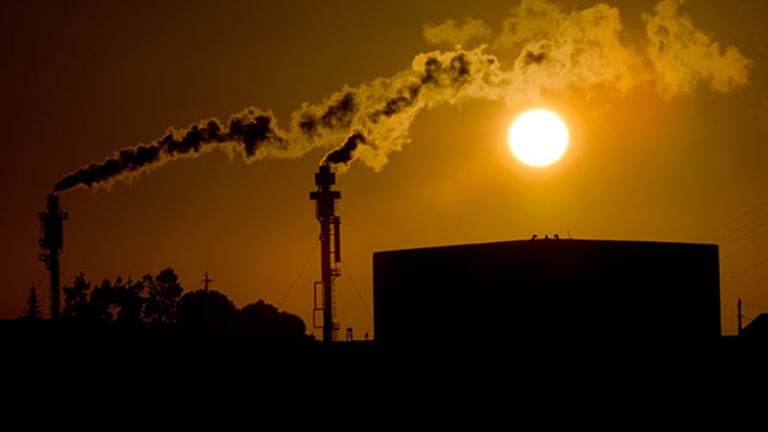 Bakken Leak Puts Spotlight on Fast-Growing Crestwood Midstream
A leak of brine from a North Dakota pipeline places a spotlight on a fast-growing pipeline outfit.
NEW YORK (TheStreet) -- Pipelines are the safest way to move oil and gas from a field to market. Breaks are uncommon, but each break is a potential catastrophe.
One such break came over the July 4 weekend in a saltwater line owned by a unit of Crestwood Midstream Partners (CMLP) , putting an unwanted spotlight on the Houston-based company.
The underground line contained brine from fracking operations. The brine is between 10 and 30 times saltier than sea water. Some of the roughly 1 million gallons of brine lost got into Bear Den Bay in North Dakota. The bay leads to a lake that supplies water for a local Indian tribe, according to press reports.
Greenberg: No Surprise in Potbelly's Flop
Link: Waddell & Reed Offers Growth at a Nice Price
Bear Den Bay feeds the Missouri River, and the leak took a week to find because the line did not have electronic monitoring.
Crestwood had just finished plugging some major financial leaks when the leak occurred.
Those came from the acquisition of Inergy, a larger pipeline operator bought in June, 2013, and Arrow Midstream, acquired in October.
The two deals make Crestwood a major player in the Bakken, an oil and gas play centered in western North Dakota that produced 937,263 barrels of oil per day in April, according to state figures, nearly 10 times the production level of early 2009.
The two deals have put a substantial leak in Crestwood finances, which the company is also trying to clean up. After booking $69 million in revenue for the quarter ending in September, 2013, Crestwood had $658.6 million in revenue during the fourth quarter.
That fell to $537 million for the March quarter, but the bottom line swung from a net loss of $20 million in December to a net profit of $2.4 million for March. Crestwood is due to report results for the June quarter on Aug. 5. The balance sheet currently shows a little more than $1 in debt for each $4 in assets.
After the acquisition of Inergy and Arrow the per-share dividend was cut from 51 cents to 41 cents, but even at the present level the stock is yielding 7.5%. A recent $500 million preferred equity placement, which included a unit of GE's (GE) - Get ReportGE Energy Financial Services, will ease any cash crunch. The units pay 58 cents per quarter in either cash or stock.
The company has also had insider trading on both the buy and sell sides recently.
John Sherman, who was Crestwood's CEO before the Inergy deal and remains a director, has been selling his stock. At the same time independent director David Lumpkins, executive chairman of PetroLogistics (PDH) , a chemical company being acquired for $2.1 billion by a unit of privately held Koch Industries, was buying shares. News of the Sherman sales brought in the shorts, but the Lumpkins sales seem to have many covering.
A return to normalcy could be a big plus for Crestwood shareholders, with the stock having lost 12% of its value since the start of the year, almost double the dividend rate. When pipelines stay strong, earnings do as well. And when you have a big piece of the market, as Crestwood does in the Bakken, earnings can stand strong as well.
We reached out to Crestwood for comment on all these matters but had received none by press time.
At the time of publication the author owned shares of GE.
This article represents the opinion of a contributor and not necessarily that of TheStreet or its editorial staff.