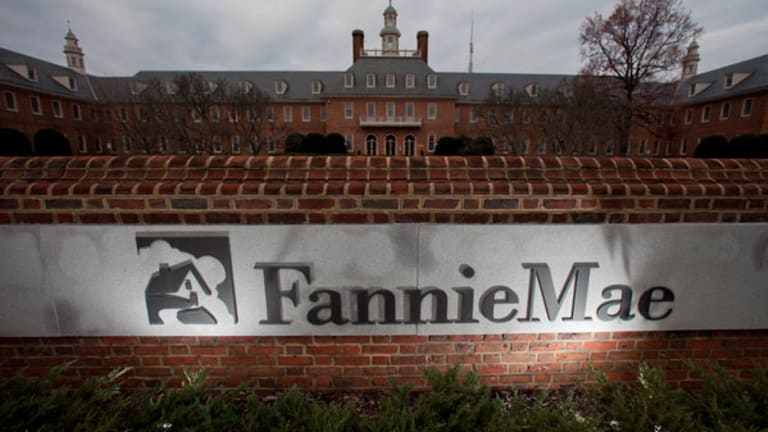 Backdoor Fannie Mae Subsidy Could Hit Taxpayers
Why a decision about Fannie Mae's balance sheet could yet hit taxpayers
NEW YORK (
) -- As with the rescues of
General Motors
(GM) - Get Free Report
and
AIG
(AIG) - Get Free Report
, the repayment of government bailout money by
Fannie Mae
(FNMA)
and
Freddie Mac
(FMCC)
will likely hinge on a backdoor taxpayer subsidy.
In a
Securities and Exchange Commission
filing
earlier in March, Fannie Mae said it would delay filing its 2012 financial report as it considers releasing a $61.5 billion deferred tax valuation allowance.
The potential release would bolster Fannie's earnings and capitalization, in a move the company said could help it begin repaying the U.S. Treasury on a $100 billion-plus taxpayer supported bailout.
The key is that if a company can return to profitability, it can use its deferred tax assets (DTA) as a shield against tax on future profits.
Such a scenario could mean Fannie would be repaying one arm of the
U.S. Treasury
using lost revenue to another.
"The release of the valuation allowance would have a material impact on the company's 2012 financial statements and result in a significant dividend payment to the U.S. Department of the Treasury" under the terms of its $116.1 billion preferred stock investment, Fannie said in the March 14 filing.
Fannie's deferred tax valuation stems from gargantuan losses the government-sponsored housing entity suffered during the financial crisis as its loans and investments soured. Those valuations are similar to multi-billion deferred tax assets held by AIG on the souring of its securities portfolio and by General Motors on large operating losses.
Smart Money sticks to GSE preferred shares
.
Crucially, while both AIG and General Motors have converted their deferred tax valuation allowances to assets, Fannie Mae is just considering converting its $61.5 billion valuation as the mortgage authority becomes solidly profitable.
But for companies like Fannie and its counterpart Freddie Mac, AIG, General Motors or bailed out 'Too Big to Fail' banks like
Citigroup
(C) - Get Free Report
that received government support in the financial crisis, deferred tax assets can work as a quiet subsidy as firms repay taxpayer funds.
Were Fannie to get its way, the company would be able to add up to $61.5 billion in capital in an accounting move that would go a long way in repaying the government's preferred investment.
But while Treasury may see billions come in the door by way of its preferred stock repayment, it could lose a similar amount in lost taxable income.
"All you are doing is depriving one part of Treasury from revenues so another department can receive them," says Robert Willens, an independent tax expert.
As was the case for Citigroup's return of government money or AIG's recent full repayment of taxpayer dollars, deferred tax assets played a crucial role in helping to recapitalize the companies and put them in a position to return government money.
At GM, a $30 billion-plus deferred tax asset is also helpful, even if Treasury remains a large investor in the company.
There is nothing insidious about such a scenario also playing out for Fannie Mae, given the basic way losses can be transformed to deferred tax assets, according to Willens.
Still, Willens questions whether Fannie, Freddie or AIG and General Motors deserved to retain their deferred tax valuations, even after experiencing a change of control that put them in government hands.
Oftentimes, companies lose their deferred tax assets in a merger, otherwise profitable firms such as
Apple
(AAPL) - Get Free Report
and
Google
(GOOG) - Get Free Report
could endlessly conduct mergers as a tax shield.
In rescuing Fannie, Freddie, AIG and General Motors, Willens notes Treasury allowed the firms to retain significant deferred tax assets that are crucial to their repayment of government assistance.
"It should be noted that these companies, which arguably had experienced an "ownership change" when the government took majority stakes in these companies, were able, through the munificence of the Treasury Department and the I.R.S., to avoid the adverse impact on their deferred tax assets that normally accompanies such an ownership change," wrote Willens in a March 20 client note.
Taxpayers may be getting paid on crisis-time bailouts in one pocket and essentially having that money plucked from another by way of lost tax revenue, but there may be benefits to Treasury's actions regarding DTAs.
In the case of AIG, Treasury converted preferred shares to non-voting common stock and made a significant profit when it sold off those shares as the insurance giant's financial position improved.
While Treasury is still deeply in the red on its GM shares, the automaker's DTA can only help taxpayers in a politically-charged quest to break even on the bailout.
Still there are risks for Fannie in trying to convert its deferred tax valuation to a balance sheet boosting asset. There's uncertainty as to whether the company will exist in the future -- a scenario that obviously would put future profitability at risk.
"Fannie Mae would also have to take into account the possibility that it will be liquidated and replaced by another instrumentality that would not succeed to FNMA's losses and deductions. If FNMA concludes that it only has a limited life, this would obviously inform its decision whether or not to truncate its valuation allowance," writes Willens.
As of Sept. 30, Fannie had paid the Treasury $28.5 billion in dividends.
Fannie reported a third-quarter profit of $1.8 billion, which was the company's third consecutive profit. Earnings for the first three quarters of 2012 were $9.7 billion, compared to a net loss of $14.4 billion during the first three quarters of 2011. The company was also able to pay its third-quarter dividend of $2.9 billion in the Treasury's preferred shares, without resorting to further government borrowings.
"
Since this is an accounting issue between the company, its auditors and its regulator, we're not weighing in," Anthony Coley, a Treasury spokesperson said in an e-mail.
Voicemails and emails left with Fannie Mae and Freddie Mac went unreturned.
For more on Fannie Mae, see why the
smart money sticks to GSE preferred shares
.
-- Written by Antoine Gara in New York