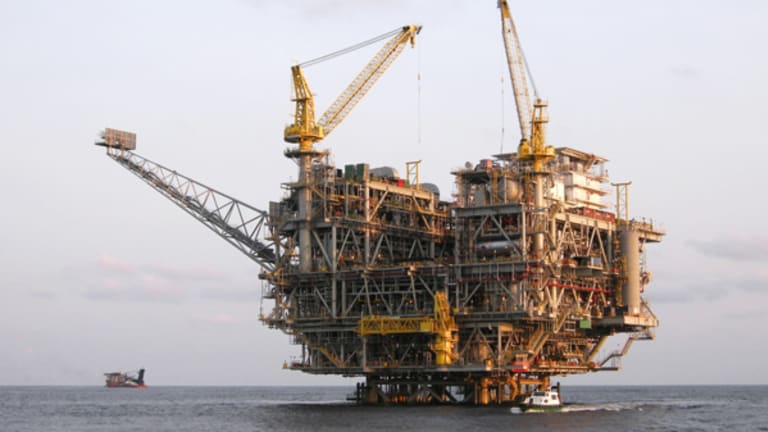 Avoid U.S. Energy Driller Stocks
A robust U.S. market is key for driller stocks to take off, and that's not likely right now.
NEW YORK (TheStreet) -- At the Howard Weil Energy Conference this week, Schlumberger (SLB) - Get Free Report CEO Paal Kibsgaard spoke with a less-dire tone than he used at the previous year's conference. However, he still provided a very tentative outlook on the multinational oil and gas drillers for 2013.
It's not hard to see why. Since 2008, when the peak of natural gas drilling was reached, the rig count here in the U.S. has plummeted from a high of 1,606 working rigs to now 431, the lowest number seen since 1999. The massive increase in horizontal drilling for tight oil here in the U.S. has done something to counteract that difficult trend for the drillers, increasing more than sixfold since 2009. But it still hasn't been enough to offset the weak growth domestically.
Although there's been a lot of excitement surrounding new finds being generated in the U.S., the weak price of natural gas has continued to stifle U.S. drilling growth and will continue to do so until some price recovery past $3.50/mcf arrives. Schlumberger and other energy drillers have been forced to concentrate on international markets to spur whatever growth they can. Although they have done a good job at that, a robust U.S. market is really the key for their stocks to take off.
Consequently, I have viewed the drillers as range-bound and trading vehicles, worth buying at value levels and selling when they get too far ahead of their potential domestic growth.
Jim Cramer and I discuss this trend for the drillers in the video above.
At the time of publication the author had no position in any of the stocks mentioned.
This article was written by an independent contributor, separate from TheStreet's regular news coverage.
Dan Dicker has been a floor trader at the New York Mercantile Exchange with more than 25 years of oil trading experience. He is a licensed commodities trade adviser.
Dan is currently President of
a wealth management firm and is the author of
published in March of 2011 by John Wiley and Sons.
Dan Dicker has appeared as an energy analyst since 2002 with all the major financial news networks. He has lent his expertise in hundreds of live radio and television broadcasts on
CNBC
,
Bloomberg
US and UK and
CNNfn.
Dan obtained a bachelor of arts degree from the State University of New York at Stony Brook in 1982.