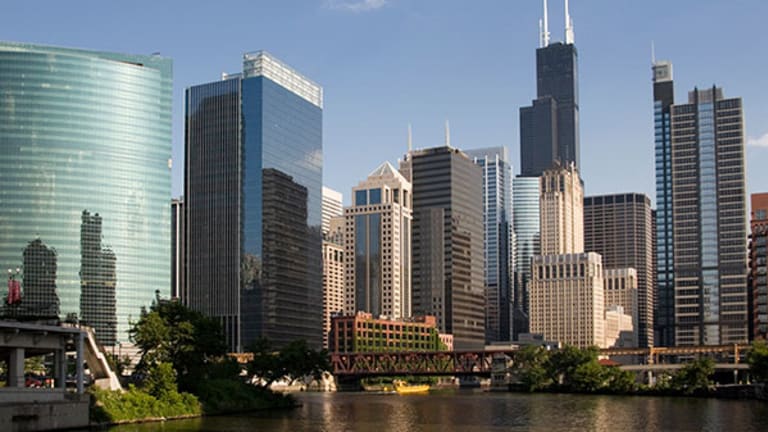 Avoid Chicago's Bonds; It Could Be the Next Detroit
Chicago has serious fiscals problems -- another reason why investors should steer clear of municipal bonds and choose Dividend Aristocrat stocks like Coca-Cola and Exxon Mobil instead.
NEW YORK (TheStreet) -- A recent report by the Economist Intelligence Unit rated Chicago one of the top 10 cities in the world for its ability to "attract capital, business, talent and tourists."
Although that certainly will focus global attention on "The Second City," Chicago's precarious financial condition could result in it becoming even more well known -- for going broke.
That an urban area with such assets could be teetering on the edge of bankruptcy demonstrates, yet again, why investors should flee municipal bonds for the proven performance of so-called Dividend Aristocrat stocks such as Coca-Cola (KO) - Get Coca-Cola Company Report, Wal-Mart (WMT) - Get Walmart Inc. Report and Exxon Mobil (XOM) - Get Exxon Mobil Corporation Report.
At least Detroit had an excuse with the collapse of the automobile industry.
The major reason for Chicago's financial woes is mismanagement. The city's employee costs, especially for pensions, are unsustainable.
Chicagoist recently summed up the crisis as follows:
"As we've written before, the city is facing a $600 million payment to the underfunded police and firefighters' pensions in 2015 mandated by the state. Since city budgets in recent years have been balanced by nickel-and-diming residents with tax, fine and fee hikes -- as well dips into "rainy day funds" established by the money from privatizing civic resources like the Skyway and the parking meters -- Chicago doesn't have $600 million laying around. Which is why Mayor Rahm Emanuel has been lobbying downstate lawmakers to postpone that payment."
The only problem with that is it does not solve the problem, it merely delays the inevitable.
I wrote about the sorry financial shape of Chicago and other American cities in a previous article for TheStreet.
An article in the Financial Times about Chicago and other locales across the U.S. carries the ominous headline of, "US Public Finance: Day of Reckoning."
No matter where the story and what the headline, however, the message is always the same for investors: Anything a municipal bond can do, a stock such as Exxon Mobil, Coca-Cola, or Wal-Mart can do much, much better.
The appeal of municipal bonds has historically been for the security and yield of the instrument.
But those are the worst two reasons to buy any bonds issued by Chicago. The stability of the city's debt is in question, as Moody's recently downgraded it and rated Chicago as the worst of 29 cities.
If there's doubt that the bond will be repaid, there is even less of a chance that the interest payments will be made to the holders of the debt.
By contrast, Wal-Mart, Coca-Cola, and Exxon Mobil are Dividend Aristocrats.
To claim that moniker, a company must have increased its dividend annually for the last 25 years. Just paying a dividend shows how solid the finances are of a publicly traded company. To be able to increase it steadily for more than two decades is a bullish indicator for investors.
Chicago is a great city with great restaurants, great museums and great architecture.
But those are not reasons to buy its bonds, because Chicago's finances are a mess, and that won't change anytime soon. What will also not be changing anytime soon is the practice of Dividend Aristocrat stocks such as Coca-Cola, Wal-Mart, and Exxon Mobil increasing dividends on a yearly basis.
That is why legendary investor Warren Buffett is a major shareholder of each of those blue-chips. Although there might be a Chapter 9 bankruptcy filing in the future for Chicago if it follows Detroit, there are definitely dividend increases ahead for the shareholders of Dividend Aristocrat stocks such Wal-Mart, Exxon Mobil, and Coca-Cola.
Jonathan Yates does not have a position in any of the stocks mentioned in this article.
This article represents the opinion of a contributor and not necessarily that of TheStreet or its editorial staff.
Jonathan Yates has written for numerous publications including Newsweek and The Washington Post. He is a former general counsel for a publicly traded corporation. Much of his career was spent working on Capitol Hill for Members of Congress in both the House and Senate. He has degrees from Harvard University, Georgetown University Law Center and The Johns Hopkins University.