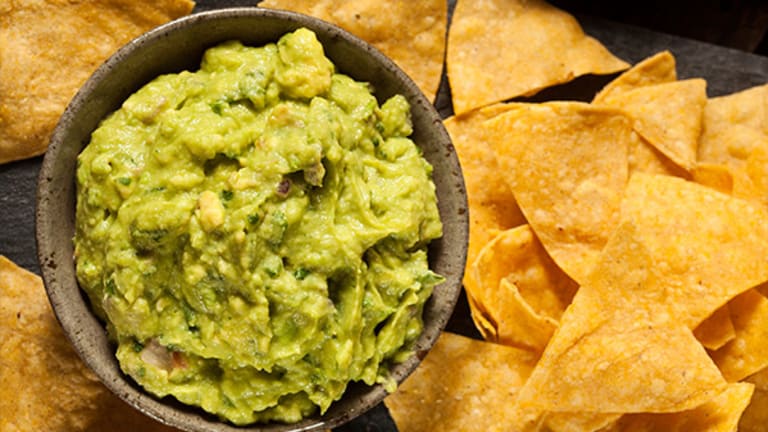 Avocado Inflation Could Spoil Chipotle's Quarter
Prices for avocados have surged in July. That's not good for Chipotle's bottom line.
Beat-up burrito joint Chipotle (CMG) - Get Free Report just can't seem to catch a break. 
With sales trends still down following several high-profile food safety incidents last year, Chipotle's bottom line will likely be further hurt in the third quarter due to surging prices for the avocados used to make its guacamole.
According to avocado grower Mission Produce, the price of a single medium-sized avocado has surged 46% year over year in July to $1.25 each. From April of this year, avocado prices have rallied some 87%.
"A lot a factors have gone into the run-up in pricing this summer," said Mission Produce Vice President of Marketing Robb Bertels. "But the biggest were the early finish to the Mexican avocado crop in June and a delay in starting the new Mexican crop in July," he added.
Mexico typically produces many more avocados during the June and July period, says Bertels, but this year it didn't. That created a supply shortage that has sent prices spiraling higher. Bertels says avocado prices have stabilized over the past two weeks as more supply has come back on the market.
Chipotle uses, on average, over 97,000 pounds of avocados every day to make its guacamole. It charges consumers about $1.95 extra for the privilege of eating its guac.
According to a Chipotle spokesman, the company has not raised prices on guacamole to offset the inflationary spike in avocados. That probably explains Chipotle's warning on the impact of avocado inflation for the remainder of the year.
"Looking at the rest of the year, we anticipate food costs will remain at right about the same level [as the second quarter] as any efficiencies we achieve are likely to be offset by higher avocado pricing in the third quarter," Chipotle Chief Financial Officer Jack Hartung cautioned investors on a Jul. 22 earning call. 
Chipotle hasn't raised prices for its guacamole ... yet.
The last time Chipotle experienced a bout of unsavory avocado inflation was in 2014, amid severe drought conditions in California. But the company was able to easily overcome the inflation and produce solid profits as its sales were so strong.
Now, it's a new world for Chipotle in the wake of its food safety problems, one in which former die-hard fans of the brand visit less frequently and the company offers more promotions to drive business. So, a more-expensive key ingredient like avocado could lead to a third quarter as ugly as the one that just passed.  
The company reported last week that earnings nosedived 80% from the prior year to 87 cents a share. Wall Street estimated earnings of 93 cents a share. Revenue fell 16.6% to $998.4 million, missing Wall Street's estimate for $1.05 billion. Same-store sales plunged 23.6% in the quarter, and are down about 21% so far in July.