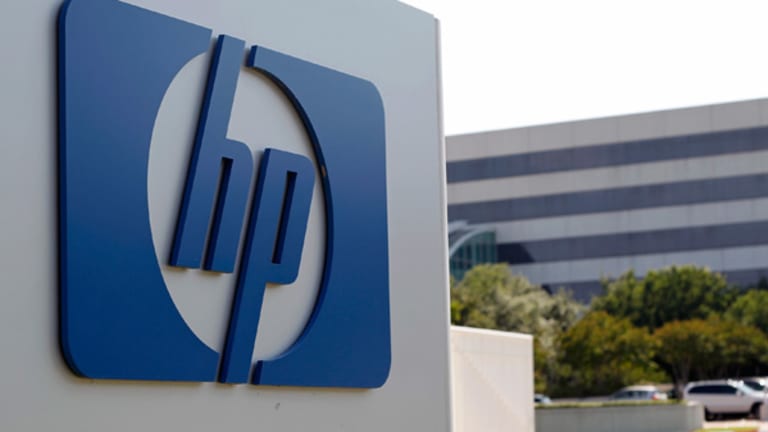 Autonomy's Blood on Whitman's Hands Too
Whitman and the rest of the board played an important role in creating the current mess.
Whitman and the rest of the board played an important role in creating the current mess.
NEW YORK (TheStreet) -- After this morning's terrible earnings report and the revelation of accounting wrongdoings at its Autonomy unit, HP (HPQ) - Get Report CEO Meg Whitman is in full damage control mode blitzing the business TV airwave.
There is a narrative that she's trying to present to the world:
Turnarounds are hard and messy
I let Mike Lynch go when I sensed issues at Autonomy (the former CEO)
We are very angry by these accounting wrongdoings and are doing our best now to clean them up
This was a deal done by my predecessor
I'm doing the best I can under the circumstances to turn this thing around
There is some truth to this narrative. Leo Apotheker, HP's CEO before Meg, was hired by HP in September 2010. This was before Meg was on the board. And it was Leo who wanted Autonomy and convinced the HP board to pull the trigger on it in August of 2011.
However, an inconvenient truth missing from Whitman's account is that she joined the HP board in January 2011. Her job as a director was to be a fiduciary for HP shareholders in overseeing Apotheker. She fully blessed his plan to divest the PC business as a director -- and then later reversed herself once she was CEO by saying it was important for the company to retain control of this business unit.
Whitman was also the one to give the A-OK to the Autonomy deal. This was a deal that lots of other companies had looked at and passed on. Autonomy had already drawn a lot of interest from shorts.
And yet Whitman didn't just green-light HP buying it for its current substantial market cap of $6 billion. She and the rest of the HP board approved paying an 80% premium to get control of Autonomy.
It seems like, in hindsight, HP's board had a case of 3Par-itis. HP had gotten into a huge bidding war with
Dell
(DELL) - Get Report
over 3Par just prior to Apotheker being hired. Rather than face a similarly long and drawn out bidding war for Autonomy, HP tried to flex its muscles by paying a huge premium and scaring off other potential bidders.
Where was the board? Where was Meg Whitman?
Of course, today, we're hearing them cast blame on Autonomy's auditors -- Deloitte -- and people like Mike Lynch. We're also hearing them complain about their own investment bankers and lawyers who, no doubt, deserve blame. Yet, HP's board -- which is clearly still the most dysfunctional board in corporate America -- is again at the heart of a major self-inflicted blunder.
Meg Whitman deserves tough questions. So does Chair Ray Lane. So does Marc Andreessen and the rest of the HP board.
The last time the HP board came under attack was when they fired Apotheker and hired Whitman. At that time, Ray Lane vociferously complained to the business press that it was unfair to paint the current HP board as the same terrible board that had previously made bad decisions.
Yet, there were a number of carry-over directors then and still are now. And even the so-called new directors, like Meg, have blood on their hands from this Autonomy mess.
This board needs a full housecleaning once and for all after this latest disaster.
At the time of publication, the author held no positions in any of the companies mentioned.
This article is commentary by an independent contributor, separate from TheStreet's regular news coverage.
Eric Jackson is founder and Managing Member of Ironfire Capital and the general partner and investment manager of Ironfire Capital US Fund LP and Ironfire Capital International Fund, Ltd. In January 2007, Jackson started the world's first Internet-based campaign to increase shareholder value at Yahoo!, leading to a change in CEOs in 2007. He also spoke out in favor of Yahoo!'s accepting Microsoft's buyout offer in 2008. Global Proxy Watch named Jackson as one of its 10 "Stars" who positively influenced international corporate governance and shareowner value in 2007.
Prior to founding Ironfire Capital, Jackson was President and CEO of Jackson Leadership Systems, Inc., a leadership, strategy, and governance consulting firm. He completed his Ph.D. in the Management Department at the Columbia University Graduate School of Business in New York, with a specialization in Strategic Management and Corporate Governance, and holds a B.A. from McGill University.
He was previously Vice President of Strategy and Business Development at VoiceGenie Technologies, a software firm now owned by Alcatel-Lucent. In 2004, Jackson founded the Young Patrons' Circle at the Royal Ontario Museum in Toronto, which is now the second-largest social and philanthropic group of its kind in North America, raising $500,000 annually for the museum. You can follow Jackson on Twitter at www.twitter.com/ericjackson or @ericjackson.
You can contact Eric by emailing him at eric.jackson@thestreet.com.