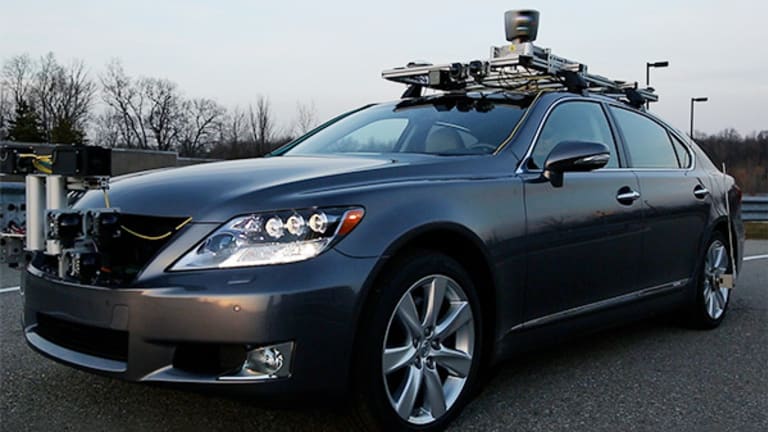 Editors' pick: Originally published Oct. 31.
Self-driving cars of the future will have completely new interiors, potentially featuring fully reclining seats and handheld devices rather than just dashboard controls. That's according to the CEO of Adient, a global automotive and interiors company that was spun off from its parent Johnson Controls (JCI) - Get Johnson Controls International plc (JCI) Report on Monday.
"Longer term with autonomous vehicles, that's really going to change the complete interior of the car," explained R. Bruce McDonald, chairman and CEO of Adient, which began trading Monday under the ticker symbol ADNT. "Occupants aren't going to want to sit in a square, facing forward. They're going to want to tilt, maybe lie back. I think they're going to want the vehicle to be configurable if they are going out on a date or if they are going to the office."
McDonald also expects that many of the dashboard controls will eventually migrate to a handheld device.
Adient is currently increasing its investment in autonomous vehicle design, and will reveal a concept vehicle with new interiors designed for self-driving cars in January at an industry event.
Adient has over 200 manufacturing and assembly plants in 33 countries worldwide, with $17 billion in annual revenue. McDonald is particularly bullish on potential growth in China.
"We have about 44% market share there," he said. "That market is the biggest one in the world, it's growing the fastest so I think we're really well positioned."
In terms of the domestic auto market, McDonald expects auto sales to hold steady for the foreseeable future. "I don't see any see any sort of shocks causing a downturn," he said.
McDonald added that trucks, SUVs and crossover vehicles are becoming a bigger part of the market, which is a trend that benefits Adient's bottom line.
"We like that from a seating perspective, because a lot of trucks have six seats, instead of four," he said.