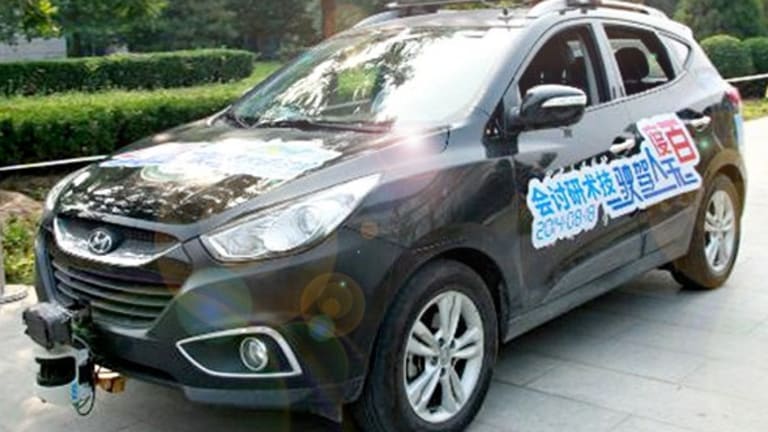 Automatic Braking Mandate Could Speed Introduction of Driverless Cars
Sensing technology for braking a key enabler for other autonomous systems. Global drag race to make advanced safety systems available.
Sensing technology for braking a key enabler for other autonomous systems. Global drag race to make advanced safety systems available.
The widespread introduction of driverless vehicle technology was accelerated with the agreement among U.S. regulators and top global automakers to make automatic emergency braking standard in nearly all vehicles by 2022. 
Automatic braking, which is increasingly available on a growing number of vehicle models, requires the installation of sensing hardware and software that will add to the enabling of more capable autonomous features and, finally, full-fledged driverless technology. 
As systems like automatic braking become more common and familiar to drivers, they're likely to pave the way for consumer acceptance of cars that increasingly will decide on their own what speed to drive, what route to take, when to brake, and when to yield to other drivers, thereby averting many poor human decisions and the resulting accidents. 
Tesla's (TSLA) - Get Report Autopilot, which supports auto-steering and auto-lane changing functions, also support emergency auto braking. Other luxury and premium automakers offer the feature as well but it's becoming an option in more mainstream brands such as models built by Toyota (TM) - Get Report . 
Automakers worldwide are in a global drag race of sorts to offer the most advanced autonomous systems, a competition that has attracted non-automotive companies as well. Alphabet's GOOGL Google subsidiary is testing driverless prototypes in California. 
Alphabet is a holding in Jim Cramer's Action Alerts PLUS portfolio.
Baidu (BIDU) - Get Report , the Chinese tech giant, disclosed this week that it intends to begin testing a driverless car in the U.S. this year toward commercial availability by 2018. BMW said this week in Munich that it will offer an electric model around 2020-2021 with autonomous capability. 
"It's an exciting time for vehicle safety. By proactively making emergency braking systems standard equipment on their vehicles, these 20 automakers will help prevent thousands of crashes and save lives," said Anthony Foxx, U.S. transportation secretary. "It's a win for safety and a win for consumers." 
Investors are focusing on companies and automotive suppliers likely to benefit as advanced automotive safety technologies gain wider usage. On Wednesday, shares of driver assistance systems specialist Mobileye NV (MBLY) surged after Reuters broke news of the pact. 
"We believe this would be positive for Mobileye," said Brad Erickson of Pacific Crest Securities, "but relatively in line with our longer-term expectations. Our view that Mobileye will be a key beneficiary of advanced driver assistance systems (ADAS) adoption over the longer term does not change." 
Others caution that wider adoption of systems on top of regulatory mandates likely will attract more competition for smaller firms that pioneered the technologies by large auto suppliers like Delphi (DLPH) - Get Report . 
Automatic emergency braking uses cameras, radar and other sensors to see objects in the way and slow or stop a vehicle if the driver doesn't react, according to the Associated Press. Automakers are struggling with how to fit the feature into current product plans that might not be ready for the electronics, so some models may be awarded exemptions.
Doron Levin is the host of "In the Driver Seat," broadcast on SiriusXM Insight 121, Saturday at noon, encore Sunday at 9 a.m.
This article is commentary by an independent contributor. At the time of publication, the author held no positions in the stocks mentioned.