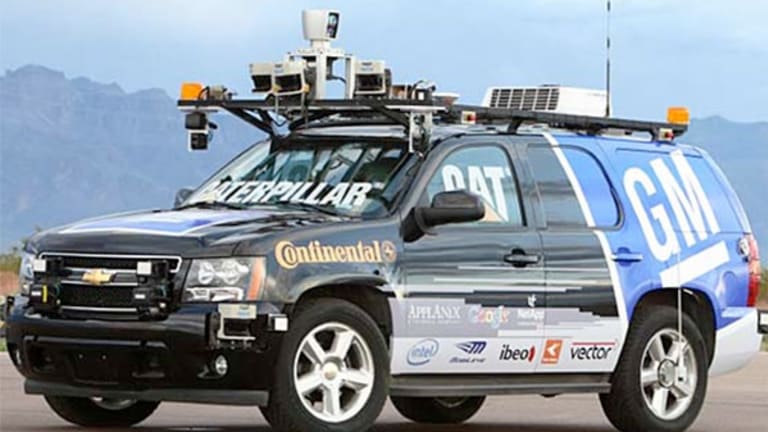 Auto Industry Pushes to Create Precise Maps for Driverless Cars
Automakers are racing to develop advanced systems that can map and constantly update a vehicle's precise location, a basic capability that self-driving vehicles require.
A race is on among automakers to develop advanced systems that can map and constantly update a vehicle's precise location, a basic capability that self-driving vehicles require to orient themselves on roads. 
The "crowdsourced" data, after being gathered by the vehicle and processed, can be shared with other vehicles on the road to update their maps as well as information about traffic and changing road conditions. 
Several corporate announcements at the Consumer Electronics Show in Las Vegas this week come in the wake of agreements among automakers and suppliers during the past several months that hint at solutions researchers are pursuing to solve fundamental technical hurdles to driverless vehicles. 
Toyota (TM) - Get Toyota Motor Corp. Reportsaid it is developing a high-precision mapping system that will use production vehicles equipped with cameras and global positioning satellite devices to gather information, initially on expressways and eventually on side streets. Although Toyota will be creating its own maps, the automaker said it is open to cooperating with mapping companies. 
General Motors (GM) - Get General Motors Company Reportsaid it will partner with the Israeli chip and software maker Mobileye (MBLY) to "use crowd-sourced real-time data collected by (GM) OnStar for precise localization and high-definition lane data that supports fully autonomous driving." Data first will be collected by Mobileye's system, which uses on-board cameras, GM said. 
"Cameras are the most natural sensors for creating maps because they are already available in most new car models as part of the trend toward growing driver assistance deployment," Amnon Shashua, co-founder, chairman and chief technical officer of Mobileye, said in a GM press release. "Creating and updating maps using on-board camera technology supplies the missing link between on-board sensing and the requirement for full redundancy to enable safe autonomous driving." 
Shashua said the system requires relatively low bandwidth to transmit the data to and from the vehicle. 
Currently, automotive driver-assistance technologies rely mainly on cameras to spot lane markers and other landmarks, allowing the vehicle to orient itself on the roadway and to avoid running off the road or colliding with an object such as a utility pole. 
But roadways often lack lane markings, markings may be obscured by fog or ice or snow, and conditions such as speed limits and the pavement may change, compromising the accurate orientation of the vehicle. 
Standard GPS mapping, which allows accurate location of a vehicle within a few feet, can be improved to within about four inches with Mobileye's system, the company said. 
Mark Reuss, GM executive vice president, said the automaker is testing Mobileye's system in five vehicles and plans to expand that number to 20 in the next year, as well as to "explore the integration" of the technology in future launches of new vehicles. 
On Wednesday at CES, Mobileye announced another strategic partnership with Volkswagen (VLKAY) to test and integrate the same system as GM is testing on a range of VW models.
Doron Levin is the host of "In the Driver Seat," broadcast on SiriusXM Insight 121, Saturday at noon, encore Sunday at 9 a.m.
This article is commentary by an independent contributor. At the time of publication, the author held no positions in the stocks mentioned.