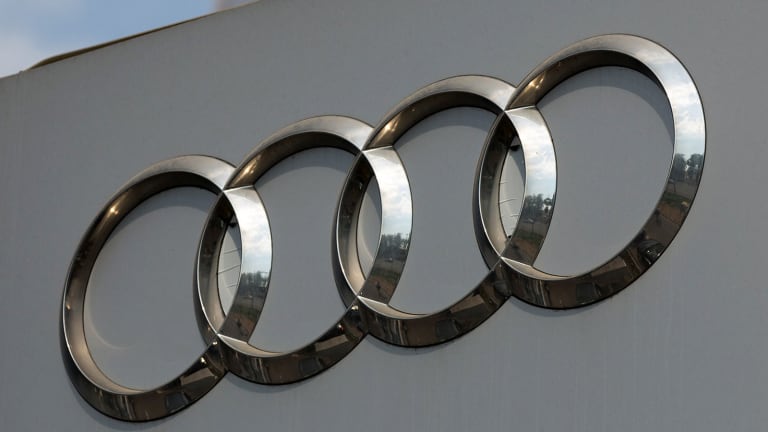 Audi Introduces Its Latest Vehicle -- and It's Electric
The crossover SUV will arrive in showrooms in 2018 and have a 300-mile range.
NEW YORK (TheStreet) -- Sales of electric cars have been gaining momentum, fueled by greater demand for more energy-efficient, greener products. The Audi all-electric, crossover SUV will arrive in dealerships in 2018. It will have an impressive 300-mile range. Most electric cars today offer less than a third that range, although ranges are going to increase as battery technology improves.
Audi (NSU) recently showed the concept car for its crossover. 
The Audi all-electric car will be in U.S. dealerships in early 2018. Audi recently showed the concept car. The Audi electric car has the size and appearance of a conventional crossover SUV. Crossover SUVs bear some similarities with both SUVs and rugged station wagons. The Audi crossover has been compared to the Tesla (TSLA) - Get Report Model X.
But unlike the Tesla Model X, which is a 3-row vehicle, the Audi is a strict 2-row one. It's also not nearly as tall. Therefore, there's less interior space.
It's like comparing a Range Rover Sport to a Chevrolet Suburban, while realizing that the analogy is far from perfect. One car is bigger and taller than the other. The Audi is closer to a Subaru Outback in appearance.
Audi's designers said that the car's greenhouse and shoulders pointed inwards so that the car doesn't look top-heavy. It's a visual trick meant to instill confidence in handling, so that a buyer isn't afraid the car is going to tip over in extreme cornering.
Furthermore, the front of the car is not as long as you will find in some luxury vehicles. The car is not meant to look like it's resting on its rear axle. It's more of a balanced 4x4 "Quattro" look, hearkening to the original Audi Quattro from the early 1980s.
The 2018 production car's interior is likely to see significant changes from the concept car. For starters, it will fit three people in the rear seat, instead of two.
The instrument panel and controls, as is typical of concept cars, will be a lot less futuristic. It will still have lots of displays and touch screens, but will likely be augmented by more knobs and dials. People tend to prefer traditional knobs and dials for temperature controls and radio functions such as volume and tuning.
The battery is positioned in the floor, just like any BMW i3 or Tesla Model S. It makes use of 95 kWh worth of LG prismatic battery cells. Audi has the option of offering a model with lower capacity at a lower price, if it thinks that would stoke demand. There is no downside in offering such a lower-priced version.
Unlike Tesla, the Audi has two motors in the back of the vehicle. Why? Audi says that yields two benefits: No need for a differential and enhanced ability in extreme torque vectoring, the ability to vary power to each wheel.
The latter point will show in superior handling in turns. Audi felt so strongly about the handling characteristics of this solution, that it was willing to employ two motors instead of one, for the rear wheels.
Audi said a U.S. product management team drove the design of the car. Originally, the first volume (i.e., not the R8-series) all-electric Audi was going to be a small hatchback, no larger than a Nissan LEAF, and possibly even smaller. That was a Euro-centric view. Tiny, narrow streets, lots of luxury taxes, expensive gasoline and diesel -- a small eco-car was the answer.

The U.S product team balked at this idea. Americans don't want these tiny cars, especially not in the kind of ultra-expensive form that this technology would dictate. They required a large car.
Audi did not go up to a Chevy Suburban-sized car; rather, it settled on an SUV near the center of the market, where most SUV and crossover sales take place.
Audi said it never considered a variant on the "falcon wing doors" that Tesla will have on its Model X, which it originally showed in February 2012. The electric Audi's doors are as conventional as can be.
Audi did not say what the crossover will cost. The car goes into production in about two years.
Clearly, the price will depend on the battery prices, and they continue to fall. Audi is dealing with LG and Samsung as battery cell vendors, primarily, although it also uses Panasonic for other plug-in hybrid models, such as the A3 eTron. The A3 eTron goes on sale in the U.S. in the fourth quarter of 2015, one year after it went on sale in Europe.
LG and Samsung (SSNLF) are building new battery tera-factories around the globe, from China to Europe, and the competition for providing less expensive batteries is intense. That said, by the time this vehicle goes on sale, prices should not fall much under $60,000.
Most likely, consumers will be able to order the car in 2017 for delivery as early as January 2018. The final production version of the car -- exterior and interior - should be available well before then, possibly a few months from now.
Audi will be facing strong competition for this car from EVs at all price points. At the high end, Tesla SUVs will cost $85,000 to $145,000.

At the lower, smaller end, the Chevrolet Bolt, which will beat the Audi to market by approximately one year, will cost no more than $37,500.
Nissan will also have its LEAF 2.0 on sale some time in the second quarter of 2017, priced possibly at or below $30,000. Both the Chevrolet and the Nissan will have a shorter range than the Audi -- 200 miles for the Bolt and around 170 miles for the LEAF 2.0. As a result, they will cost at least $20,000 less than the Audi.
Over the next year, we will also see other competitive models being announced. Honda, Hyundai, Ford, BMW and Mercedes will likely start showing their next major EV models. These cars will be in the market no later than 2017-2018, and in Hyundai's case, in 2016.
The only problem with the Audi crossover electric vehicle is the timing. It would be great to have it available now instead of 2018.
This article is commentary by an independent contributor. At the time of publication, the author was short TSLA. Audi paid for airfare, lodging and meals in order to enable this first-hand report. The author regularly test-drives cars from all major automakers, including Audi