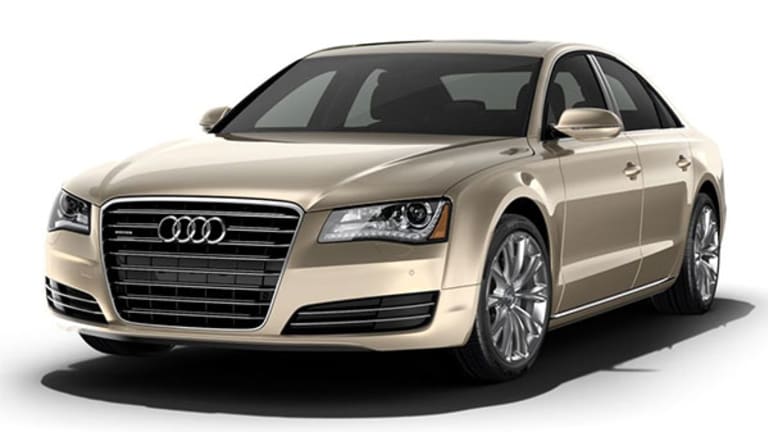 Audi '15 A8 Is a 868-Mile-Range Tesla-Killer, and Diesel Is the Secret
The overall luxury and interior comfort of the Audi A8 is to the Tesla Model S what Buckingham Palace is to a Burger King.
NEW YORK (TheStreet) -- Are you in the market for a $100,000 limo that can go 868 miles without stopping, and that can be refueled 100% in five minutes?  Audi has good news for you.
I recently had the opportunity to drive the 2015 Audi A8, which is a large limousine with four-wheel drive as standard, ideal for snow and the mountains.  It is Audi's new flagship sedan, and it has an amazing range and ability to refuel from any of almost 100,000 U.S. stations in just a few minutes.
What's even more amazing, if my initial test results were to hold up, is that it could cost as little as $1,200 per year to operate, in terms of fuel cost only.  So what is the secret behind this automotive wonder?
It's diesel.
Carlos Slim Ends Ties to AT&T With America Movil Stake Buy
Transformers Engine Cranks, but Still Won't Start
Audi's 2015 A8 diesel is rated by the Environmental Protection Agency at 24 miles per gallon city, 36 mpg highway.  However, as has become a popular refrain among diesel cars, real-world performance typically exceeds the EPA numbers.  In my case, I achieved a whopping 40 mpg in mixed driving, including idling and city traffic.
40 mpg in mixed driving is a very good number, beaten only by Toyota's (TM) - Get Free Report Prius and a small number of other cars.  However, this is no econo-box or midsize sedan.  It's not even a regular large car.
This is a flagship limousine with rear seat space fit for Queen Elizabeth in a celebratory parade -- if she were German.  The overall luxury and interior comfort of the Audi A8 is to the Tesla (TSLA) - Get Free Report Model S what Buckingham Palace is to a Burger King (BKW) .
Unlike in the Tesla, the Audi A8 lets you depart and drive in any direction you want, without having to plan carefully for those few locations where you can charge electrically relatively quickly (212 miles of range in 30 minutes).  In addition, you're not worried about whether there will be a line ahead of you with other drivers waiting to take their 30-minute turn at charging their cars before you do.
You can also turn up the heat to the max, without having to see the remaining range deplete at an alarming rate.  That alone might be the deciding purchase factor.

About that cost of operation: In the event that the Audi A8 diesel were to actually achieve 40 mpg in an annualized real-life experience as opposed to a day's test drive, the annual fuel cost could be $1,200.  Basically, the average American's annual 12,000 miles driven, divided by 40 mpg, is 300 gallons.  Multiply by $4 per gallon and you have $1,200.
Annual fuel cost of $1,200 is very low compared with depreciation on a $100,000 car.  In an electric car, you also have the unique component of a big battery, which loses meaningful capacity every year, unlike an internal combustion engine.
In an electric car with 265 miles of range, that battery is often reported as costing $30,000, which is subject to a variety of caveats, but still. Let's assume that the battery salvage value after 10 years is $10,000.  That means you will have depreciated $20,000 over 10 years, or $2,000 per year.
But the Audi A8 diesel's annual fuel cost could be as low as $1,200.  In other words, even if you assume that the cost of electricity is zero, that $100,000 electric car is already more expensive to run than this 40 mpg diesel limo from Audi.
Ford and GM Sales Decline as May Steals Days from June
Bullard: A Hawk at the Fed?; Parsing Markit Data: Best of Kass
Actually, while we're at it, let's estimate the annual electricity cost to run that large $100,000 electric car for a year.  A car like that can go approximately 3 miles per kWh.  For the 12,000 mile per year average, that means 4,000 kWh.  At the nationwide average of 12 cents per kWh, that means $480 per year.  Add to the $2,000 annual battery depreciation, and you have $2,480 in annual operating cost, exclusive of depreciation and service.
That dollar figure is still peanuts compared with all sorts of things, including the total cost of ownership of the car, but nevertheless:  $2,480 for the Tesla versus $1,200 for the Audi A8 diesel.  That's twice the money -- for a car with one-third the range and much longer refueling times, from far fewer charging stations.  In other words, the Audi A8 obliterates the Tesla in all the most relevant comparisons: cost of operation, range, refueling time and convenience.
As a result, it goes without saying that Audi isn't worried about competition from Tesla.  Instead, the Audi A8's main competition comes from the other large limousines with spacious and comfortable rear seats.
The primary competition is BMW 7-series and Mercedes S-Class.  Right behind those are the Lexus LS, Hyundai Equus and Kia K900.
The three factors that set the Audi A8 apart are:

1.  Standard four-wheel drive.  The other main competitors are rear-wheel drive in some models, and four wheel drive in others, or as an option.  Audi is four-wheel drive from the ground up.
2.  At 4,564 pounds, the Audi A8 diesel is lighter than the BMW and Mercedes models.  The BMW 740 diesel is 4,685 pounds, and the Mercedes 4x4 gasoline S550 is 4,773 pounds.  Mercedes has not yet started selling a diesel version of its all-new S-class in the U.S.  The Tesla is 4,673 pounds.
3.  Superior fuel economy.  BMW offers the only direct competitor in the U.S. market right now, and it is EPA highway-rated at 5 mpg less than the Audi A8 diesel.
When it comes to this flagship limousine class, it would be painful to declare one of these BMWs, Audis or Mercedes to be objectively "better" than the next.  They all drive like a dream and have the ultimate seat comfort and space.  At this altitude of automotive excellence, it is just as much a matter of taste as it is about objective measurements.
Six Flags Rewards Investors Post-Bankruptcy
How to Recession-Proof Your Portfolio With These 5 Dividend Aristocrats
Still, I find that I have to give the nod to the Audi A8 diesel at this point in time.  The reasons are mainly twofold:
1.  As mentioned earlier, the superior fuel economy.  Driving this ultra-luxurious limousine fit for royals and billionaires, while getting almost Prius-like fuel economy, is an automotive achievement of Olympian proportions.  It certainly punctuates the idea of Tesla being a rational luxury car choice.
2.  The infotainment system is the tallest of the midgets.  While I find no pleasure in almost any automotive infotainment system, Audi has some of the least bad ones.  The integration with Google Maps and Google Earth is excellent, providing some of the very best navigation in the industry.
Actually, the infotainment system is an area where I do think Tesla has an advantage.  One can debate the merits of a large touch-screen versus this knob-and-button control of a remote display forever, but on balance I find that I prefer Tesla's approach.  Most people I have seen in side-by-side comparisons tend to agree with me on this Tesla advantage.

The Audi A8 diesel has a base price of $86,025 including destination.  Adding all the options that one really wants in a car of this stature, I get to $96,375.
As for the Tesla, it starts at $81,070 including destination.  Equipping it to a reasonable level, essentially equivalent to the Audi whenever possible, I get to $98,270.  Of course, depending on your tax situation and the state in which you live, a Tesla may yield you subsidies effectively subtracting from this price.  This is, of course, courtesy of Audi buyers having to subsidize consumption of Tesla cars.
To summarize, the Audi A8 diesel beats the pants off the Tesla in the most relevant categories for a luxury limousine:
-- Up to 868 miles of range versus 265 miles.
-- Refuel 868 miles in 5 minutes versus 212 miles in 30 minutes.
-- Ability to fuel almost anywhere at the drop of a hat.
-- Annual fuel cost an estimated 50% less, when including estimated battery depreciation.
-- A more luxurious and comfortable interior.
-- When it's cold outside, you can be warm without sacrificing range.
-- Four-wheel drive, ideal for snow and mountains.
There is no question that the drivetrain smoothness and responsiveness of almost any electric car is superior to an internal combustion engine, experienced mostly in city traffic.  There is no getting around that.  However, it is also the case that there is a price for everything.
In my analysis, the advantages of this 2015 Audi A8 diesel vastly outweigh the benefits of an electric car as they exist with today's battery and recharging technology.  This may change in the future, and the equation is already different where diesel is $8 per gallon instead of $4 per gallon.
In the meantime, imagine this:  What would be the impact if Audi had a CEO with as many Twitter followers as Elon Musk?
Feds Investigate Rear Axle Lockups on 2005 Ram
GM Issues Three More Recalls Covering 474,000 Vehicles
At the time of publication, the author held a position in GOOGL.
This article represents the opinion of a contributor and not necessarily that of TheStreet or its editorial staff.