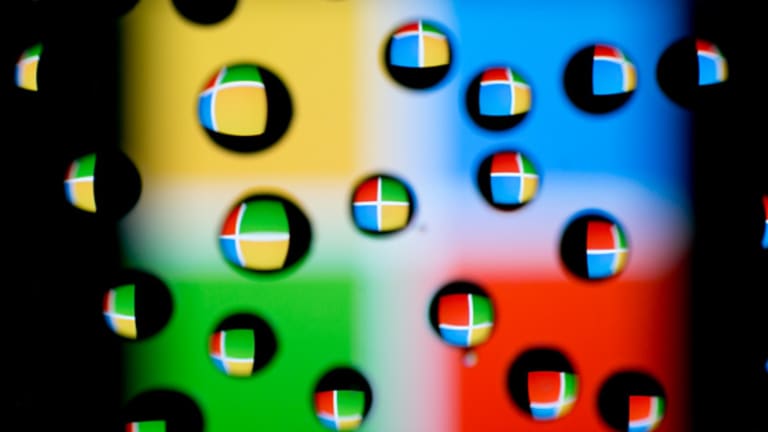 Attention Google, Microsoft: Nobody Cares, Apple Rules
Microsoft CEO Steve Ballmer inserts foot in mouth again.
Microsoft CEO Steve Ballmer inserts foot in mouth again.
NEW YORK (TheStreet) -- Microsoft (MSFT) - Get Report launched something today in New York City.
Google
(GOOG) - Get Report
is hawking a $249 laptop.
Apple
(AAPL) - Get Report
reports earnings on Thursday.
Of the these three news items, at first blush it feels strange, almost geeky, to realize that the Apple story ultimately ends up exciting more people, from hardcore investors to the masses, than anything Microsoft or Google does.
If Apple misses, it makes headlines, not just in finance, but in pop culture and broad news circles.
If Apple crushes it. Same thing.
The only thing that might keep Apple off the front page is an inline with expectations report. But, even then, everybody likes to know how many iPhones and iPads have been sold so far this year, last quarter, forever.
Microsoft doesn't get it. Neither does Google.
Google cannot compete on innovation and design, therefore it attempts to win on price. That's a losing battle.
For whatever inane reason, the media and even many Apple analysts on Wall Street became
before and after the iPad mini launch. It felt good to have some backup from one of the best Apple bloggers in the land,
Ken Segall
:
... any Apple analyst who gets upset over this should be ashamed for failing to understand one of Apple's core philosophies. The company does not compete on price, it competes on quality. Apple does not sell to "everybody" -- it sells to those who appreciate a premium product, and who are willing to pay a premium for it. Build quality aside, iPad comes with a more developed ecosystem, with a bigger choice in apps and accessories. Those who see value in this will pay for that value -- as they have for every Apple product that has succeeded before.
So very well-stated.
You might wonder: Why is this hack, all of a sudden, so bullish Apple?
Consider three verbal specimens of explanation.
One, in the days after the iPad mini (though it was much more than that) event, I have seen an increasing number of people co-opt my argument regarding concern over long-term innovation at Apple.
Frankly, almost every single one has bastardized that stance. They've turned it into a piece of reactionary, thoughtless trash.
You absolutely cannot link what Apple did on Tuesday to an inability to innovate. First, there was plenty of innovation there. I won't waste my time or yours listing it. Second, Apple will crush the holiday quarter. Parents who scoffed at the price of a "regular" iPad will go for the mini. And, as per usual, iPhones, regular iPads and Macs will be under a zillion Christmas trees.
Two, I smell blood as an investor.
If Apple shows any more weakness, I might do some heavy call buying. Thursday evening's report could be weak. In fact, I hope it is. And I hope it takes the stock below $600 because, at that point, it could technically disintegrate for a while.
An Apple miss -- or any sort of weakness after earnings -- represents the head fake and buying opportunity of the century. People will jump to associate it with long-term problems in a post-Steve Jobs world. They're missing a step, particularly the current holiday quarter and January 2013.
We start worrying about the long-term stuff if Apple doesn't do something new somewhere around next spring.
Three, Steve Ballmer is saying silly things again.
At least he's carrying on a wildly entertaining tradition.
You know, like former
Research in Motion
(RIMM)
keystone cop Jim Balsillie ripping Apple years ago, claiming that you don't need an app to surf the Web. Does anybody even "surf the Web" anymore?
Or Ballmer himself, responding with a condescending laugh, when asked about iPhone way back when. I thought he would have learned from the mistake that is his history.
Ballmer told
this morning that "Not Apple. Not Google. Not Amazon. Nobody has a product that you can really use."
I won't rant on about why (A) Ballmer still doesn't get it and (B) he's wrong right now. I'll wait until after Apple reports.
Short story -- ignore everything for the next three to six months. Mindshare -- and increasing marketshare across categories -- isn't moving from Apple anytime soon. And, if it does, it sure as heck will not be Microsoft or Google's fault.
At the time of publication, the author held no positions in any of the stocks mentioned in this article
.
This article is commentary by an independent contributor, separate from TheStreet's regular news coverage.
Rocco Pendola is
TheStreet's
Director of Social Media. Pendola's daily contributions to
TheStreet
frequently appear on
CNBC
and at various top online properties, such as
Forbes
.