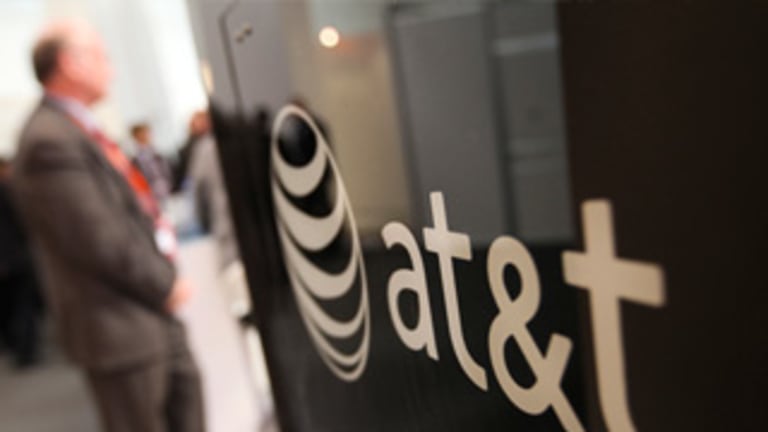 AT&T Wants What Comcast Has and It's Not Broadband Wires
A bundle of Amazon Prime and HBO may appeal to female buyers of Internet access, so AT&T is eager to acquire more content to keep pace with Comcast.
AT&T (T) , which is still trying to get its acquisition of DirecTV (DTV) approved by federal regulators, is moving to compete in a world where Internet subscriptions are increasingly begin selected based on the content offered by the provider. It's a formula that's working for AT&T's biggest rival, Comcast (CMCSA) , owner of NBC/Universal, and it's a strategy the company once known as Ma Bell is desperate to execute -- and soon.
With that goal in mind, AT&T this week said it plans to bundle a year's worth of Amazon (AMZN) Prime, the online retailer's streaming media offering, with Time Warner's (TWX) HBO and its own wired U-Verse Internet subscriptions at a bargain price of $40/month. Is that a bargain compared to getting Netflix (NFLX) and HBO through a local pay-TV provider? Maybe.
AT&T also announced an agreement with Peter Chernin, the former Fox FOX executive, to acquire a majority stake in FullScreen, a popular content provider to Google's (GOOG) YouTube. The FullScreen deal is being financed with Otter Media, a joint venture between AT&T and the Providence Equity-backed Chernin Group. The two companies had earlier bought CreativeBug, an instructional media company, from Demand Media. AT&T was slipping 0.6% to $35.31, trimming its 2014 gain to 0.4% compared to a 7.5% advance in the S&P 500undefined .
Read: Exploding Apple iPhone Sales Could Be Huge for These Companies
The reasons for these two deals has everything to do with Comcast, the country's largest broadband provider. AT&T is facing fierce competition from Comcast for broadband subscribers, which if it gets the Federal Communications Commissions to approve its merger with Time Warner Cable (TWC) , will control more than 40% of the country's Internet market. Unlike AT&T, Comcast can use boatloads of content from NBCUniversal to attract and retain subscribers.
AT&T doesn't possess similar offerings. And for that, they've suffered. 
In response, AT&T spokesman Jim Greer said in an e-nail that the "offer allows customers to benefit from significant savings, the ability to watch popular content across their devices and surf with faster broadband speeds. It's another way we're bringing more choice, content and value to U-verse customers."
But value is in the eye of the beholder. Over the last five years, AT&T shares have increased just 31%, while Comcast has rocketed 223%. That's a big difference, and media investors know it. The market cap of AT&T, which includes its mobile operations, is now $184 billion, while Comcast is up to $144 billion. If present trends continue, Comcast might be worth more than AT&T within just a few years despite AT&T's near-duopoly with Verizon (VZ) in wireless services, which of course is under some threat from T-Mobile (TMUS) and Sprint (S) .
Read: Samsung's Galaxy Alpha Smartphone Coming to the U.S., But Few Take Notice
Clearly, AT&T has work to do, which is why the Dallas-based company has been so inquisitive doing deals in an effort to match Philadelphia-based Comcast. So, what about this bundle of Prime and HBO? 
It could be a great deal for women viewers when compared to what Comcast is offering. Comcast's pay-TV subscriptions include very large payments for live sports, not just from NBC but from other providers led by the 800-pound gorilla, Disney's (DIS) ESPN. Of course, that's presuming that women don't watch ESPN. Nonetheless, AT&T's new bundle could also make DirecTV more appealing, and could even be extended to AT&T's cellular customers.
Both of those developments along with the FullScreen deal cold help to light a fire under AT&T's stock. And that would make its shareholders very happy.
At the time of publication the author owned shares of GOOG, GOOGL, S and CMCSA.