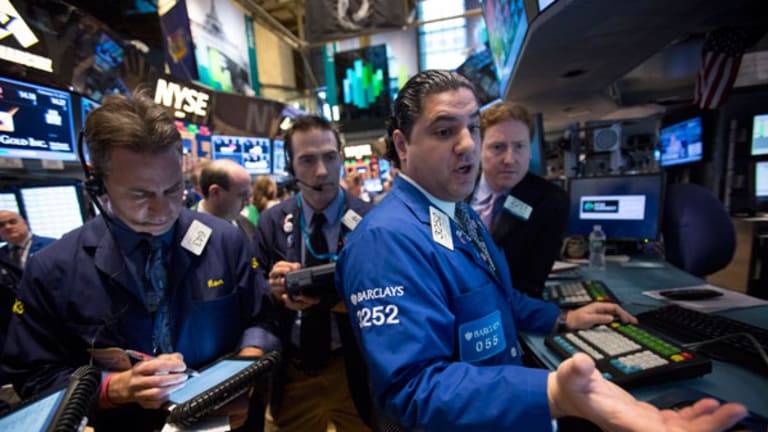 AT&T, Universal Health, HCP Have 5% Yields, 25 Years of Div Hikes
These three businesses have increased their dividend payments for more than 25 years in a row and have a high dividend yield of more than 5%.
NEW YORK (TheStreet) -- The rising stock market has made it increasingly difficult to find businesses with high yields and a long history of dividend growth. That's because low interest rates have pushed up prices on real assets such as stocks and bonds, reducing yields. So, it is difficult to find these stocks in this market, but not impossible.
There are three businesses that have yields of more than 5% and have increased their dividend payments for 25 (or more) consecutive years. I found these three unique names by combing through the Dividend Aristocrats Index, which is comprised of businesses that have 25 or more years of consecutive dividend increases.
AT&T (T) - Get Free Report: 5.31% yield, 30 consecutive years of dividend increases;
Universal Health Trust (UHT) - Get Free Report: 5.84% yield, 27 consecutive years of dividend increases;
HCP (HCP) - Get Free Report: 5.32% yield, 29 consecutive years of dividend increases.
These businesses do not just say they are going to reward shareholders with rising dividends, they have proved it over the last two and a half decades.
data by
AT&T:  Dividend Growth Catalysts
Here's a look at the growth catalysts for each business, so you can see from where future dividend growth will come.

AT&T provides telecommunications services to consumers and businesses primarily in the U.S. The company's revenues are divided between its Wireline Voice, Wireline Data & IT Solutions, and Wireless divisions. The company's wireless division accounts for 55% of revenue, according to its second-quarter investor briefing.
AT&T recently announced plans to acquire DirectTV in a stock and cash transaction. The acquisition strengthens AT&T's position as a content distribution leader across mobile, video and broadband platforms. DirecTV has a strong market share in Latin America. The move will provide an entry point for AT&T into the Latin American market in addition to strengthening the company's bundling capabilities domestically.
A new potential growth opportunity has opened up for AT&T in addition to the proposed DirecTV acquisition. Windstream Holdings (WIN) - Get Free Reportrecently announced plans to spin off its telecommunications assets into a Telecom REIT. This is a new corporate structure model for the telecommunications industry. If Windstream proves successful in this venture, AT&T could follow its lead.
A REIT spinoff would be accretive for shareholders by allowing AT&T to focus entirely on customer service and retention, customer acquisitions and intellectual property. The REIT spinoff would be able to tap equity markets through share issuances more efficiently and be focused solely on building better telecommunications networks.
Universal Health and HCP Dividend Growth Catalysts
Both Universal Health Trust and HCP are health care REITs. Universal Health Trust was founded in 1986, and now has 56 investments in 16 American states. The majority of Universal Health Trust's income comes from medical office buildings and clinics. HCP also invests primarily in U.S. health care properties. The company's assets are spread between senior housing, post-acute/skilled nursing, life science, medical offices and hospitals, according to Universal Health Trust Investor Relations.
Both businesses are experiencing strong macroeconomic tailwinds due to their exposure to the health care industry. The health care industry has been growing significantly faster than the overall U.S. economy for the last five decades, according to The Incidental Economist.
Rapid health care expansion is a result of several broad trends that are likely to persist far into the future. The first of which is a growing number of elderly people in the U.S. As the "baby boomer" generation retires, the level of elderly people in need of health care will continue to rise. Technological advances have greatly increased high-end spending on health care, as sites by the Congressional Budget Office.

About 50% of health care spending comes from just 5% of the population. Expensive new treatments and medical devices cause health care growth as more diseases and illnesses can be treated. As technology continues to advance, better (and more expensive) pharmaceuticals, medical devices, and surgical procedures will likely be able to treat and cure even more ailments than today. (See page 12 of the CBO's Technological Change and The Growth of Health Care Spending).
Health care accounted for less than 6% of US GDP in 1960. Today, it accounts for over 17%, according to Econographics.
Financial Metrics Favor AT&T
AT&T has grown its dividend per share payments at about 4% per year over the last decade, vs. 3.2% for HCP and 2.5% for Universal Health Trust. AT&T is also significantly less volatile than HCP or Universal Health Trust. AT&T's standard deviation is about 22%, versus 34% for Universal Health Trust and 41% for HCP. Not only does AT&T have a faster historical dividend growth rate with significantly lower volatility, it also has increased its dividend payments for 30 consecutive years in a row versus 29 years of consecutive increases for HCP, and 27 for Universal Health Trust.
Of the 3 businesses discussed in this article, AT&T stands out quantitatively. The company ranks in the Top 25 of all businesses using the 8 Rules of Dividend Investing which compare businesses with a long history of dividend increases to each other over relevant financial metrics that have historically improved returns such as low volatility, long dividend histories, and high dividend yields. Each of the businesses in this article offer investors strong current income and a long history of dividend growth. AT&T offers these benefits with slightly more growth and significantly less volatility than its high yielding peers.
data by
At the time of publication, the author held no positions in stocks mentioned, although positions may change at any time.
This article is commentary by an independent contributor, separate from TheStreet's regular news coverage.