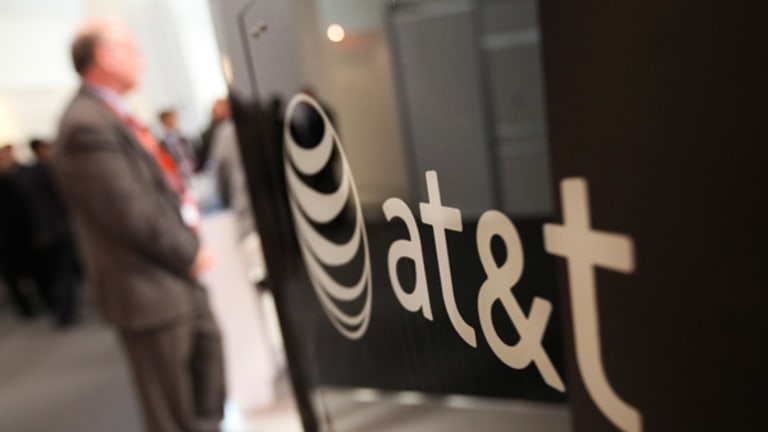 AT&T Deal Could Shake Up the Apple/Google Duopoly
For AT&T investors, the deal to exclusively offer Nokia's Lumia 1520 may result in much greater profit.
NEW YORK (TheStreet) -- Unlike BlackBerryundefined, Nokia (NOK) and Microsoft (MSFT) refuse to succumb to the seemingly unstoppable market dominance of Apple (AAPL) and Google's (GOOG) Android platform.
In fact, the Nokia-Microsoft partnership appears to be thriving.
AT&T
(T)
announced an exclusive carrier deal for the upcoming Lumia 1520. The 1520 is the largest Windows phone yet, with a six-inch display.
For AT&T investors, the Lumia 1520 may result in much greater profits than you may instinctively assume.
A larger display almost assuredly means greater data consumption compared to other phones. Larger displays also attract business and power users. For users with a larger screen, many applications that only made sense on a tablet or laptop will now work great on a phone. Lumia 1520 users probably won't need to buy a seven-inch Kindle Fire from
Amazon
(AMZN)
.
Read: Carl Icahn Halves Netflix Stake Citing 457% Gain
The Kindle isn't a profit center for Amazon, reportedly, so I don't anticipate a profusion of pressure on Amazon even if the Lumia 1520 cuts into sales. However, for Apple and Google, it's an entirely different story.
A Microsoft-powered Lumia featuring a seven-inch screen not only competes against the iPhone but may create increased margin pressure on the iPad. The same holds true for Android powered "super-sized" phones and phablets like the Galaxy Note series.
Unlike the Galaxy Note, the Lumia 1520 already speaks the language of business because it's running Windows natively. The combination has the potential to reach critical mass while making room for other Microsoft phones to follow along.
data by
AT&T is at the epicenter and stands to capture market share in ways unseen since the end of the exclusive iPhone marriage. That's a bold statement about a phone, especially after my plethora of BlackBerry 10 articles describing why one phone doesn't matter. The difference is that this is but one of many game-changing phones coming from Nokia.
Regardless if you're reading this article from your office or from home, if you're on a desktop it's probably a Windows or an Apple machine, leaving Google as the odd man out. It's a short bridge for AT&T wireless reps to sell an existing Windows user a large-screen Windows phone compared to the Galaxy Notes-running Android.
To appease a growing wireless data appetite from phones, phablets, and tablets, AT&T raised $4.85 billion from
Crown Castle international
(CCI)
. Crown Castle is buying 600 cell phone towers and will receive an exclusive right to lease and operate over 9,000 other towers from AT&T.
The deal between Crown Castle and AT&T makes sense because Crown Castle can increase the monetization of each tower while at the same time lowering AT&T's cost. Also, AT&T is able to free up a war chest of cash that it can use for buying light spectrum and acquisitions including Europe.
Read: Wealthy Investors Say 80 Is the New 60
The cash also allows AT&T to continue upgrading its wireless technology, and for shareholders it means cash for stock buybacks. I don't usually get overly impressed when a company announces the board "approved" a buyback. First of all, they almost always word as "up to X dollars" and rarely reach the limit.
Secondly, buybacks are management's way of acknowledging they are overpaid and don't have a legitimate better use of capital. Either way, buybacks rarely make sense. But sometimes they do, and for AT&T I believe a smaller float is healthy for the company.
AT&T buying shares makes a lot of sense considering its whopping and ever-increasing dividend payments, currently paying about 5.2%. Although the expected forward payout rate is over 50%, its stability of income allows for a greater margin of error.
For an extra layer of safety, a yield-seeking investor can buy AT&T for about $35.23 and in turn sell a January $36 strike price call option for about 60 cents. The option expires in 86 days and raises the yield by almost 2% while allowing dividend collection in the meantime. Selling the option also lowers your risk by more than 1%.
I like this strategy because the focus is on managing risk, and the option expires after the next expected dividend payment in January.
At the time of publication the author had no position in any of the stocks mentioned.
This article was written by an independent contributor, separate from TheStreet's regular news coverage.
Robert Weinstein is an active trader focusing on the psychological importance of risk mitigation, emotion and financial behavior of market participants. Robert co-founded the investing blog
, where he writes a journal about his trading activity and experiences.
In addition to
TheStreet
, Robert also contributes to
Real Money Pro
, providing real-time trading ideas for stocks, options and futures.