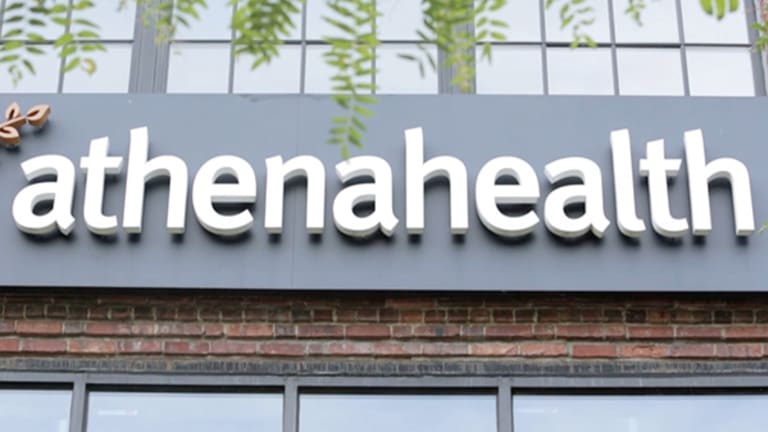 Athenahealth and Horizon Pharma Shares Can Still Move Higher -- Here's Why
Athenahealth and Horizon Pharma stock still have plenty of upside left even after their recent rallies. Here's a look at the dynamics propelling these two health sector standouts.
If you hold the stocks of athenahealth undefined and Horizon Pharma (HZNP) - Get Free Report , chances are you recently popped open some bubbly.
In a single session last week, Friday, each of these health care stocks saw an uptick of about 30%, bringing much cheer to investors in a market where companies such as Valeant Pharmaceuticals International and Pfizer are under fire for alleged drug-price gouging.
In addition to shunning Valeant, which has gotten horrible press lately, you should also stay away from this group of stocks, which will soon face investors' wrath.
So, what caused these two health care stocks to pop? And do they have more room to rise?
Athenahealth
Shares of athenahealth zoomed on Friday following the company's stellar third-quarter earnings release. Revenue and profits of the provider of cloud-based services and mobile applications for medical groups and health systems beat the Street's estimates.
Adjusted earnings per share were 36 cents, well ahead of the average analyst estimate of 26 cents. Revenue was $236.1 million, up 24% from a year earlier.
Also, without venturing away from its fiscal 2015 guidance, athenahealth expect total revenue according to generally accepted accounting principles to be at or above the midpoint of the $905 million to $925 million guidance range for 2015. It also said it expects non-GAAP adjusted gross margin to be close to the higher side of the 62.5% to 63.5% guidance range.
Analysts are now expecting fourth-quarter EPS of 40 cents and revenue of $256.75 million, translating to year-over-year growth of 20%.
After the 28% spike in the share price on Friday, it is natural for some investors to take profits. The question that remains is, can athenahealth sustain the momentum?
At a forward price-to-earnings ratio of nearly 95, the stock surely is not cheap,  especially when compared to competitors such as Cerner and Allscripts Healthcare Solutions, with P/E ratios of 26 and 24, respectively.
Does a high growth rate justify athenahealth's P/E?
If numbers are anything to go by, for at least four quarters now, the company has consistently beaten EPS estimates by substantial margins.
On the strategic side, the company is riding high on positive news. Athenahealth recently added almost 4,000 physicians to its billing collection business. Also, ICD10, a new set of billing codes that makes billing more streamlined, has driven success for athenahealth's technology.
Athena is focused on innovation in other areas of its business, including expanding its population health business by caring for patients on a budget, and introducing its electronic health record service from primary care to smaller hospitals.
If the company is able to win customers at a steady rate and maintain its commitment to drive both clinical and financial outcomes for clients, it will always be an attractive bet for investors who want to ride the nontraditional health care software theme.
Horizon Pharma

There were several drivers behind Horizon Pharma's skyrocketing share price on Friday. The specialty biopharmaceutical company rallied after it released a public letter contesting an article in The New York Times that said Horizon was using specialty pharmacies to distribute common drugs that didn't appear to require special handling.
Plus, company management reiterated that Horizon does not hold a stake in any of the specialty pharmacies that handle its medicines, blowing the wind out of any conflict of interest allegation.
The entire issue erupted at a time when there has been huge public debate over drug prices. That's probably why specialty pharmaceutical firms including Horizon that repackage older drugs into novel combinations are being universally targeted.
Moving on the path of inorganic growth, Horizon is leaving no stone unturned when it comes to future prospects. It bought Hyperion Therapeutics for about $1 billion, giving it the right to two lucrative rare disease drugs. Not content, it is has an outstanding $1.7 billion hostile bid for DepoMed in an all-out effort to gain hold of a portfolio of pain and nervous-system-disorder products.
With a diversified portfolio that balances growth with steady income, the company's move to shift its corporate headquarters to Ireland last year after an acquisition was nothing short of a masterstroke. Facing far lower corporate tax rates than in the U.S., Horizon is hoping this move will translate into higher gross profits.
With revenues in 2015 estimated to log a 130% rise, Horizon is primed for big moves in the days to come. Analysts expect 2016 revenues to jump by 26% and EPS to grow by 35% from 2015. With a price-to-earnings growth ratio (avg. for comparison categories) of 0.77 for Horizon compared to 0.30 for the industry, it's not difficult to understand why the stock is up 35% year to date.
(While these health sector stocks face more upside, there are lots of terrible stocks today that will only go down. Click here for the complete list of stocks ready to collapse.)
This article is commentary by an independent contributor. At the time of publication, the author held no positions in the stocks mentioned.