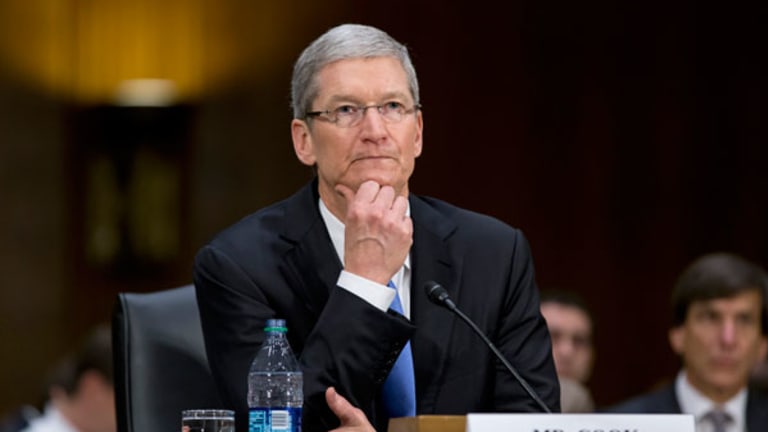 At the Hands of Apple, Android Is as Good as Dead
The numbers don't lie: Tim Cook and Apple are about to whip Android's butt.
NEW YORK (TheStreet) -- It took some time for me (and quite possibly you) to recover from the death of Steve Jobs, but -- finally -- I'm over it. I'll never forget what Jobs did for Apple (AAPL) - Get Apple Inc. Report, but it's no longer an overhang -- this is Tim Cook's Apple. He went a long way to cementing this reality with the deal for Beats. And he took another step in a most righteous and aggressive direction during Monday's WWDC keynote:
Many of these customers were switchers from Android. They had bought an Android phone, by mistake, and then sought a better experience ... And decided to check out iPhone and iOS.
That's Cook referring to the 130 million people who, over the last 12 months, became first-time Apple customers.
130 million new Apple customers over the last 12 months ... That's beyond incredible. And this conversion rate from Android, if you will, only adds to the power of the numbers I published last week:
If the article that excerpt came from -- Apple Annihilates Android, Crushes Stock Market in 2015 -- and Helping Apple Haters Understand Why Android Is Doomed didn't make it clear enough, Cook's rhetorical posture and the exodus of 130 million new customers from some other operating system should.
Because if you're switching to an Apple iPhone, you're most likely doing one of two things -- upgrading from a dumb phone for the first time or jettisoning the non-experience of owning a nondescript Android smartphone. Like Cook said, you realized you erred with Android; now you want the real thing. And, of course, if you already have the real thing, you will upgrade to the next iteration of that real thing when you're eligible (see numbers above), if not sooner.
Floodgates ... open.
Android's finished. It'll take some time for the process to play itself out, but make no mistake, without even trying, Apple's iOS will become a mobile marketshare story. In a twist of irony, it will become a marketshare story because marketshare has never been Apple's focus. That approach has allowed Apple to do what it does extraordinarily well. And, when you dominate mindshare the way Apple does, it's only a matter of time before -- by default -- you dominate marketshare.
For goodness sake, Samsung, according to an interesting article over at Forbes, even sees the writing on the wall. But don't go over there to read that yet. Because I've got more ...
What I describe here vis-a-vis Android isn't all that different from another butt whopping Apple's in the process of administering.
To Page Two ...

WATCH: More tech videos on TheStreet TV
Of those 130 million customers Cook mentioned, a considerable number must be new MacBook users. Folks disenchanted with Windows-based PCs and the crappy software Microsoft (MSFT) - Get Microsoft Corporation Report preloads them with.
While it has been a dynamic one, that process will take longer to play out simply because it's not as easy a financial task for most people to change out laptops. Your phone -- and, to a lesser but growing extent, your tablet -- have become essential items. You're going to make upgrading that phone every two years a priority. And, as the smartphone becomes more of a personal and professional force in people's lives they're going to want to make sure they have the best product possible from utilitarian, design and status standpoints.
That's why people make the switch from the mistake that was Android to an iPhone.
It's plain to see how it all ties together. As I explained in Microsoft Is a Total Embarrassment, the personal choices people make impact -- over time -- the choices businesses make with respect to the devices they arm their employees with (or if they adopt, in some corners, a Bring Your Own Device (BYOD) policy). We saw it go down with BlackBerryundefined. Don't wait until it becomes obvious -- and the tech and financial media hops on the Johnny come lately bandwagon -- to shout out that we're seeing it now with Apple, Android and Microsoft.
New Apple customers are, in large swaths, former Android and/or Microsoft users. This will completely transform the consumer marketplace as we know it. The marketshare will continue to reflect the trend, particularly in the United States. As this consumer shift becomes increasingly apparent (heck, all you have to do is look around!), the shift in the enterprise will become more apparent.
When the halo effect takes hold, it has a relentless power you simply do not see with Android. At least not to the level we see it at with Apple. You use an iPhone so you buy an iPad and/or a Mac. If you're using them in your personal life, it feels really dumb (and not very productive) to not be using them in your work life.
We're watching a pretty straightforward, multi-faceted trajectory take shape. Just because it's easy to understand doesn't mean it's not exciting. Quite the contrary. It's pretty incredible to watch Apple work. And it's even better now that Tim Cook has come into his own as a CEO.
Just as I have been for the last several months, he's going after Android. Cook's a prudent man. He's not coming off half-cocked here. The guy would not open his mouth the way he did during the WWDC keynote unless he knew -- unequivocally -- that he has and will continue to have the numbers to back up the trash talk.
None of this is hot air. Not from Cook. And certainly not from me. I don't even have to go back to the beginning of my narrative assault on Android. Since I suggested investors load up on Apple stock, it's up about 19%.
--Written by Rocco Pendola in Santa Monica, Calif.
>>Read More:
Herb Green: Apple's Latest Ad-Stravaganza
Apple vs. the Tech World -- Watch Out Google, Microsoft: StockTwits
Call the Cops: Apple's About to Kill Android
Rocco Pendola is a full-time columnist for
TheStreet
. He lives in Santa Monica. Disclosure: TheStreet's editorial policy prohibits staff editors, reporters and analysts from holding positions in any individual stocks.