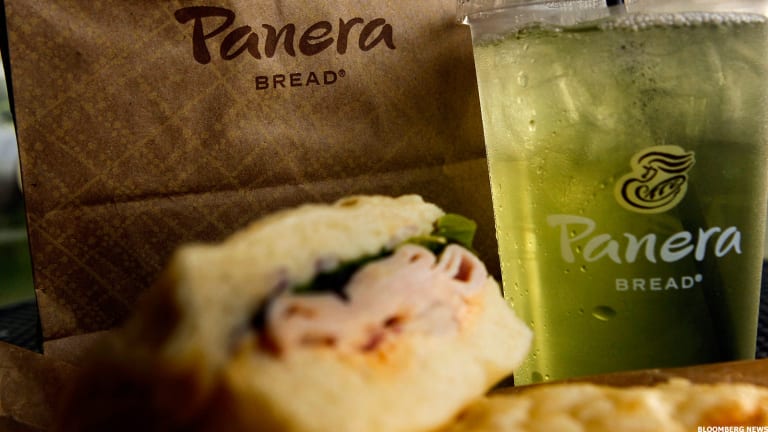 At Panera Bread, Techology and Quality Food Are a Good Combo for Investors
The Panera 2.0 kiosks will improve customer service, and the company has improved the quality of its ingredients.
Panera Bread  (PNRA) is not your average fast-casual-restaurant chain. Its Panera 2.0 initiative has cast the company as forward looking and tech savvy. 
Panera 2.0 allows customer to place an order and pay via their computer or mobile device or through a kiosk at a Panera restaurant. Customers still have the option to pay at a cashier, but Panera says that the new system will improve service. Panera is banking that this technology initiative coupled with its focus on quality ingredients will draw more customers. 
Nearly three decades after the company started as a lone store in Kirkwood, Mo., Panera seems well-positioned to out-perform other fast-food chains. Panera seems likely to provide robust capital appreciation in 2016.
Panera says that 16% of total company sales are now ordered, produced and paid for digitally. Panera predicts that this total will rise above 20%. Digital sales account for $500 million in sales and could reach $1 billion by the end of 2017.
The initiative dovetails with the rising use of digital technology throughout the restaurant business, and it is part of the reason that the company looks primed to continue taking market share from more established chains, including McDonald's. 
Panera same store sales are growing, even as other chains struggle.
Revenues have grown more than three-fold over the last decade and net income has more than doubled. 
In addition, Panera has improved the quality of its ingredients. Panera restaurants no longer use artificial preservatives or short cuts for its bakery products. Poultry and pork are antibiotic-free. This comes as one of its rivals Chipotle Mexican Grill is struggling from the fallout from an e coli outbreak. 
Panera should continue its impressive earnings growth.
The company's previous five-year earnings per share (EPS) growth at 7.62% per year is higher than McDonald's flat growth and YUM! Brands around 2% run-rate. Current projections put Panera's five-year figures at nearly 15%.
These numbers mean that Panera will generate greater annual free cash flows (higher than the nearly $100 million at present). Morgan Stanleyhas upgraded Panera.
Overall, analysts have a 12-month median price target of $230, a nice 12.4% upside from current levels. But remember, this is a "buy and hold" investment. At a PEG ratio of 2.09, lower than the industry average of 2.39, Panera is a smart value pick.
You see Jim Cramer on TV. Now, see where he invests his money and why Panera Bread stock is a core holding of his multimillion-dollar portfolio. Want to be alerted before Jim Cramer buys or sells PNRA? Learn more now.
85% Accurate Trader gives his Personal Guarantee. He turned $50,000 into $5 million trading this way and for a limited time, he's guaranteeing you at least $67,548 per year in profitable trades if you follow this simple step-by-step process. Click here to see how easy it is to collect thousands of dollars in "Free Money" every month.
This article is commentary by an independent contributor. At the time of publication, the author held no positions in the stocks mentioned.