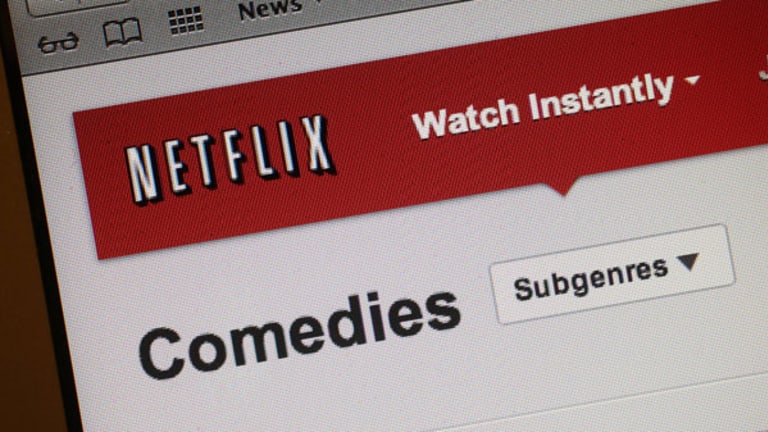 At Netflix, It's Not About Magic, It's About Tricks
Reed Hastings portrays himself as a steady at the wheel CEO. He's anything but.
I got shackles on my wrist/Soon I'll slip 'em and be gone 
Chain me in a box in the river/And I'll rise singin' this song 
Trust none of what you hear/And less of what you see 
This is what will be, this is what will be
-Bruce Springsteen, "Magic"
NEW YORK (
) 
--
This is not about magic, it's about tricks
. That's how Springsteen introduced the song "Magic," several years ago, night after night, on tour. While it was in response to Bush administration policies, it could have just as easily been about how Reed Hastings runs
Netflix
(NFLX) - Get Free Report
.
The classic definition of a smoke and mirrors, dog and pony show.
Hastings has an impressive, yet incomprehensible way of making people -- from Wall Street analysts to entertainment reporters --
ignore the quantitative and qualitative deficiencies of Netflix's business
in favor of a view that paints the company as operating from a position of strength. As I have chronicled since NFLX's epic run and subsequent crash of 2011, the same thing will happen again -- it's only a matter of time -- because very little has improved at the company. In fact,
as Netflix makes a desperate attempt at survival
with an unworkable original programming strategy and the continued loss of key third-party content, it might actually be worse off than it was two years ago.
Also see: Netflix Is Nothing Like HBO >>
Cliche usually sucks, but
If you don't learn from history, you're doomed to repeat it
applies with respect to Netflix. It's instructive to consider the way Reed Hastings situates himself -- as a confident and thoughtful, yet unwavering leader of men and media pioneer -- vs. reality. Erratic. Uncertain. Unsteady. Contradictory. History shows these words describe Hastings the CEO much better than the public image he has mesmerized the media into molding.
Netflix's Precarious Cash Position
Let's go back to 2011. First, there's Netflix's rapidly shifting,
say one thing, do another
comments regarding its cash position.
Oct. 24, 2011
, Netflix
Q3 2011 letter to shareholders
:
By pausing on further international expansion and halting buybacks, our current cash on hand is adequate to support the growth of the business.
Jan. 25, 2012
, Netflix
Q4 2011 letter to shareholders
:
Our standard practice with regard to managing our capital structure has been to evaluate on an ongoing basis the appropriate cash level and capital structure for the business. In Q4, given the pain from our price changes and the impact to our 2012 outlook, this analysis led us to the decision to strengthen our balance sheet by raising $400 million of additional capital from two long-term oriented shareholders. $200 million was raised through the sale of equity (2.86 million shares at $70 per share), and $200 million was raised through the private placement of zero-coupon convertible notes. We have no intentions to spend this additional capital; it is merely a stronger safety-net for an aggressive, fast moving business with a big opportunity.
Also see: Marissa Mayer's 'New York Yankees' Strategy Will Fail at Yahoo! >>
But the numbers don't lie. Netflix
did
spend that cash. I guess Hastings could argue it wasn't actually that particular pile of cash Netflix spent, but, again, you be the judge. From
a March 2013 TheStreet article on Netflix
, the numbers, again, reflect a reality Reed Hastings and his media and Wall Street disciples ignore:
See if you notice a pattern in this series of numbers: $194,499, $150,419, $175,207, $159,199, $508,053, $395,992, $402,251, $370,298, $290,291. Those numbers represent, in chronological order (and in thousands), Netflix's cash and cash equivalents over the last nine quarters, ranging from the quarter ending Dec. 31, 2010, to the most recent reported quarter ending Dec. 31, 2012
That pop -- from $159,199 to $508,053 -- came when Netflix had to hit the market for extra cash at the end of 2011 as things really began to unravel.
Hastings must have figured that since nobody paid attention in 2011, he could pull the same rabbit out of his cap in 2012.
Oct. 23, 2012
, Netflix
Q3 2012 letter to shareholders
:
We have enough cash on hand to fund our planned originals in addition to our ongoing expenses, maintain an adequate reserve, and then return to positive FCF.
Jan. 23, 2013
, Netflix
Q4 2012 letter to shareholders
:
As highlighted previously, we have sufficient cash on hand to fund our current slate of originals and ongoing expenses, and to maintain an adequate reserve, before returning to positive FCF.
In addition, we are exploring taking advantage of the current low interest rate environment to refinance our $200 million in outstanding notes and raise additional cash through new debt financing. This would give us additional reserves as well as increased flexibility to fund future originals.
Right Reed. And, to take "advantage of the current low interest rate environment," I maxed out my credit card to pay utility bills and buy groceries.
Also see: Old Dog, New Blog: Order In >>
Netflix Revives, Then Abruptly Kills Its DVD Business
As we peruse history, let's consider Hastings' on-again, off-again relationship with Netflix's DVD business. This is not a CEO with a sound grasp on his company's business. I realize media companies that double as tech firms must be nimble. But Netflix supplies new meaning to the notion of a strategy shift.
July 25, 2011
, Netflix
Q2 2011 letter to shareholders
:
In addition to separating the plans, we are setting up a dedicated DVD division, led by twelve-year Netflix veteran Andy Rendich, to focus on running a successful DVD by mail service in the U.S. for a long time. Andy and his team will be located nearby in San Jose, and are already planning some great improvements for the DVD service. Because we believe we can best generate profits and satisfaction by keeping DVD by mail as a division, we have no intention of selling it. In Q4, we'll also return to marketing our DVD by mail service, something we haven't done for many quarters. Our goal is to keep DVD as healthy as possible for as many years as possible.
Dec. 6, 2011
, Hastings at the
UBS 39th Annual Global Media and Communications Conference
:
DVD will do whatever it's gonna do. We're gonna try to, ah, not hurt it, but we're not putting a lot of time and energy into doing anything particular around it.
Netflix Content Strategy: A Moving Target
July 24, 2012
, Netflix
Q2 2012 earnings conference call
:
Netflix IR Employee: Moving to questions about content. Has there been a shift in content acquisition away from large-scale buys to a more focused, cost-effective approach that targets lucrative niche areas such as kids TV, past seasons of original series such as Mad Men, not to mention your original programming. It appears that a more streamlined focus strategy can help rein in content costs while quite possibly, improving the streaming selection. In other words, is this a focus on quality over quantity?
Hastings: Well one, we're not trying to rein in content costs. We're continuing to invest more and more each year in content. Two, there's no shift. We're always focused on what does a piece of content cost versus how much we think it's going to get viewed. And so, where you see us get small or interesting films or TV shows, it's because we think the economics work in the amount we pay versus how much we think it's going to get viewed. And that's been consistent for several years.
I submitted that question, BTW. It echoes thoughts I expressed on
TheStreet
one week later in
Prepare to Buy Netflix Before It Rises From the Dead
:
In response to my conference call question, Netflix CEO Reed Hastings scoffed at the notion of "reining in" content acquisition costs. It's all semantics. If they haven't been reined in, Hastings, at the very least, decided to stabilize them and make smarter, more-focused content buys.
April 25, 2013
Reed Hastings'
Long-Term View
:
We've realized that the 20th documentary about the financial crisis will mostly just take away viewing from the other 19 such docs, and instead of trying to have everything, we should strive to have the best in each category. As such, we are actively curating our service rather than carrying as many titles as we can.
Wow, Reed. That sounds a lot like what I was sensing last summer when you told me I was wrong.
Hastings' record speaks for itself. Many investors refused to quit while they were ahead in 2011. They ignored the writing on the wall. Some still got out just fine; others, particularly those who "bought on dips" or bought at $300, got crushed. We're in an eerily similar situation in 2013.
If you're going to
put all your money in one stock
, NFLX absolutely should not be it. If you're going to put Jeff Bezos-type faith in a CEO, history makes it quite clear Reed Hastings should not be your guy.
--
Written by Rocco Pendola in Santa Monica, Calif.
Rocco Pendola is
TheStreet's
Director of Social Media. Pendola's daily contributions to
TheStreet
frequently appear on
CNBC
and at various top online properties, such as
Forbes
.