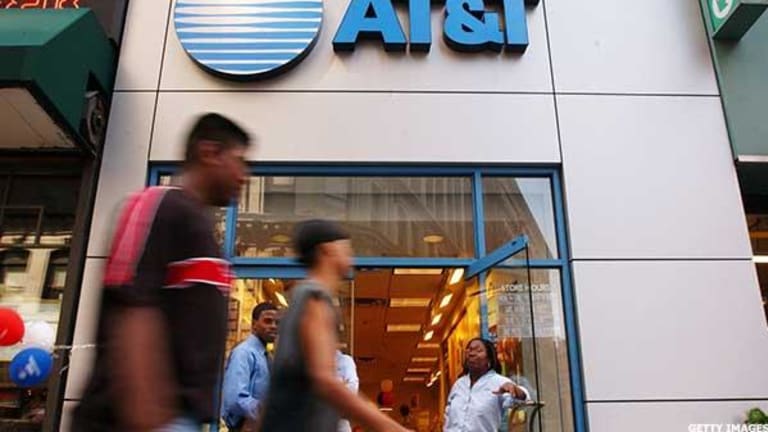 AT&T May Look to Market Data Centers
AT&T may be waiting to see how Verizon and CenturyLink's auctions pan out before pulling the trigger on marketing its own data centers.
AT&T's (T) - Get AT&T Inc. Report quiet sale of a southern California data center may not suggest a for-sale sign for its portfolio of facilities, but it does raise the question of whether the telco should look to offload its data centers as it focuses on long-term strategies centered around content.
Carter Validus Mission Critical REIT II announced Tuesday that it had acquired a data center facility in Hawthorne, Calif., from AT&T for about $79.5 million.
The telecom has tested the waters for its data centers on and off for quite some time as some of its peers -- namely Verizon Communications (VZ) - Get Verizon Communications Inc. Report and CenturyLink (CTL) - Get CenturyLink, Inc. Report -- navigate sale processes for their respective facilities because of healthy valuations.
While AT&T is likely waiting to see how Verizon and CenturyLink's auctions pan out, it makes sense for the Dallas company to evaluate a sale of its data centers, especially as it looks to focus on media in the long term, according to company followers.
"They haven't been as vocal as Verizon or CenturyLink," Edward Jones analyst Dave Heger said, referring to AT&T's data center strategies.
But telcos with these facilities largely have been caught in the middle between services providers such as Amazon.com's (AMZN) - Get Amazon.com, Inc. Report Amazon Web Services and Microsoft's (MSFT) - Get Microsoft Corporation Report Azure and pure data center REITs such as Digital Realty Trust (DLR) - Get Digital Realty Trust, Inc. Report and Equinix (EQIX) - Get Equinix, Inc. Report .
AT&T could use extra cash to pay down the debt it took on for its $67.1 billion acquisition of DirecTV Group in July 2015, Heger said, adding that the divestiture of the Hawthorne facility could hint at AT&T's willingness to sell its assets through a piecemeal process even though the company would prefer to offload them in a single bundle.
For now, though, it's a waiting game for AT&T, as its decision on a potential sale process will depend on what multiples the Verizon and CenturyLink facilities end up fetching, he added.
Verizon has been working with Citigroup for nearly a year, while CenturyLink retained Wells Fargo Securities, Morgan Stanley and Bank of America Merrill Lynch around the same time to sell its data centers. The assets likely will bring in around $2 billion for each of the sellers, industry followers have suggested.
Data centers -- facilities equipped with servers and networks that store information -- have garnered healthy Ebitda multiples that have reached into the midteens and high teens over the past 12 to 18 months.
Equinix paid $3.8 billion for TelecityGroup in January and subsequently sold a portfolio of eight European data centers to Digital Realty for $874 million six months later to appease regulatory concerns. In October 2015, Digital Realty acquired Telx Group from Abry Partners and Berkshire Partners for $1.89 billion.
AT&T and Verizon have been working to diversify as their core wireless businesses mature.
Verizon largely has turned to acquisitions to expand its footprint in digital media and the telematics market. For example, it offered in July to acquire the core business of Yahoo! (YHOO) for $4.83 billion after buying AOL for $4.4 billion in June 2015. (The Verizon-Yahoo! marriage is under fire, however, because of the target's subsequently disclosed massive security breach in 2014.) Verizon also agreed in August to buy Fleetmatics Group (FLTX) for $2.4 billion.
AT&T has been pivoting toward content and media as it figures out its long-term strategy, but it hasn't been as active on the M&A front as Verizon.
Data centers are more appreciated under the umbrella of pure-play REITs such as Digital Realty and Equinix that can better monetize the assets because of the REITs' corporate structure, said Macquarie Capital (USA) analyst Amy Yong, adding such appreciation is part of the reason why these REITs are willing to overpay for assets in the market.
Investors haven't valued the facilities under the umbrellas of telcos, Yong said, noting that the recent divestiture highlights AT&T's overall strategy and what it can do to clean up its balance sheet to support growth.
AT&T shares on Wednesday gained 3 cents to $39.38.
Officials with AT&T and Carter Validus couldn't be reached for comment Wednesday.