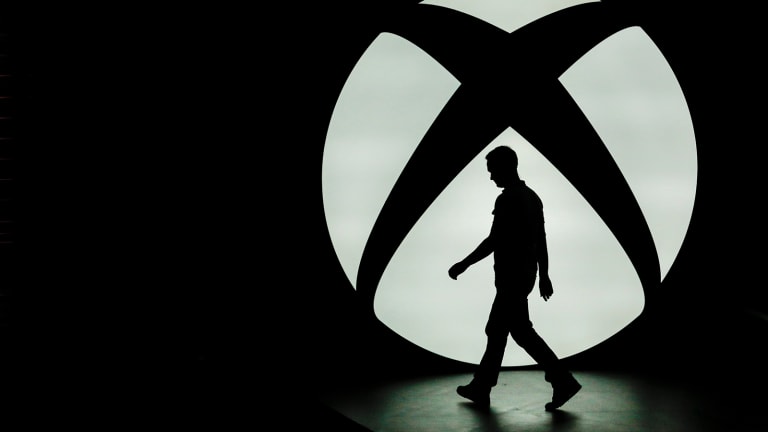 NEW YORK (TheStreet) -- For the second time in five months, Microsoft's  (MSFT) - Get Microsoft Corporation (MSFT) Report newest console Xbox One managed to outsellSony's (SNE) - Get SONY GROUP CORPORATION SPONSORED ADR Report PS4 to become the best-selling gaming console in the month of April. But what does an uptick in this low-margin business mean for Microsoft's top and bottom lines?
Xbox marketing boss Mike Nichols told GamesBeat that Microsoft's Xbox One unit sales were up 63% year-over-year. Market research firm The NPD Group, which tracks the video game industry, said that April gaming hardware unit sales were up 12% but down 4% on a cash basis, mainly due to huge price cuts by the leading consoles and a large 55% decline in sales of older consoles such as Xbox 360, Nintendo's Wii and Sony's PS3. Xbox One had managed to top PS4 sales in the month of November. This could be an indicator that Microsoft's latest console is rapidly gaining in popularity and could soon establish itself as the market leader.
NPD only tracks console sales in the U.S. and Canada. But, it appears as if the Microsoft's consoles are doing quite well in other regions as well. Microsoft said that the number of active Xbox One and Xbox 360 users around the world was up 24% in April. There are a couple of reasons why Xbox One is doing so well. Microsoft has cut the console's prices a couple of times, taking the asking price for a single device to $350 from $500 initially. The trend of bundling free games with new consoles could be another factor working in Xbox One's favor, as well as the anticipation by the gaming community that Microsoft might add new features such as smartglass app and syncing with Windows devices to the console.
Consumer Hardware Division Records Significant Margin Improvement
While this looks like a piece of welcome news, it's important to examine what more console sales means for Microsoft. After all, the hardware business is well known to be a low-margin business, and Microsoft is on record at one point saying that the Xbox platform was dragging down its margins.
Microsoft did admit in its 2014 annual 10-K report that Xbox revenue had increased 34%, or $1.7 billion, due to a nice boost by Xbox One. But, the new console had also led to an even bigger 72% increase, or $2.1 billion, in the platform's cost of revenue. Microsoft's also revealed that Xbox One research and development costs had increased by $600 million.
Some like taking Microsoft down a peg at every opportunity, and a couple of stories surfaced saying that Microsoft was losing money from Xbox sales. But the figures that Microsoft reported that year were merely increases in revenue and cost of revenue figures, and not the total sales and cost of revenue figures. Microsoft said that the company sold 11.4 million Xbox consoles during the year. Since the company did not break down the actual sales for the different types of consoles, we can only use educated guesses to arrive at actual sales and cost of revenue figures for the platform. My best guess? In the ballpark of $6.8 billion revenue and $5 billion for Xbox cost of sales in 2014. This obviously means that the segment is big enough to have a tangible impact on Microsoft's top and bottom lines, as well as its margins.
Microsoft does not provide Xbox sales in its quarterly reports, but said that Xbox Live subscriptions were up during its latest (third quarter fiscal 2015) report. The company, however, lumps Xbox gaming consoles; Xbox Live subscriptions; second- and third-party video game royalties; Surface devices and accessories and PC accessories under the ''Computing & Gaming'' segment. But my estimates are that Xbox-related sales dominate the segment and possibly account for more than 70% of its revenue. Though it's difficult to come up with any meaningful estimates of the exact revenue from console-related sales due the absolute lack of information regarding number of consoles sold this year, we can still check the revenue and gross margin trends to ascertain if the aggressive Xbox One price cuts have been eating into the segment's, and by extension Microsoft's, margins.
According to Microsoft's latest quarterly report, Microsoft's Computing & Gaming division brought in revenue of $8.25 billion during the first nine months of Microsoft's fiscal 2015. That was good for 31.2% year-over-year growth, and close to three times Microsoft's overall top line growth of 12.5% over a similar period. As expected, this hardware-heavy segment recorded a low gross margin of 16.4%, much lower than Microsoft's corporate gross margin of 64.2% during the period. But here's the good part: the gross margin was still a good 522-basis point improvement compared to the 11.26% margin the segment recorded during last year's comparable period.
So there you have it. Microsoft's gross margin has not been impinged by the aggressive Xbox One price cuts. If anything the segment has seen a healthy increase in margins. This can be explained as follows:
Xbox One has much better margins than Xbox 360, even after accounting for the price cuts
The ratio of Xbox One consoles sold this year compared to Xbox 360 is much higher this year than it was last year
Of course the margin improvement could also mean that Microsoft preferred to charge a lot of Xbox One development costs during the early sales cycle of the console and then charge incrementally less in subsequent years. If this is the case then it means that the margins for the segment might improve considerably as the years roll on.
This article is commentary by an independent contributor. At the time of publication, the author held no positions in the stocks mentioned.