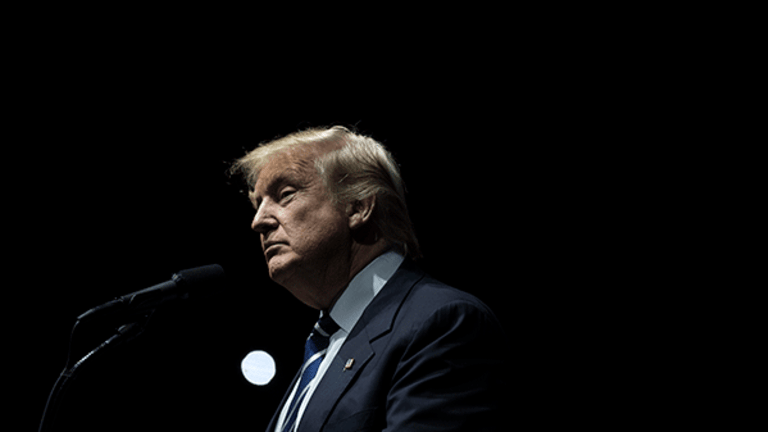 Publish date:
As Trump Rally Dies, Here's How You Should Be Trading
This is your game plan.
On Jan. 20, the mercurial Donald J. Trump will become the most powerful person on earth, a sobering fact that's starting to sink in with formerly euphoric traders. Whether you support or oppose Trump, no one denies that his administration will be a wild ride.
Below, we show you how to profitably hedge against the inevitable turmoil under Trump's first term.
Immediately after Trump's surprise win, stocks embarked on a fast and furious run-up. Over the last month, though, the "Trump rally" has fizzled, with equities on some days pulling back and "Dow 20,000" remaining elusive.
On Wednesday, the Dow Jones Industrial Average touched a six-week low and opened lower for the fifth time in seven sessions. The Dow is now 1% below the all-time high that it reached on Jan. 6.
The worries are mounting. The dollar is too strong, hurting U.S. exporters and our country's balance of trade; Trump's "America First" protectionism and combative rhetoric could spark trade wars with China and Mexico; the bull market is overvalued and long overdue for a correction; the eight-year-old economic recovery is likely to soon lapse into recession; and rising interest rates could strangle growth. Investors are hungry for moneymaking opportunities, but dangers abound.
What's more, it's starting to dawn on financial markets that Trump may not be able to deliver on his grandiose promises to slash taxes, massively boost government spending (largely on defense and infrastructure), and reduce regulation. Fiscally conservative Republicans in Congress could very well prove a stumbling block, even to a president of their own party.
Trump's rocky transition has actually hurt his approval ratings, and he now has the dubious distinction of being the most unpopular president-elect in the history of polling.
Exacerbating investor unease: Trump's chaotic press conference on Jan. 11; his impulsive and stock-crushing tweets about the supposed malfeasance of major corporations such as BMW, Lockheed Martin and Boeing; his provocative statements about NATO being "obsolete"; his harangues against German leader Angela Merkel; and his comments that Brexit was a good thing and more European countries will follow Britain's lead.
It seems that investors are perhaps rethinking their notion that Trump would be another Ronald Reagan.
The price of gold, the traditional hedge against uncertainty and crisis, gained nearly 1.5% on Tuesday. The price of the 10-year Treasury note also rose, driving its yield down to 2.33% from the previous close of 2.4%. The movements of gold and Treasuries on Tuesday indicate that once giddy investors are now seeking safety.
You can do the same. A well-positioned gold play is Canada-based mine operator Goldcorp (GG) . Goldcorp is on course for production growth and boasts extremely low operating costs, a combination that should boost profits as the price of gold rises this year as analysts expect. Over the past year, Goldcorp has risen 50%, and the stock was on an upward trajectory on Wednesday.
If you prefer the safety of a fund, consider SPDR Gold Shares ETF (GLD) - Get Report , the largest gold exchange-traded fund backed by physical holdings of bullion. Over the past year, this ETF has risen 11%.
If a crisis breaks out at home or overseas, the overvalued broader stock market would crash but Goldcorp and SPDR Gold Shares ETF would soar. Conventional wisdom dictates that your portfolio should contain at least 5%-10% in gold; now's the time to load up.
Also, consider taking profits from your growth stocks that have run up in price and are now overvalued compared to their fundamentals. Keep the cash handy, for bargain hunting once the inevitable correction hits.
For new stock purchases, use a "stop-loss" order with your broker. Using this order, the trader will preset the value based on the maximum loss the investor is willing to tolerate. If the price drops below this fixed value, the stop loss automatically becomes a market order and gets triggered. As soon as the price falls below the stop level, the position is closed at the current market price, which prevents any additional losses.
As Jan. 20 approaches, it's time to keep a cool head and exercise caution.
---
Trump's shocking election as president has turned the investment world upside down. If you're looking for new (and safe) growth opportunities in these uncertain times, we've found a genius trader who turned $50,000 into $5 million by using his proprietary trading method. For a limited time, he's guaranteeing you $67,548 per year in profitable trades if you follow his simple step-by-step process. Click here now for details.
John Persinos is an analyst with Investing Daily. At the time of publication, he owned shares of the SPDR Gold Shares ETF.