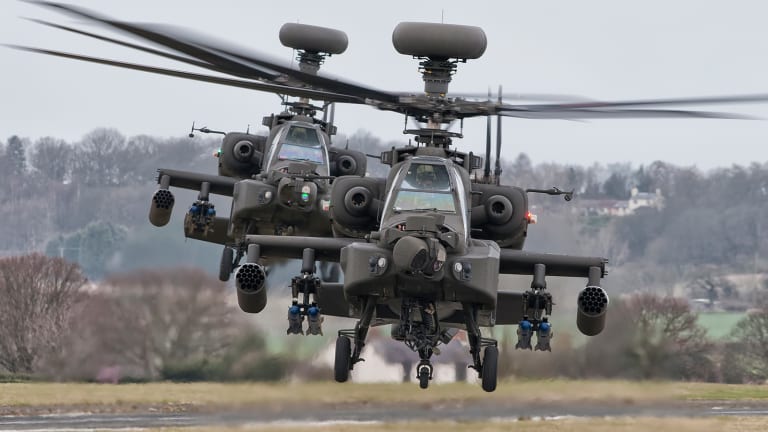 Ignore the political malarkey on the campaign stump about America's supposedly neglected military. It's fear-mongering aimed at voters who don't know any better. Fact is, the Pentagon won't be rattling a tin cup anytime soon.
Aerospace and defense stocks are on a roll, and the good times are likely to continue, regardless of who captures the White House in November. Below, we highlight an obscure but profitable company that offers the sort of robust double-digit gains that elude the mega-cap aerospace/defense contractors. At least one analyst estimates that this stock could soar 59% in the next year.
For investors, the trick is to find these hidden gems before the rest of the herd discovers them. We've done the homework for you. But first, let's examine the trends that will drive rapid capital appreciation for this under-the-radar investment.
Presumptive Republican nominee Donald Trump says he will beef up what he calls the nation's "shoestring" military, which is an absurdly false characterization of U.S. readiness, considering the massive defense build-up of the last decade. Meanwhile, on the Democratic side, supposed liberal Hillary Clinton has compiled a long record as a military hawk, both as a U.S. senator and as Secretary of State. The military brass always get their way, no matter which party is in power.
The Department of Defense's proposed base defense budget is $523.9 billion for fiscal 2017, representing a huge 82% increase over the base budget of $287 billion in 2001. That's hardly a shoestring.
Global military expenditures are strong and rising as well. You can add former U.S. enemy Vietnam to the list of new customers for expensive U.S. weapons systems, after President Obama last month visited the Southeast Asian country and opened the door to expanded military sales to its government in an effort to counteract China's increased saber rattling in the region.
The usual suspects to profit from sustained defense spending include Boeing, Lockheed Martin, Northrop Grumman, General Dynamics and Raytheon. They all benefit from the perpetual global arms race. But they're behemoths with only so much room for growth, and the industry's tailwinds are already built into their stock prices.
Lockheed Martin is a holding in Jim Cramer's Action Alerts PLUS Charitable Trust Portfolio. See how Cramer rates the stock here. Want to be alerted before Cramer buys or sells LMT? Learn more now.
Here's a smart play on not just military aircraft spending but also technological disruption in the cockpit: Esterline Technologies Corp (ESL) , an aerospace electronics company based in Bellevue, Wash. that serves both the defense and commercial aviation sectors. The company's products are found in fixed-wing combat aircraft, as well as military helicopters such as Boeing's Apache AH-60 and Lockheed's Sikorsky-built UH-60 Black Hawk.
Commercial and military aircraft incur their highest expenditures on fuel. The equation is simple: The lighter the aircraft, the less fuel it burns. At the same time, new-generation planes are placing greater demands on pilots, requiring avionics manufacturers to squeeze more capabilities into fewer and smaller components. The answer is to digitize all functions that are performed with conventional gauges or paper.
These economic imperatives are boosting sales of the ultralight, miniaturized avionics provided by industry leader Esterline, which is poised for market-thumping gains this year.
Esterline's products include electronic flight bags, or EFBs; global positioning systems; head-up pilot displays; temperature, pressure and speed sensors; electrical power switching; and control and data communication devices. The firm stands in the vanguard of the military's transition toward the "electronic battlefield."
Emblematic of the demand for lightweight electronics is the growing popularity of EFBs, which are increasingly replacing anything made of paper in the cockpit. The FAA has ruled that EFBs may serve as substitutes for the paperwork that pilots are required to carry with them into the cockpit.
The EFB derives its name from the pilot's old-fashioned flight bag, which is a cumbersome and heavy (up to 40 pounds or even more) documents pouch that pilots carry into the cockpit. The EFB, which typically weighs only 1 to 5 pounds, replaces all of those "dead tree" documents with digital media.
The EFB is a flexible computing platform designed to reduce or completely replace paper-based reference material, charts and checklists typically found in the pilot's carry-on flight bag, including the aircrew operating manual and navigational charts.
Esterline is a play not only on EFBs but also on the tremendous multiyear demand for all types of sophisticated aircraft electronics.
Most of Esterline's competitors in the EFB and lightweight avionics field are either private companies, such as navAero and Astronautics, or subsidiaries of parent companies, such as Jeppesen, which is wholly owned by the gigantic aircraft maker Boeing.
Publicly traded competitors such as Rockwell Collins and Honeywell International also are top-flight avionics companies, but they're better suited as plays on the demand for full cockpit suites.
The upshot: Esterline represents the best direct investment on the movement toward smaller and lighter avionics applications, particularly EFBs.
Esterline also enjoys long-standing relationships with militaries in emerging markets and the Middle East that are still boosting defense outlays, including forces in India, Chile and Saudi Arabia. The company stands to benefit from China's increasingly aggressive stance in the Pacific Rim, as the Middle Kingdom's nervous neighbors rush to purchase arms.
In addition to cockpit avionics for military aircraft, the company's defense products include combat-hardened personal communication equipment, primarily headsets. The Pentagon's procurement cookie jar for fiscal 2017 contains important goodies for Esterline, with increased outlays for these items.
With a market cap of $1.95 billion, the company is large enough to offer stability but small enough to enjoy room for outsized growth. Shares of Esterline trade at $67.42; the median 12-month price target from analysts is $80, which suggests the stock can gain nearly 19%. The highest price target is $107, which implies a gain of 59%. And yet, shares are reasonably valued. The stock's price-to-sales ratio is 1.04, compared with the industry's 1.43.
---
As we've just explained, Esterline is a shrewd investment play on a dangerous world. However, if you'd rather avoid stocks altogether while this risky market goes through its current turbulence, we know a way you can make a guaranteed $67,548 over the next 12 months. In fact, this technique is so successful and simple, you might want to give up stock investing forever. Click here now to learn more.
John Persinos is an editorial manager and investment analyst at Investing Daily. At the time of publication, Persinos owned stock in Boeing.