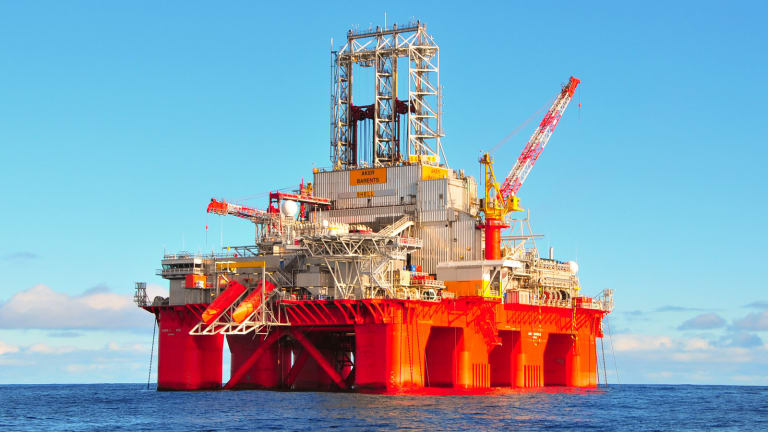 As Oil Prices Seesaw, You Should Dump This Dangerous Energy Stock
A sustained recovery in oil prices continues to elude investors, making this offshore oil driller particularly risky right now. Ignore the optimists on this stock and shun it altogether.
In ancient Greek mythology, King Tantalus was condemned by the gods to stand in a pool of water under a fruit tree. Although the tree had low branches, he was never quite able reach the fruit, and whenever he tried to drink the water, it receded. Energy investors are similarly tantalized, as a sustained recovery in oil prices always seems in sight but out of reach.
Below we warn you about one of the most toxic stocks in the energy sector right now. Don't be fooled by any "sucker's rallies" in this company's share price. A turnaround for this distressed stock is highly unlikely. We also unveil an alternative opportunity for your money.
Last Friday, U.S. crude oil shed $1.49 to close at $49.07 a barrel. Brent crude, the benchmark for international oil prices, fell $1.41 to close at $50.54 a barrel. Accordingly, on Friday, the Energy Select Sector SPDR ETF (XLE) - Get Energy Select Sector SPDR Fund Report , an exchange-traded fund that tracks stocks in the energy sector, fell 2.2%. Although it's up 12% year to date, this ETF has declined 12% over the past 12 months as lingering concerns over the global oil glut and slowing growth preclude a long-term rally in energy prices.
Oil prices are certainly higher than they were in February, when they fell as low as the $20s, but they're still down about 55% from their highs of $110 in the middle of the summer of 2014. Investors are cautiously optimistic that economic recovery will eventually make a dent in the vast amounts of excess oil sloshing around the world, but uncertainty continues to roil the energy patch and by extension the broader markets.
Primary concerns include Britain's June 23 referendum on whether to exit the European Union, a possible Federal Reserve interest rate hike this month and unexpected bursts of horrific terrorism (such as the attack in Orlando, Fla. on Sunday).
The energy sector and the overall equity market have moved in tandem so far this year. Consequently, the persistent gyrations of energy prices make it imperative to weed out your fundamentally weak holdings. Here's a stock that's like Kryptonite to your portfolio: offshore oil rig operator Transocean (RIG) - Get Transocean Ltd. Report . Its shares plunged 6.3% on Friday.
The bond rating agency S&P Global Ratings last month downgraded Transocean's debt by two levels to BB- on pessimistic estimates for offshore drilling demand from now until the end of 2017.
S&P said Transocean's balance sheet would deteriorate further as its drilling rigs roll off contracts and face difficulties in finding new work. It anticipates that the company's funds from operations-to-debt ratio will fall to about 12% next year.
Even though oil prices have risen this year, Transocean remains saddled with an onerous debt burden of $8.5 billion, of which $1.2 billion is due in the next 12 months. The company also is struggling with low day rates for its equipment.
The prolonged slump in energy prices may be easing somewhat, but offshore drillers and other oil-service providers continue to suffer. The benchmark iShares US Oil Equipment & Services ETF (IEZ) - Get iShares U.S. Oil Equipment & Services ETF Report plummeted 3.4% on Friday and has fallen 22% over the past year.
With a market cap of $3.68 billion and based in Switzerland, Transocean is in the worst shape compared to its peers. The stock is down 13% so far this year and nearly 40% over the past year. Over the past two years, the stock has fallen 75%.
Transocean is caught in the merciless vise of declining revenue and rising debt payments. As beleaguered exploration and production giants such as Chevron, BP, ConocoPhillips and Exxon Mobil slash operating costs, expensive and risky offshore drilling activities are the first to get the budgetary knife.
A key problem for Transocean is that its business model focuses on deepwater and harsh environment drilling services, two areas that were enjoying good times when oil prices were high, but which are now in a severe slump. Making matters worse, Transocean funded new operations with debt and now finds itself overleveraged. In November, the company canceled its dividends for its third and fourth quarters of fiscal 2015.
The verdict: Even if you think energy prices are on a sustained upward trajectory, they won't rise fast or high enough to keep this offshore operator above water. Investors shouldn't be tantalized; a comeback for Transocean is not at hand.
---
As we've just explained, Transocean is a distressed stock you should avoid. If you'd rather avoid stocks altogether while the market experiences its current turbulence, I know a way you can make a guaranteed $67,548 over the next 12 months. In fact, this technique is so successful and simple, you might want to give up stock investing forever. Click here now to learn more.
John Persinos is an editorial manager and investment analyst at Investing Daily. At the time of publication, the author held no positions in the stocks mentioned.