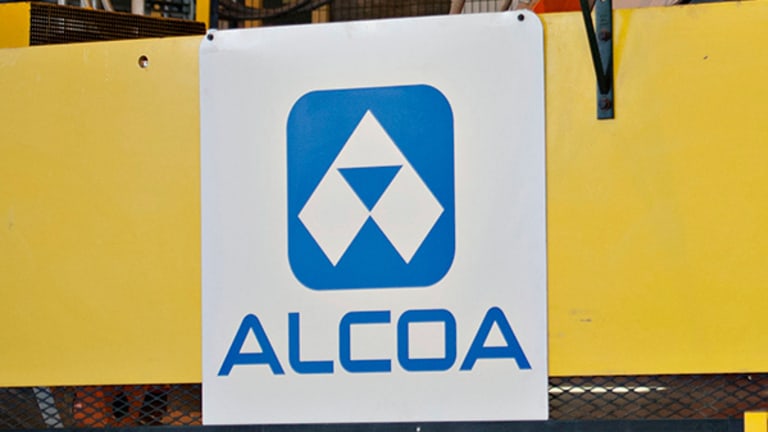 Publish date:
As Gold Reaches Overbought Levels, Check Out Alcoa and Silver Wheaton
There is more to finding a safe haven than investing in gold. Here are two basic metals stocks that provide safety and growth amid dangerous and volatile conditions.
There is more to finding a safe haven than investing in gold. Here are two basic metals stocks that provide safety and growth amid dangerous and volatile conditions.
Pessimistic sentiment is almost akin to that of the Great Recession, though the factors are different.
Investors once again feel the urge to dump equities as crude oil prices languish, China's economy roils and uncertainty clouds interest rate action by the Federal Reserve. Investors are looking for new opportunities amid a troubled global environment.
As in the time of the recession, investors are scrambling for cover in gold and bonds. Although bonds will be governed by the future rate action of the Fed, gold still has many moving parts involved.
Gold prices may have clawed back to more than $1,200 an ounce levels on safe-haven demand, but unlike the Great Recession, the spike doesn't have many factors backing it.
For starters, during the recession when America was struggling to get back on its feet, it was insatiable demand from China that buoyed gold prices. But today, China is dealing with its own demons.
Another factor to consider is the strong U.S. dollar. As gold prices generally move inversely to the greenback, upside to the yellow metals price can be capped.
According to projections from Goldman Sachs, bullion has already entered overbought territory, and the firm sees it moving lower.
"We maintain our view of rising U.S. rates and hence lower gold prices with a three-month target of $1,100 (per troy ounce) and 12-month target of $1,000 (per troy ounce)," Goldman Sachs said in a research note.
Gold may lose its luster soon, but analysts are bullish on two other metal stocks: Alcoa (AA) - Get Report and Silver Wheaton (SLW) .
The going has been tough for aluminum smelter companies such as Alcoa and Rio Tinto.
Despite cutting production and seeing industrial demand pick up ever so slightly, Alcoa's shares have declined on the back of plunging prices of the commodity. Last year, aluminum prices on the London Metals Exchange lost about, 18%, pressured by the slowdown in China, a major consumer of metals.
But Alcoa is smartly using this depressing time period to strengthen its balance sheet and become a leaner company.
For starters, last year, the company saved $1.2 billion, compared with the $900 million target it had set.
Second, it narrowed its cash and debt gap by reporting higher cash on hand at $1.9 billion, versus net debt of $7.2 billion.
Finally, Alcoa's operating margin on a trailing-12-month basis of 3.3% versus 1.3% for the industry as a whole suggests strong profit-making ability.
To cope with the latest demand scenario, the company plans to lower production and will remove 25% of its smelter capacity and 20% of its refining capacity.
With a stronger balance sheet and the expectation of a global aluminum deficit of 1.2 million metric tons in 2016, Alcoa is poised to benefit when prices rebound.
With the recent announcement that Alcoa will split into two separate public companies, the stock price has rebounded sharply. The company is separating itself from the business of aluminum parts fabrication to focus solely on aluminum production.
At a stock price of about $8, shares are comfortably undervalued considering that the combined value of the two separate entities is estimated to be at least $12.

Investors should also consider buying Silver Wheaton.
Unlike mining companies such as Barrick Gold and Newmont Mining that are exposed to mining risks and maintenance costs of mines, Silver Wheaton operates using a different model. It lends cash to miners in exchange for the ability to buy gold and silver produced at very attractive prices, which it can then sell to the market at higher prices.
SLW data by YCharts
Silver Wheaton's gold costs of about $400 an ounce are about one-third of gold's per-ounce price.
Silver Wheaton also deals with base metal companies. Although production and expansion plans are on hold with depressed commodity prices, manufacturing and industrial growth are showing signs of revival, which bodes well for copper, zinc and silver producers.
The company is also quite optimistic about a rebound in commodity prices, if its recent streaming deal with Panoro Minerals is anything to go by.
Analysts have pegged earnings growth estimates for Silver Wheaton at 9.6%, versus 3.3% for the industry. All these factors make Silver Wheaton a "bear beating" choice for 2016.
Best biotechnology stock under $10: We have found a small-cap biotech "rocket stock" that is about to take off. UCLA researchers are stunned by a Nobel Prize-winning cancer breakthrough that is proven in clinical trials to eliminate lethal forms of cancer with a single dose. One small company owns the patent to this life-saving treatment. Now trading at about $5 a share, the stock of this innovative company is projected to surge 2,700% on an imminent Food and Drug Administration announcement. To download the full report, click here.
This article is commentary by an independent contributor. At the time of publication, the author held no positions in the stocks mentioned.