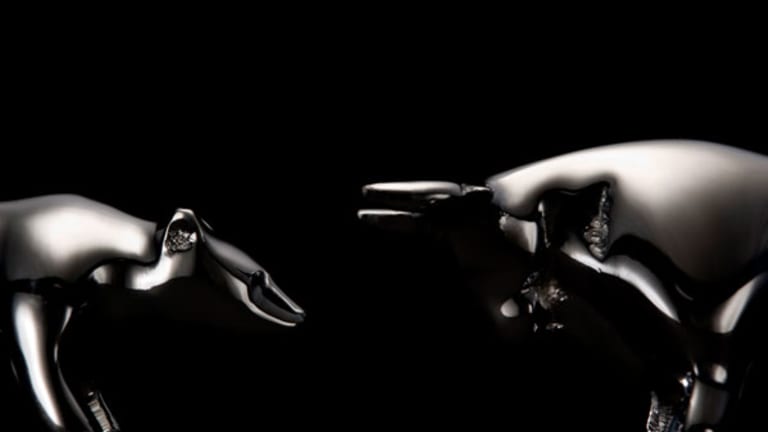 As Expected, the Stock Market Rebounds After Thursday's Thrashing
Indexes closed higher on lower volume Friday.
NEW YORK (TheStreet) -- After a drubbing in the stock market on Thursday, all four major indexes closed to the upside on Friday. They were led by the Russell 2000, which was up 1.59% to 1151.61 on Friday.
The Nasdaq followed, closing 1.57% higher at 4432.15, while the DJIA was higher by 0.73% at 17100.18. The S&P 500 was higher by 1.03% at 1978.22. The S&P 500, after not having a 1% move either up or down for 62 consecutive trading days, has now had two consecutive trading days with a 1% move.
The volume on Friday was not too bad, coming in at 124.1 million shares. That was still 20 million shares lower than Thursday.
As I had expected and mentioned in Thursday's article, the fact that the S&P 500 held my internal buy trade level of 1957 on closing Thursday was a positive, bullish short-term signal.
In addition, the Russell 2000, of which I have been mentioning as reaching an extreme oversold level according to my internal algorithm signal, turned to the upside at the exact moment and signal on Friday.
Stock Market Today: Markets Shrug Off Escalating Geopolitical Conflict to Close Higher
Cramer: This Firm Has No Competition
If Regulators Care, Here Are the Hurdles to a Fox-Time Warner Deal
So, as my signals have been very accurate at predicting market turns and extreme oversold signals of stocks that could be bought, Friday proved to be a very lucrative trading day at www.strategicstocktrade.com for subscribers.
However, I am not suggesting that this market has clear sailing ahead and load up on the long side. Quite the contrary. The Russell 2000 is still "Trend Bearish," a three-month or longer time frame, and is negative for the year, down over 2%.
I am very cautious on this stock market in 2014. As many financial media news sites and many old Wall Street pundits report on an economy that is growing and will support higher stock prices at all-time highs, the first weak link in all this happy talk is the nature of job creation in this economy.
For example, it was reported that 288,000 jobs were created in the month of June. But full-time jobs declined by 523,000 while part-time jobs increased by about 800,000. The widely reported increase in net jobs hid the disastrous loss of full-time jobs offset by a huge increase in part-time jobs. Sure, part-time jobs are better than no jobs, but they are not the kind of jobs that will support discretionary consumer spending on which the economy relies for growth.
The stock market and the slowing economy are on a collision course and my best estimate is that the stock market will have an avalanche to the downside over the next year or so. Be prepared and have a risk management trading process that will allow a trader to take advantage of the upcoming stock market demise.
In the meantime, I continue to trade opportunistically. On Friday, I sold my end of day add-in Ultra Petroleum Corp. (UPL) Thursday for a nice 1% gain. I continue to hold my S&P Goldman SachsCrude Oil Trust ETN (OIL) - Get Report long position.
At the time of publication the author was long OIL and UPL.

This article represents the opinion of a contributor and not necessarily that of TheStreet or its editorial staff.