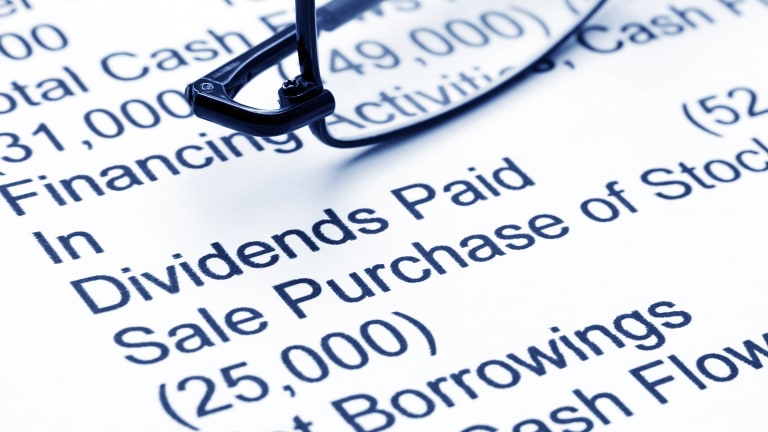 As Dividends Shrink, Here Are Your Best Options If You're an Income Investor
If you're an income investor, don't despair. As dividend growth slows, you can rely on other compelling choices for robust, reliable yields.
An emerging trend is threatening to change the dynamics of for retail income investors.
Dividend growth is slowing, according to a recent analysis from Goldman Sachs. According to CNBC, the report says that swaps traders are pricing in an annual dividend growth rate of only 1.3%, vs. an average of 5.8% over the past 65 years.
CNBC also reported that dividend payoffs decelerated sharply in the final months of 2015, noting a 70% decline in the rate of dividend gain in the last three months of the year.
A crucial development in that period was the Federal Reserve's decision to hike interest rates after years of near-zero interest rates. Rising interest rates should mean higher yields on government bonds, making dividend-paying equities look more risky, and therefore relatively less attractive to investors.
Income investors have adopted the age-old practice of relying on dividend payments for their monthly income streams. Is it now finally the time to look at other options to diversify wealth and ensure steady income from multiple sources?
Here are some avenues that make sense. They're among an appealing group of income generators today.
Domestic Bonds
Higher interest rates will increase the yield on newly issued bonds, making them more attractive than ones previously issued. The longer the duration of the bond, the more it will be affected. To strike the perfect balance between risk and return, experts such as Larry Swedroe, author of The Only Guide to a Winning Bond Strategy You'll Ever Need recommends investing in intermediate-term bonds with a five-year duration.
Vanguard Intermediate-Term Bond ETF (BIV) - Get Free Report , Fidelity Spartan U.S. Bond Index Fund undefined , Vanguard Total Bond Market IndexVBMFX VBTLX (BND) - Get Free Report, and the Pimco Total Return Fund (PTTAX) - Get Free Report are some quality bond funds that you should consider.
If you are willing to take on added risk, junk bonds offering high yields are another option; they even witnessed a sharp sell-off of late. Because they aren't investment-grade bonds and come attached with a higher risk of default, their yields, and thereby returns are high. However, tread with caution and expose yourself to these bonds through funds such as Vanguard High-Yield Corporate (VWEHX) - Get Free Report , which yields 5.9%.
Vanguard High-Yield Corporate is among several income choices that are increasingly enticing in today's rising interest rate environment.
Emerging Market Bonds
With the selloff in China and weak commodity prices and emerging market currencies in a free fall, more investors are flocking to the safety of a strong U.S. dollar and U.S. Treasury bonds. However, if the Fed continues its interest rate hikes as planned and with developed markets in Europe loosening their monetary policy further, emerging market bonds can see huge capital inflow.
Markets such as China, India, Brazil and Russia emerged as resilient growth engines during the Great Recession, when developed economies were struggling. These emerging economies have since matured and have strengthened monetary and fiscal policies.
An investment in a stable and developing economy offering high returns adds diversification to your dividend portfolio as well. For income investors with a long-term view, the downside pressure on emerging market bonds has created a great opportunity to enter.
A strong dollar and weak crude and commodity prices that impact these economies have crushed prices of these bonds, pushing up their yields.
The Templeton Emerging Markets Income Fund (TEI) - Get Free Report with an 8.3% yield, the PowerShares Emerging Markets Sovereign Debt Portfolio (PCY) - Get Free Report with a 6.18% 30-day SEC yield and iShares J.P. Morgan USD Emerging Markets Bond ETF (EMB) - Get Free Report with a 5.64% 30-day SEC yield are worth considering for your portfolio.
Real Estate Investment Trusts (REITs)
REITs have to pay out not less than 90% of taxable income as dividends, making them a rich source of monthly income.
One might argue that rising interest rates tend to negatively impact REITs. However, with the December hike already priced into the markets, and with the Fed likely to take extreme care of not derailing the growth engine with future monetary policy, investors need not be worried.
Fundamentals for U.S. REITs are also robust. Construction and real estate development have taken their time to free themselves from the recession, but occupancy and lease rate trends are showing steady improvement. Supply growth, which had been restrained after the Great Recession, will be outpaced by demand growth as the U.S. economy recovers.
At a dividend yield of about 4% (MSCI US REIT Index), U.S. REITs have offered higher yields than not only the benchmark 10-year Treasury bonds, but also some dividend aristocrats.
National Retail Properties (NNN) - Get Free Report, Healthcare Trust of America Inc. (HTA) - Get Free Report , and Pebblebrook Hotel Trust (PEB) - Get Free Report are some of the REITs offering more than 4% yield and are expected to continue delivering promising dividends in 2016.
Preferred Stock ETFs
To get the best of both worlds of equity and debt, preferred stocks are the way to go as they provide favorable yields and the potential for capital appreciation.
Preferred stocks give you the middle of the road approach, because stockholders are entitled to dividend payments before common stock holders but after bond holders. Investors are paid a fixed dividend at regular intervals.
To avoid deep exposure in any company's preferred stock, investors can consider investing in funds that, after careful consideration, hold a diversified portfolio of such stocks. Cohen & Steers Limited Duration Preferred and Income Fund (LDP) - Get Free Report (8% yield), iShares U.S. Preferred Stock ETF (PFF) - Get Free Report (30-Day SEC Yield of 5.34%), and PowerShares Preferred ETF (PGX) - Get Free Report (30-Day SEC Yield of 5.78%) are some of the recommended funds in this sector.
Equities bucking the trend
If none of the debt or hybrid investments listed above appeal to you, here are some dividend darlings in equities that you can add to your portfolio. Pepsico  (PEP) - Get Free Report , International Business Machines  (IBM) - Get Free Report, Kimberly-Clark  (KMB) - Get Free Report, and Johnson & Johnson (JNJ) - Get Free Report not only have steady dividend yields of 3% and above, but they have consistently raised dividends for many quarters, and should continue to do so.
If you'd like to learn about a group of high-quality, high-yield income opportunities that are far too ignored by most investors, check out this free presentation: 11% Yields and No Taxes. Inside, you'll learn about one of the greatest gifts to income investors in the last century, and how you can begin taking advantage of it today for your portfolio. Click here now to learn more.
This article is commentary by an independent contributor. At the time of publication, the author held no positions in the stocks mentioned.