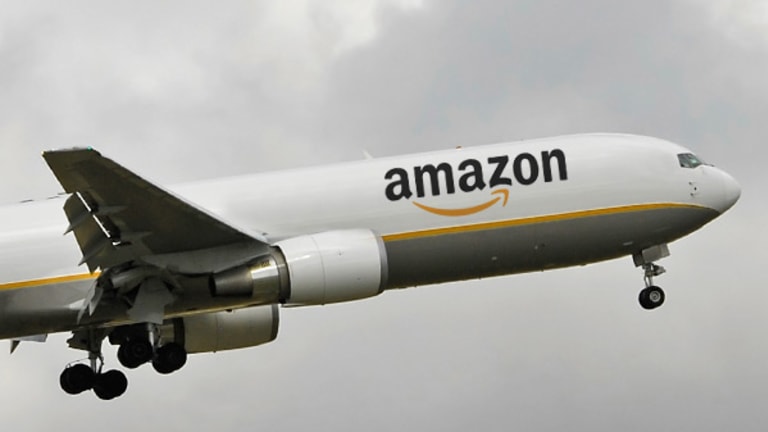 Publish date:
As Amazon Goes Into Air Delivery, Is It Time to Sell FedEx, UPS?
The e-commerce giant just doubled the size of its aircraft fleet. Could it ground the courier kings?
The e-commerce giant just doubled the size of its aircraft fleet. Could it ground the courier kings?
Amazon.com (AMZN) - Get Amazon.com, Inc. Report turned its slow encroachment into the shipping business into a full-on rush last week, inking a deal with Atlas Air Worldwide Holdings (AAWW) - Get Atlas Air Worldwide Holdings, Inc. Report under which Atlas will operate 20 Boeing 767-300 cargo jets for the online retailer.
The deal also granted Amazon warrants to buy up to a 30% stake in Atlas over the next seven years at $37.50 a share, a discount to Atlas's current price of around $45.
It was a mirror image of Amazon's March 9 deal with Air Transport Services Group (ATSG) - Get Air Transport Services Group, Inc. Report , under with Air Transport will also operate 20 jets for Amazon. That agreement also gave Amazon the right to buy up to 20% of the company.
Amazon's ambitions aren't only in the air: It also bought a fleet of semi-trucks last December and has even registered as an ocean-freight shipper.
So does all this growth mean FedEx (FDX) - Get FedEx Corporation Report and United Parcel Service (UPS) - Get United Parcel Service, Inc. Class B Report are stocks you should avoid right now?
Amazon, for its part, has pitched these moves as simply filling a need in its own business: "The reason we add logistics capability is so we can serve our customers faster, and we've needed to add more of our own capacity to supplement our carriers and our partners," CFO Brian Olsavsky said on Amazon's April 28 earnings call.
There's no doubt membership in Amazon's Prime service, under which members pay $99 for two-day shipping, has exploded. The company doesn't reveal exact numbers, but a January estimate from Consumer Intelligence Research Partners pegged U.S. Prime memberships at 54 million, with 14 million signing up in 2015 alone.
The courier companies have also struggled during peak times, notably in 2013, when last-minute holiday shoppers unleashed a flood of online orders, leaving two million packages high and dry in UPS's warehouses on Christmas Eve.
However, if you hold FedEx or UPS in your portfolio, you shouldn't panic just yet.
For one, while Amazon accounts for $2.2 billion of UPS's revenue, according to RBC analyst John Barnes, that's only about 3.8% of the company's 2015 sales -- not what you'd call a heavy dependence. It's a similar story at FedEx, which ships $1.5 billion of Amazon's goods a year, good for about 3.2% of total revenue. It would also take a long time for Amazon to bring its logistics in-house, so these sales wouldn't disappear overnight.
And while Amazon does account for a big chunk of e-commerce's growth, other retailers are getting their act together, like Target, which saw its online sales jump 34% in the fourth quarter.
The real threat would come if Amazon started selling space on its planes and trucks to other companies. But here too, it would face hurdles, including one from other retailers:
"By delivering for other customers, Amazon would be able to tap into sales data," Cowen & Co. analyst Helane Becker wrote in an April 25 note. "Most retailers view Amazon as their largest competition and probably won't want to share this data."
So while UPS and FedEx aren't dangerous stocks to hold now, investors shouldn't ignore what's going on at Jeff Bezos' company.
If it pivots into becoming a full-service shipping provider, it would certainly lure away some customers. But setting up a global shipping network is a big job, even for Amazon, so this wouldn't take FedEx and UPS by surprise. They're likely already working on plans to counter such a threat.
---
FedEx and UPS may be great fits for your portfolio, but the same can't be said of this group of 29 dangerous stocks. Our research team has analyzed each one from top to bottom and has come to one undeniable conclusion: if you're holding one or more of these losers, you need to sell right away! Click here now to get the full list before it's too late.
This article is commentary by an independent contributor. At the time of publication, the author held no positions in the stocks mentioned.