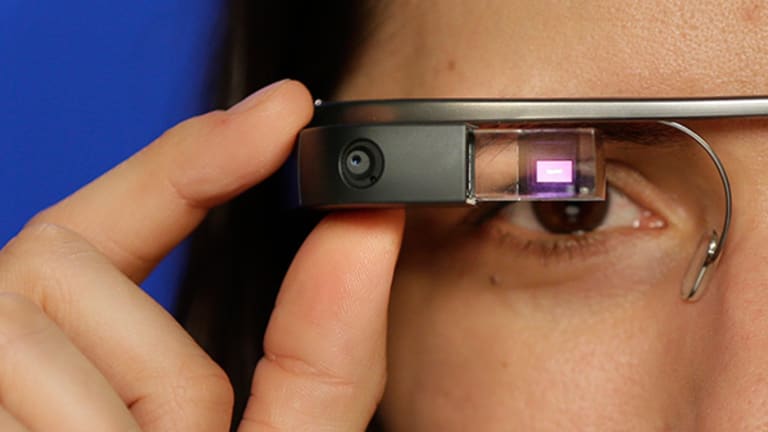 As Alphabet's VR and AR Ambitions Take Flight, Google Glass Serves As a Cautionary Tale
Google created an innovative augmented reality headset long before the competition. How it flamed out is a reminder that great technology means little without solid execution.
This column originally appeared on May 22 on Real Money, our premium site for active traders. Click here to get great columns like this.
While digesting the many VR and AR-related announcements Alphabet/Google (GOOGL) - Get Alphabet Inc. Class A Report made at last week's I/O developer conference, it's worth remembering that the company launched an AR headset all the way back in 2012. It was lighter than a pair of sunglasses, could record 720p video, supported voice commands, provided access to services such as Google Now, Google Maps and Gmail and won the support of developers such as Facebook, Twitter and Evernote.
It was called Google Glass, and little needs to be said about how it fared.
Glass' gradual fall from grace -- once seen as the next big consumer tech product, it's now a niche device mostly used by workers in verticals such as health care and manufacturing -- looks all the more stunning today, as Facebook (FB) - Get Meta Platforms Inc. Class A Report, Microsoft (MSFT) - Get Microsoft Corporation Report, Apple (AAPL) - Get Apple Inc. Report and other big tech names get AR religion. Google had both the technology pieces and the developer partners needed to create a hit; it failed due to marketing/PR gaffes and a lack of focus.
Alphabet, Facebook and Apple are holdings in Jim Cramer's Action Alerts PLUS Charitable Trust Portfolio. Want to be alerted before Cramer buys or sells GOOGL, FB or AAPL? Learn more now.
Today, Google's execution in the realm of headset-based computing is looking a little better. But as the company pushes ahead with four different VR and AR initiatives amid stiff competition, a lot of work still needs to be done for at least three of the initiatives to create mass-market hits.
At I/O, Google announced its Daydream virtual reality platform, which to date has involved cheap headsets that rely on a smartphone's display, processor and sensors, would be expanded to cover standalone headsets that don't need to be paired with another device, and which can track a user's movements without an external sensor. The first such headsets will be made by Lenovo and HTC, and powered by Qualcomm's (QCOM) - Get Qualcomm Inc ReportSnapdragon 835 processor, currently found inside the Galaxy S8 and other new high-end Android phones. Backchannel reports the devices are expected to be priced "in the mid-hundreds range."
Daydream's software, meanwhile, is getting a big update codenamed Euphrates. It adds 2D pop-up windows showing things like settings, windows and notifications, screen-sharing and broadcasting tools and a version of Google Chrome built for Daydream and able to show VR content from websites.
Software improvements were also announced for Google's Tango augmented reality platform. On phones containing the necessary cameras and sensors, Tango maps a user's real-world surroundings, and makes it possible for digital content to be seamlessly added to a phone's camera view. At I/O, Google showed off a Tango feature (called Visual Positioning Service) that tracks a user's location in an indoor environment, and can deliver step-by-step directions within say, a supermarket or warehouse.
Last but not least, there was Google Lens, a much-discussed AR service that leverages Google's knowledge base and AI strengths to analyze and act upon what's seen through a phone's rear camera. During demos, Lens was shown doing everything from providing reviews for a detected restaurant to translating a sign from Japanese to English to figuring out a flower's species. The service is being integrated with Google Assistant and Google Photos.
Each of these solutions has rivals. Daydream is squaring off against Facebook's Oculus unit, which in addition to launching its PC-paired Oculus Rift VR headset has teamed with Samsung to launch $100 headsets under the Gear VR name. Samsung reported having sold 5 million-plus Gear VR headsets -- they need to be paired with a high-end Samsung phone -- as of January, and recently added a motion controller to the platform. Last October, Oculus disclosed it's working on a standalone VR headset.
In theory, the fact that Daydream has numerous OEM partners, rather than just Samsung, gives it an edge. In practice, only a handful of Android phones currently support Daydream, with Google's Pixel phones easily being the most prominent ones. An issue: Daydream effectively requires OLED displays, and Samsung is the world's biggest OLED panel maker.
Tango and Lens also face competition from Facebook: Last month, the social media giant launched its Camera Effects AR platform, which lets developers create masks, filters and other digital content that can be seen through the camera features built into Facebook's apps, and which can also appear in recorded and shared material. Like Google, Facebook is also deploying AI to better understand a user's real-world surroundings.
The fact that Tango doesn't merely rely on a phone camera, but other sensors as well, allows it to deliver more advanced mapping, scanning and navigation abilities than Camera Effects. But it also means that its hardware support is very limited for now -- a Lenovo Tango phone has been launched, and an Asus phone is on the way. Facebook, by contrast, can quickly make Camera Effects available to most of its 1.2 billion-plus daily active users. And that, in turn, guarantees a high level of developer support.
Google Lens' future success appears more guaranteed. Partly because Google's AI and Knowledge Graph should give it an edge over rivals, whether Camera Effects or Samsung's Bixby assistant. And partly because Google can quickly make it available to hundreds of millions of users via Assistant and Photos software updates.
But it could still take a little while for consumers to get accustomed to constantly pointing their cameras at objects to get information, rather than simply record photos or videos. And the fact that Samsung and other Android OEMs use proprietary camera apps that might not integrate Lens could affect its usage some. Apple, which is showing a strong interest in adding AR features to iOS devices, doesn't need to be worried about something like that.
Apple is also reportedly interested in launching an AR headset that could arrive by the end of 2018. And Microsoft, for its part, is pushing ahead with the development of both its HoloLens indoor AR headset and its low-cost Windows VR platform. The efforts of smaller players such as Snap Inc and startup Magic Leap also bear watching.
As is the case in the home speaker/assistant market, Google brings some very unique strengths to the table in the VR and (especially) AR markets. But as the Google Glass debacle shows, such strengths only get a company so far if its execution isn't solid.