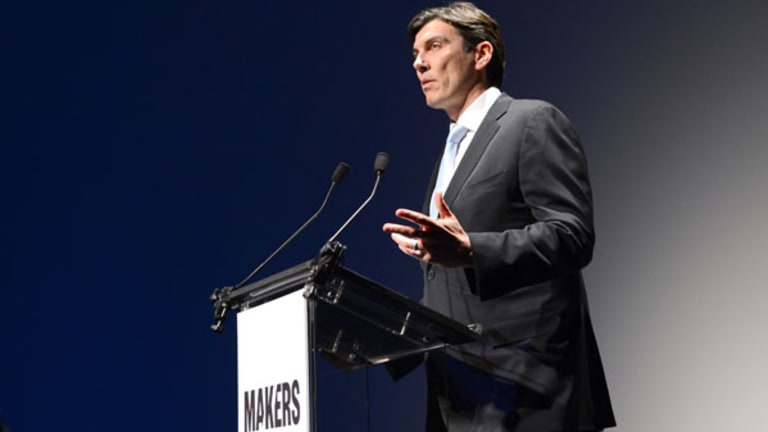 NEW YORK (
) --
AOL
(AOL)
CEO Tim Armstrong is brilliant.
When the failure of his
Patch
network, a collection of local news sites that Armstrong founded in 2007 and brought to AOL in 2009, threatened to overwhelm him last week, he held an all-hands meeting and fired the creative director on the spot, out loud, and on the record.
So rather than talk about how
Patch
was bringing down the entire company,
we're talking about the firing
and, more recently, Armstrong's public apology for the way it was handled. (Although the creative director, Abel Lenz, is still fired.)
Armstrong's AOL story is filled with such touches. Just when analysts start surrounding the company and questioning the essence of his content strategy, he pulls a rabbit out of his hat and gets everyone talking about the rabbit.
Lenz is just the latest rabbit.
When analysts were questioning the
Patch
strategy in early 2011, the name on the rabbit was Arianna Huffington, who sold her site to Armstrong
When the analysts came back in 2012, Armstrong's rabbit was the sale of AOL's patent portfolio to
Microsoft
(MSFT) - Get Microsoft Corporation (MSFT) Report
, enabling a $5.15-a-share dividend just as taxes were about to rise at the end of the year.
Notice a pattern here?
The fact is,
Patch
is, was and always will be a failure. Trying to fit every town's news into the same format, running the business of local news from a central location, and (most important) having writers run businesses, was an idea doomed from the beginning. (You don't want me running your company, trust me.)
But
Patch
is Tim Armstrong's "big idea." And after all, didn't Tim Armstrong come from
Google
(GOOG) - Get Alphabet Inc. Class C Report
?
Yes, but Armstrong's vaunted career at Google was a bureaucratic one. He rose through the ranks from being a vice president for ad sales to senior vice president for the Americas over nine years.
He wasn't an engineer, like
Yahoo!
(YHOO)
CEO Marissa Mayer, he was a flesh-presser and meeting-taker.
Armstrong founded
Patch
, along with Warren Webster and Jon Brod, in 2007. Both Webster and Brod later became top executives at AOL. Officially, the collection of sites was sold for only $7 million, and Armstrong said he didn't participate in negotiations, taking his share in AOL stock.
But here's the dirty secret of Tim Armstrong. Armstrong is
Patch
and
Patch
is Armstrong. Brod may have stepped down in May, but he's still with
AOL Ventures
. Webster is still president of
Patch Media
. Hundreds of people are being let go in the latest reorganization, but somehow the people who created the mess are staying on.
None of this is to say there is no market in local, online news. There is. But local news needs local publishers, who hire editors to gain reach within their communities, with high levels of engagement, and then sell access to those readers to local advertisers.
It's a bottom-up business, not a top-down business. Armstrong created
Patch
, ran it, and still runs it as a top-down business. It was doomed from the start, it's doomed today, and it will be doomed tomorrow, because the concept is stupid.
Someday, AOL's board will figure out that stupid is as stupid does. But not so long as Tim Armstrong can keep finding rabbits.
At the time of publication, the author owned shares of GOOG and YHOO.
This article is commentary by an independent contributor, separate from TheStreet's regular news coverage.
Dana Blankenhorn has been a business journalist since 1978, and a tech reporter since 1982. His specialty has been getting to the future ahead of the crowd, then leaving before success arrived. That meant covering the Internet in 1985, e-commerce in 1994, the Internet of Things in 2005, open source in 2005 and, since 2010, renewable energy. He has written for every medium from newspapers and magazines to Web sites, from books to blogs. He still seeks tomorrow from his Craftsman home in Atlanta.