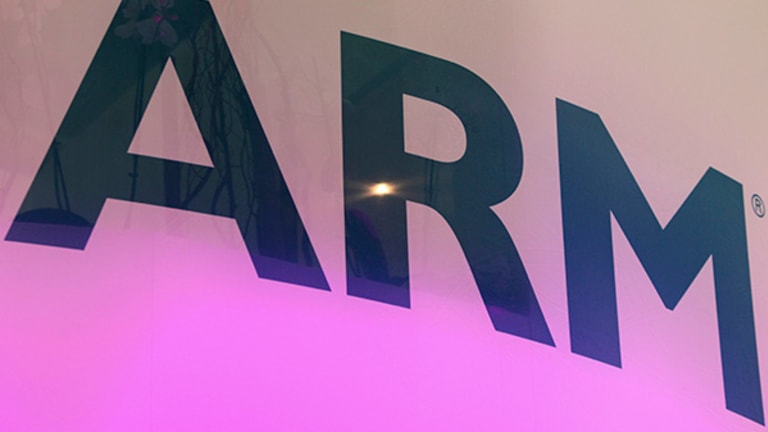 ARM Enjoys 18% Second-Quarter Earnings Growth
U.K. chip designer enjoys growth as it wins new licenses for its state-of-the-art designs.
U.K. semiconductor designer ARM Holdings (ARMH) said earnings per share jumped 18% in the second quarter of fiscal year 2016 after it saw growth in both licensing and royalty revenues thanks to new license agreements and shipment growth in ARM-based chips.
The second-quarter results come on the heels of Japanese telecom giant SoftBank's  (SFTBY)  proposed acquisition of the the company.
The Cambridge, England-based ARM, said diluted EPS jumped 18% year-on-year to 8.6 pence  from 7.3 pence in the three months to June 30 on revenue growth of 17%, from £228.5 million ($300 million) to £267.6 million. Processing licensing revenues rose 24%, while processor royalty revenues advanced 19%.
"Our royalty revenue growth continues to outperform the wider semiconductor industry, driven by market share gains and the increasing adoption of ARM's latest technologies," ARM chief executive officer Simon Segars said. "With more end-users selecting ARM technology for products ranging from sensors to satellites to supercomputers, we expect this outperformance will continue."
ARM, whose semiconductor know-how is used in 95% of global feature and smartphones including Apple (AAPL) - Get Report and Samsung Group products, is countering the weaker growth momentum of smartphones by enhancing the value of ARM technology used per device and investing in developments of expertise for next-generation products such as 5G networks, autonomous vehicles and the Internet of Things.
( (AAPL) - Get Report  is held in Jim Cramer's charitable trust Action Alerts PLUS. See all of his holdings here). 
In July, SoftBank claimed ARM for £24.3 billion, saying that the acquisition was aimed at capturing opportunities emerging from a shift of focus in the technology arena, from mobile Internet to Internet of Things. ARM accepted the offer as it would be enable the company to make significant R&D investments without worrying about making losses. ARM's board of directors unanimously agreed to the acquisition.
In the quarter, ARM signed 25 processor licenses with a broad range of major technology companies. These included semiconductor companies engaged in products for smartphones, networking, servers and embedded computing, ARM said. Major design wins included those with NASA for embedded computing, and Fujitsu and Riken for high-performance computing, the company said. The company also saw 9% growth in shipments for ARM-based chips.
ARM did not provide any outlook for 2016.
"Given the restrictions placed on forward-looking statements as a result of the recommended offer by SoftBank for ARM, it is not appropriate to provide the usual full-year 2016 revenue guidance," the company said.
ARM shares recently edged down 0.05% to 1,675.10 pence. The company's shares have surged about 40% since the announcement of acquisition by SoftBank.
Yesterday, Apple posted higher-than-expected results for the third quarter. The Cupertino, CA-based company reported earnings of $1.42 per diluted share, surpassing analysts' estimates of $1.38 per share.
Revenue came in at $42.4 billion, topping analysts' projections of $42.1 billion. Apple sold 40.4 million iPhones during the quarter, above Wall Street's estimates of 40.02 million, Reuters noted.