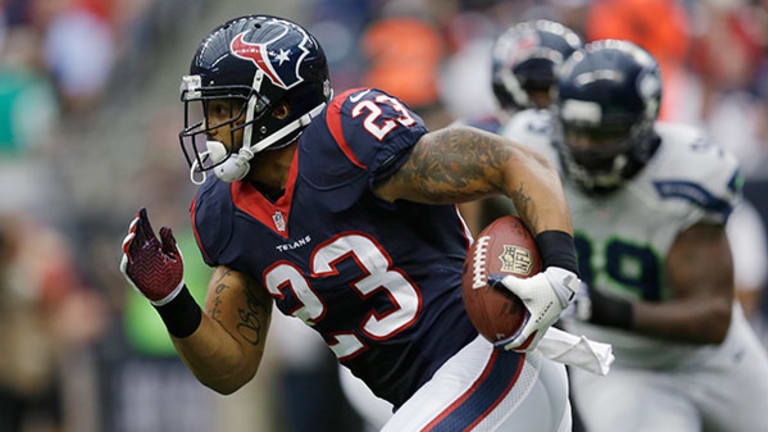 NFL Stock Market Hinges on Arian Foster's Finances
Arian Foster's IPO may be a compelling way for football addicts to increase their NFL dosage. It also, however, leaves investors with significant risk.
Updated from 10:20 ET to reflect Fantex CEO Buck French comments throughout
NEW YORK (TheStreet) -- Arian Foster, the Pro Bowl Houston Texans running back who is started in more than 98% of Yahoo! (YHOO) fantasy football leagues, apparently is selling stock in himself in what looks like a clever initial public offering.
I am not so sure.
After reading disclosure documents filed with the Securities and Exchange Commission regarding the "Arian Foster IPO," it appears that prospective investors are actually buying a convertible stake in Fantex Brokerage Services, a money-losing firm that is just 12-months old and is seeking to turn NFL player contracts and earnings steams into a tradeable marketplace.
Worse yet, Foster fans hoping to invest in the star running back's future could find out they are actually lending him money with no strings attached. Still, after an email exchange with the company, it seems that this prospective listing is a serious attempt at offering NFL fans with a new experience and players with a product that can help them financially.
In a previous version of this article TheStreet analysed the S-1 documents and highlighted Arian Foster's creditworthiness as the biggest risk of the offering.
However, Fantex CEO Buck French said in an e-mail exchange that a due diligence process showed Arian Foster had "substantial amounts of cash and liquid investments and no debt." In other words, Foster carries a debt-to-asset ratio of zero, according to French, who said that Foster has current assets that exceed his current liabilities by an amount at least equal to the next 24-months of payments anticipated as part of the share offering.
Those comments provide new information to what is disclosed in Fantex's S-1 and help to alleviate some of the risks stated by the company in its Arian Foster offering.
The New York Times Dealbook section also has a good profile of the Harvard MBAs, hedge fund managers and all-pro players behind the offering who may have opened up a new Pandora's Box for football addicts if gambling lines, cable TV, fantasy leagues and in-person attendance have become a bore.
Still, a read through disclosures of the share offering raises question marks that prospective investors should be weary of. They should know what they will own and the associated risks of the equity.
What jumps out is that Foster fans will not have any claim on the income he will earn from football contracts, endorsements and the like.
They, instead, are investing in Foster's so-called "brand income" as collected by Fantex Inc., the actual equity being sold. 
Prospective investors are paying $10 million for a tracking stock that is tied to Fantex's 20% interest in the "brand income" Foster will generate from future contract and endorsement earnings after February 2013. Investors will, however, have a direct equity interest in Fantex and all of its associated expenses, stock compensation and management judgment.
"Holders of shares of our Fantex Series Arian Foster will have no direct investment in the businesses or assets attributed to the Arian Foster Brand. Rather, an investment in Fantex Series Arian Foster will represent an ownership interest in our company as a whole," the company said in its S-1 filing with the SEC.
In terms of risks, an equity interest in Fantex is a speculative bet.
"Our Fantex Series Arian Foster is highly risky and speculative. Investing in our Fantex Series Arian Foster should be considered only by persons who can afford the loss of their entire investment," the S-1 added.
Fair enough. Part of the IPO process forces companies to adequately disclose the risks associated with what they are selling. It's hard to make a more clear statement about risk.
Fantex also provides full disclosure of its loss-making financial situation and the risks associated with its strategy of converting player contracts and endorsements to "brand income" tracking stocks.
Those who are willing to look past the complicated structure of the Fantex Series Arian Foster offering face other material risks.
Foster's brand income, the financial engine of the Fantex stock, isn't backed by any collateral and there appears to be little legal recourse between shareholders and the earnings they may believe they are investing in.
As it turns out, the amounts that Foster owes to Fantex as part of the brand contract are unsecured and depend entirely on the running back's creditworthiness.
"The amounts that Arian Foster owes us under the brand contract are unsecured and payments to us depend on Arian Foster's creditworthiness," the S-1 stated.
So that $10 million brand contract may look more like a loan were Foster to stumble into financial difficulty. Normally, lenders ask for covenants, restrictions and the like when doling out their money. Not so in the case of the Fantex brand contract.
Here are the disclosures that alarmed me most:
"[The] Arian Foster brand contract also does not impose any other financial restrictions on him, including any restriction from incurring unsecured debt," Fantex states. "If Arian Foster incurs additional secured or unsecured debt after this offering, or if he incurs excessive expenses, he may be impaired in his ability to make payments to us under the brand contract. In addition, additional debt or expenses may adversely affect his creditworthiness generally, and could result in his financial distress, insolvency, or bankruptcy."
"If Arian Foster incurs other indebtedness or expenses and cannot pay all of his indebtedness or expenses, he may choose to make payments to other creditors rather than us. If Arian Foster declares bankruptcy any amounts owed to us will only be paid out after all of his secured debt is repaid."
"The brand contract is between Arian Foster and us, and as a stockholder, you have no rights under the brand contract as a third-party beneficiary, or otherwise. In the event of any default under the brand contract, you must rely on us to collect any amounts due and you will be unable to pursue any claims against Arian Foster directly."
The salient point is that Foster's brand income hinges on his financial situation. While the S-1 doesn't disclose Foster's assets or liabilities, an email exchange with Fantex helps to put to rest some concern.
French said in an email passed on by a firm spokesperson that Arian Foster currently has no debts and is judged by Fantex to have the ability to make a $10.5 million repayment due to Fantex if he retires in the next two years. 
"As a result, we have concluded that he is a sound credit risk. Other than the $0.5 million of the cash consideration to be held in escrow for six months, we have not required Arian Foster to place any additional funds in an escrow account as security to cover the repayment of $10.5 million in the event he retires from professional football within two years," French added.
"In addition, we intend to monitor the creditworthiness and financial health and stability of Arian Foster on a periodic basis in the future through the information and audit rights that we have under our brand contract with him," he said.
That is a helpful clarification of financial information that was not included in Fantex's S-1, which does provide significant detail on Foster's existing contract with the Houston Texans, his endorsement deals with the likes of Under Armour (UA) and Kroger (KR) , and the risks associated with investing in an NFL player's earnings.
The media appears to consider a knee blowout, a fallout with coaches or some PR snafu to be the biggest risk in investing with the Fantex Arian Foster tracking stock. My reading of the IPO documents indicates it is Foster's future financial situation and Fantex's ability to derive sustainable earnings that pose the biggest risk for investors.
Fantex said it conducted due diligence into Foster's financial situation and found no cause for alarm.
"As part of our due diligence of Arian Foster we reviewed financial and other information from him to evaluate financial suitability and brand sustainability (including credit worthiness). Other than what has been disclosed elsewhere in this prospectus, we have not been made aware by Arian Foster of any events or incidents (personal or otherwise) relating to Arian Foster that we believe would materially negatively impact the Arian Foster Brand going forward. Among other things we reviewed schedules of his assets and liabilities and existing commitments, tax returns and credit reports and credit scores."
Prospective investors will only see Fantex's income statement and balance sheet. If Foster turns out to be a bad credit or if brand income became subordinated to his taking out additional debts, prospective investor losses recorded on published financial statements would likely be attributable to Fantex's management judgment and their due diligence.
Intellectually, Fantex and its financially sophisticated backers have created something ingenious for fans and a financial product that may help compensate NFL players for actual worth. The lion's share of money in NFL contracts isn't guaranteed by owners, and the league's history is littered with star athletes who never got the big payout they deserved for their on-field performance. (Fantex has not worked with the NFL to create the Arian Foster offering).
Sports Illustrated recently calculated that 78% of NFL players go bankrupt within five years of their retirement. Payouts like the $10 million in IPO proceeds that would go Foster's way if the Fantex listing proceeds could be an effective way for players to smooth out the league's absurdly inconsistent contract payouts.
If there is strong interest in Foster's sale of 20% of his brand income, it would not be surprising for other players to follow suit. For now, Foster, one of the hardest-working running backs in league history, will be carrying a big load for prospective investors.
Arian Foster's financial situation alone could govern whether Fantex will work or not. Investors should ask whether they are willing to bet on the running back's finances by way of Fantex. His lack of debt is a strong starting point, however, investors will have little recourse if that changes. They will also likely need other athletes to list their 'brand income' with Fantex.
It is worth noting that the Fantex share sale will limit the amount people can invest depending on their income. Those earning $50,000-to-$100,000 a year will be able to invest a maximum of $7,500.
As a piece of fan memorabilia, Fantex Series Arian Foster stock will prove disappointing. The shares being sold will only be issued in book-entry form -- prospective investors won't even get a certificate.
-- Written by Antoine Gara in New York.