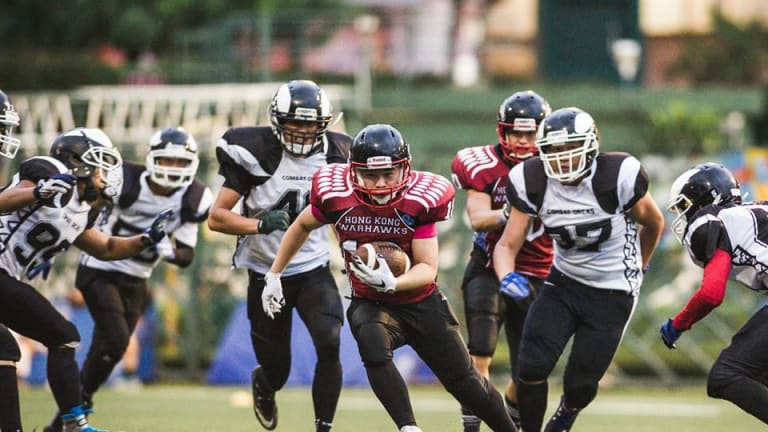 Arena Football Expands to China -- India and Vietnam Could Be Next
The Arena Football League will begin its inaugural season in China with six teams this coming October.
Fans of the Arena Football League will have an international option this fall as the indoor football confab is set to launch a league in China, with plans to eventually expand to India, Vietnam and even Korea.
The league, founded in 1987, announced on July 8 that it had finalized the schedules of the six-team Chinese league. The league, which boasts owners such as former NFL players Ron Jaworksi and Dick Vermeil, will kick off its inaugural season in October 2016.
AFL Global President David Niu, a former rugby player, coach and developer, said the 8-on-8 game is "packaged for entertainment" for mainland China retailers, advertisers and fans. 
The China Arena Football League, a subsidiary of AFL Global, began as a $6 million personal investment from the private company's owner, Marty Judge -- part-owner in the Philadelphia Soul, the city's indoor football team and CEO of professional services firm Judge Group.
Larry Grimes, president of the Sports Advisory Group and an adviser to professional sports teams and leagues, said tapping the large population may be a lucrative move, however, it's hard to see the connection between China and the U.S. in terms of athletics.
"We are importing a style of professional football over there, but other than that, I view it as two distinctly different markets," Grimes said.
CAFL held its first draft in June, placing 20 players on each of six teams, all owned by AFL. The Beijing Lions, the Shanghai Skywalkers, the Guangzhuo Power, the Shenzhen Naja, the Dalian Dragon Kings and the Qingdao Clipper begin 10-week schedules this coming October.
In recent years, the novelty of indoor football has somewhat worn off; perhaps making it harder to gain mass popularity in the U.S. market.
But Niu said the company is looking for opportunities in merchandise, licensing and sponsorship to eventually grow the league and sell the assets of the company to new owners, or "engaged stockholders," as the company put it.
The inaugural players in CAFL were equally split in the draft between native Chinese and foreigners, according to the company. A large portion were American (400 of the 500 registered players), with a strong majority from the Philadelphia Soul indoor team -- no surprise. Among the other foreigners were players from Germany, Italy and Spain.
Football's international growth hasn't been limited to indoor, however. The Nation Football League has been playing at Wembley Stadium in London for years (and signed a deal to keep playing there until 2020) -- more proof that American football is determined to throw the pig skin over international waters. In addition, ESPN International -- a Disney (DIS) - Get Free Report property -- airs in four languages -- English, French, Portuguese and Spanish -- and its 26 networks air in 61 countries and territories.
The online live stream of the draft showed the largest viewership was from the U.S. as well -- in total more than 14,000 viewers logged on to the program, with 4,100 viewers from China over the show's duration.
Compared to viewership in the U.S. for local home teams, that's fairly high. According to data from the AFL, an average indoor home game garners about 9,000 viewers on ESPN, and about 8,000 viewers on CBSSN. Since 2013, the company reported that the average weekly attendance of games has gone up slightly from 7,924 attendees to 8,974. On the other hand, NFL broadcasting on ESPN averages millions of viewers every year.
Niu said the idea for expansion came partly from logistics, and partly from Judge's pre-existing connections in China through his private company the Judge Group, a technology services firm based in New York.
"Infrastructure throughout China and its major cities were only used for basketball and gymnastics," he said. "There was an opportunity there for us to launch indoor football, and part of that program was to develop education and training programs."
The goal, Niu added, is to have leagues developed in many countries outside the U.S. Eventually, those nations will be able to compete in the World Cup of indoor American football.