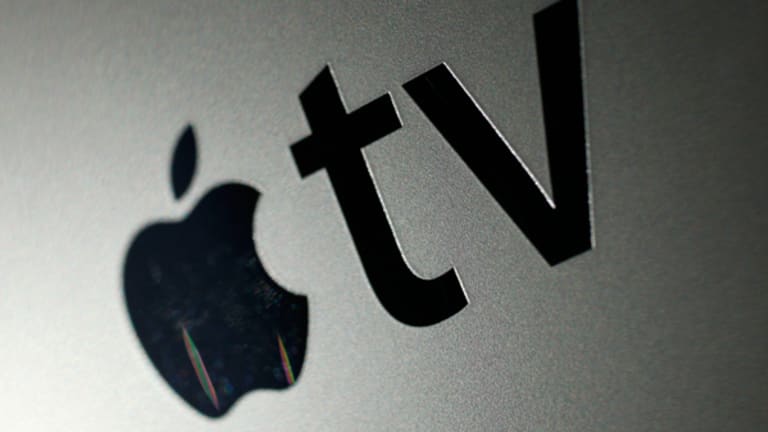 Are You Waiting for an Apple TV Set? Dream On
Apple may redefine television but it won't be redesigning the television set.
NEW YORK (TheStreet) -- Brace yourself, short-term investors -- there is no iTV coming. There won't be a 50-inch retina display with a tastefully concealed Apple (AAPL) - Get Apple Inc. (AAPL) Report logo winking at you anytime soon.
This shouldn't come as a surprise to anyone who has been paying attention. Even TheStreet's Rocco Pendola hinted at that, despite others suggesting otherwise. There's no need for new hardware. Why make a large version of a tablet with smaller margins? It's really that simple. In case you haven't noticed, you can do everything on your iPad that you can do on your television and a lot more. A viewer just needs access or content.
Can Apple still revolutionize television as we know it? Sure. Remember picture-in-picture? Well, how about picture andpicture. Imagine watching a football game with the traditional broadcast on one screen and the "All-22" on your tablet. That's just one possibility. The power lies in the software, not the hardware. 
Think it's a coincidence that Apple's Jony Ive is now elbow-deep in software, too? It's an attempt to harness the power of existing hardware that he helped design to produce revolutionary experiences, not just products. So while there may never be a literal Apple TV, chances are the folks in Cupertino have something up their sleeves.
Take for instance Apple's buildout of server farms all over the country. Why does it need so much space, so much power? For a streaming service?
Is it possible an iPad or iPhone could become an interactive touchscreen remote? They already are thanks to the software.
Recently, Apple and Time Warner Cable (TWC) were rumored to be working together on a set-top box. Now Comcast (CMCSA) - Get Comcast Corporation Class A Report wants to buy Time Warner. What happens to that set-top box? Stay tuned.
Walt Disney's (DIS) - Get Walt Disney Company Report Bob Iger has been busing making exclusive deals with DirectTV (DTV) and DishNetwork (DISH) - Get DISH Network Corporation Class A Report, the pair paying Disney for exclusive streaming rights and content in the future. Perhaps Iger, one of the finest CEOs in the country, was able to convince these companies to take a deal now before it was too late?
What insights could Iger have into Apple?
Apple's research and development spending is  on the rise, a hint something is in the works that's not just a different size or color iPhone. Certainly this could be a wearable device or devices, but there seems to be even more evidence of a TV play.
Notice that the current "Apple TV" has it's own tab at the store now, done in the past few weeks without much fanfare. Why break it out of "accessories" if the offering was not slated to be more robust?
Apple is ready to redefine TV, just not the set. If history repeats itself, it won't be just another rerun.
At the time of publication the author was long AAPL.
This article represents the opinion of a contributor and not necessarily that of TheStreet or its editorial staff.