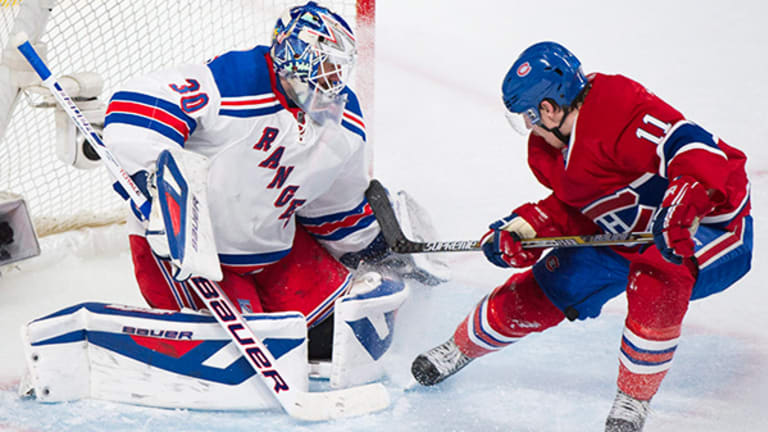 Are You Ready for Some Hockey Off the Rink? Check Out These Stocks
See which companies will get a boost from the Stanley Cup Championship.
See which companies will get a boost from the Stanley Cup Championship.
NEW YORK (TheStreet) -- Last weekend, I was clicking around Forbes.com, checking out what is going on in the market. I ran across an excellent article by Richard Lehmann, How to Get Income Without Growth. It was uplifting and solid and Lehmann gave excellent recommendations of regarding Master Limited Partnerships (MLPs) and closed-end funds, including Williams Partners (WPZ) .
But then, as I was starting to research MLPs, my attention was stolen by this ....
The Business Of Hockey
 ... and that was that.
It's exciting in hockey right now. The LA Kings leading one game to none in the Stanley Cup championship final against the New York Rangers. (Go Kings!)
Now suppose you wanted to invest in companies to support the sport you love? Here are some suggestions: and otherwise take note of companies that may benefit during the NHL hockey playoffs.
Here are some suggestions:
There are a few companies related to hockey whose stock I would like to buy, but can't because they are privately held including, Sports Authority, Hockey Monkey (Monkey Sports, Inc.), Hockey Giant (SportsGiant), Easton, Warrior, and Zamboni. Yes, Zamboni, the ice rink cleaner company.
Other companies that might score from a successful NHL playoff include the teams' sponsors, such as Wells Fargo (WFC) - Get Report, McDonald's (MCD) - Get Report, Toyota (TM) - Get Report, JPMorgan Chase (JPM) - Get Report, Anheuser-Busch (BUD) - Get Report, Coca-Cola (KO) - Get Report, Delta (DAL) - Get Report, AT&T (T) - Get Report, and the Bank of Montreal (BMO) - Get Report, all listed on the New York Stock Exchange.

How is hockey doing with viewership lately? According to Bloomberg, "Through the first 83 playoff games, the NHL has drawn an average of 1.12 million viewers, up 4.6% from last year ... The numbers still trail the National Basketball Association's playoff ratings, which are up 7% this year to an average of 4.5 million viewers per game from 4.2 million in 2013. NBC Sports Network said it drew more than 1.75 million viewers in six NHL playoff games in May, a record for the Comcast Corp.-owned network.
So let's look at Comcast (CMCSA) - Get Report and Madison Square Garden  (MSG) - Get Report for some interesting plays. Here's how these two companies look, based on a Technical Analysis of each:
Comcast appears to be entering into a supply zone and may have a little pullback before its next bounce higher. As CMCSA's price is entering into a supply zone, it's doing so with weak volume and weak price movements, signaling an unlikely continuation of the upward trend.
The chart is setting up to become the perfect double top scenario. If the stock's price follows through on the double top, the price could fall down back to the $50 zone. The price of CMCSA as of the close on Friday was $52.20 and the slow stochastics remained at a very overbought level of 92.20. This set up shows a slight pullback waiting to happen over the next week for CMCSA.
MSG's stock price shot up last Friday with an enormous price move upwards. The stock was already moving up with a strong bullish trend since around May 12th and gapped higher into a supply zone. Once it entered the supply zone around $56, the price fell back down to $56.48, where it closed the day on Friday. The stock shows as very overbought on the stochastics chat and the RSI chart.
Whichever teams get to the playoffs, and whichever hockey stocks you choose to buy or sell, I wish you
Many Happy Returns,
Rachel
This article represents the opinion of a contributor and not necessarily that of TheStreet or its editorial staff.
>>Read more: Apple Slowdown Not in the Cards This Year