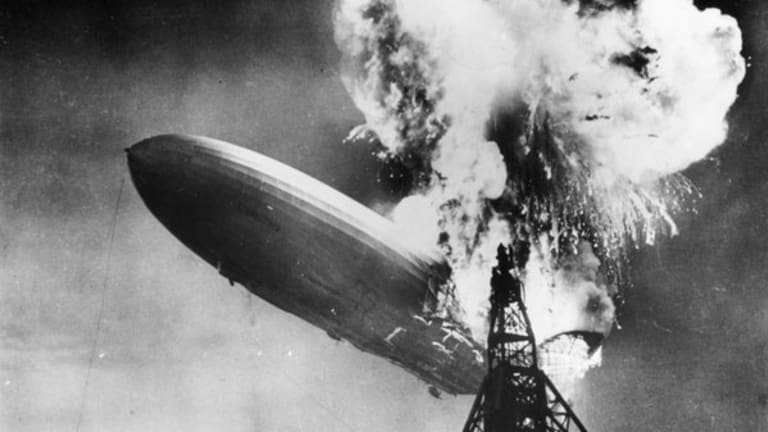 Are You Ready for a June Swoon?
The Hindenburg omens aren't looking good and the market disconnects are looser and looser.
NEW YORK (
) -- After a positive month, bulls are thumbing their noses at the "sell in May and go away" crowd. But just ahead lies the potential for some serious gloom and doom in June.
Here's what to watch for as we head into the crazy, hazy, lazy days of summer.
A cluster of Hindenburg Omens:
Named after the famous crash of the Zeppelin Hindenburg, the Hindenburg Omen is designed to warn of potential serious declines in the stock market. We've had two now in the last six weeks, with the first one coming on April 15 and the current one on May 29. The more that cluster, the more accurate the indicator tends to be.
The Omen is made up of a number of factors, including breadth indicators, moving averages and the McClellan Oscillator, and Hindenburg specialists note that the last confirmed occurrence was logged in October 2007. It correctly predicted market swoons in 1987 and 2008, but skeptics point out that it has only a 25% long-term accuracy rate.
Economic and market disconnects:
Economic fundamentals and stock market action have been on a diverging course since the recent rally started in April. Across the board, economic fundamentals have weakened while the major U.S. indexes were setting record highs on nearly a daily basis.
Europe is clearly in recession, China is slowing, U.S. consumer spending and incomes are stalling and major commodity markets like copper, lumber and gold all point to a global slowdown. Volatility in Japanese financial markets has gone parabolic and regardless of
Federal Reserve
easy-money policy, markets cannot ignore economic fundamentals forever. As these disconnects grow, it becomes increasingly unlikely the United States equity market can continue marching higher on a solo path and totally out of synch with the rest of the world.
>>Also see: 5 Hated Earnings Stocks That Deserve Your Love >>
U.S. corporate health:
The PC market continues to languish.
Wal-Mart's
(WMT)
results point to a stressed consumer, and in a little-reported event last Wednesday, Moody's downgraded
Alcoa
(AA)
to junk status. Alcoa's credit is now Ba1 with a stable outlook, which is significant because Alcoa is a member of the
Dow Jones Industrial Average
and widely seen as an economic bellwether in its position as a major global aluminum supplier.
A slowdown in demand for aluminum is viewed as a precursor for slowing economic activity, much like copper and lumber, and so weakness here confirms other indications of the slowing worldwide economy. Alcoa typically kicks off earnings season, and so its next report in early July could be interesting and will be carefully scrutinized for signs of weakness in the macro economy.
The recent pop in interest rates:
This could be a game changer for financial markets as the U.S. Treasury bond market is, by far, the largest and most influential in the world. Last week, 10-year Treasuries jumped to 2.1% on Friday, up from 1.6% at the beginning of the month. After a long period of low interest rates, U.S. equity markets are addicted to easy, cheap money and a change in that environment could add to the cost of doing business for corporations, damp the much-ballyhooed real estate resurgence and have the ominous effect of effectively increasing the national debt as rising interest rates make the debt more expensive.
Overall, the move in interest rates leaves investors in a bad place, with growing potential risks appearing in both the stock and bond markets. On Friday, stocks and bond prices declined in unison, which is not the typical action: Usually, stock and bond prices move inversely to each other. If stock prices and bond prices start going down together, this potentially sets up an environment in which a diversified portfolio of stocks and bonds could move up or down in tandem.
The biggest risk here is the Fed easy money policy has created three simultaneous bubbles in stocks, bonds and real estate and all three could deflate concurrently if/when the easy money is pulled away. Any hint the Fed is losing control of the interest rate environment is likely to lead to extreme volatility and the potential for significant problems for stocks, bonds and real estate, much like the current situation in Japan.
>>Also see: Is the Bitcoin Bubble for Real?>>
U.S. markets now face several significant challenges that could easily bring on a bout of June doom and gloom. The recent rally has been completely unhinged from economic reality, as macro indicators like consumer spending and commodity prices point to a slowing global economy and technical indicators point to potential upcoming weakness in major U.S. markets.
U.S. corporations are starting to show signs of stress and an atmosphere of rising interest rates adds further uncertainty to the overall picture for June. Wall Street Sector Selector remains in "red flag" status, expecting an increasingly high risk environment ahead.
At the time of publication the author had no position in any of the stocks mentioned.
Follow @WSSectorSelect
This article is commentary by an independent contributor, separate from TheStreet's regular news coverage.
John Nyaradi is Publisher of
, a financial media site focused on news, analysis, and information about Exchange Traded Funds (ETFs) and global financial and economic developments. John's investment articles have appeared in many online publications and he is a frequent guest on numerous financial media outlets. His book,
Super Sectors
, is published by John Wiley and Sons and included among the "Year's Top Investment Books" in the
2011 Stock Trader's Almanac
.