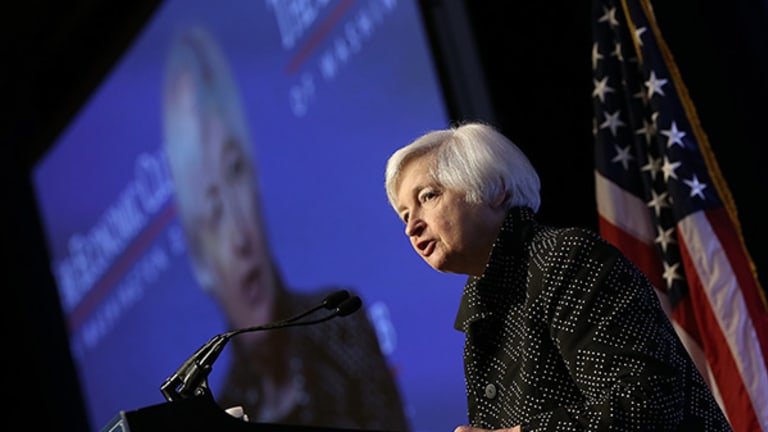 Publish date:
Are You Addicted to the Fed? Here's Your Cure
Market participants have become obsessed with Federal Reserve policy. Stop worrying and follow this simple plan for investing during times of rising interest rates.
Market participants have become obsessed with Federal Reserve policy. Stop worrying and follow this simple plan for investing during times of rising interest rates.
To paraphrase the late musician Robert Palmer, "You might as well face it, you're addicted to the Fed."
It seems that the vast majority of investors are suffering from some form of Fed obsession, as global stock markets seemingly rise and fall on mere rumors of moves the U.S. central bank might or might not make. Analysts attempt to discern nuances in the language used by Janet Yellen and other policymakers for clues about future Federal Reserve actions. Is all of this overdone?
The evidence is very clear that the stock market performs dramatically better when interest rates are trending downward rather than upward. In our recently published book, Invest With The Fed, Gerald R. Jensen of Creighton University, Luis Garcia-Feijoo of Florida Atlantic University and I found clear evidence of an association between Federal Reserve monetary policy and capital market returns. Importantly, it is the direction of the movement of rates and not the absolute level of rates that appears to matter.
From 1966 through 2013, the S&P 500 rose at an annualized rate of 15.2% when interest rates were falling. In contrast, when rates were trending upward, the S&P 500 advanced at a more pedestrian 5.9% clip. But, the operative word here is "advanced." Currently, many investors are operating as if the sky is falling, and they're exiting equities after the Fed initiated its first rate hike in nearly a decade.
Instead of exiting stocks, however, investors would prudent to rotate part of their equity portfolio into stocks that have historically performed well during a rising-interest rate environment. Since 1966, energy, consumer goods, utilities and food stocks have performed best when rates have risen. The companies behind these stocks offer necessity goods and typically have below-average risk levels. Generally, these stocks are considered defensive. Whatever the economic situation, people need to put gas in their cars, brush their teeth, heat their homes and feed their families.
The returns to the energy sector were remarkably consistent in rising and falling rate environments. Energy stocks returned 12.2% when rates were falling and 11.5% when rates were rising. In contrast, the automobile sector returned a robust 25.4% when rates were falling and actually lost 1.3% when rates were rising.
Lastly, investors would be wise to take a page from the late, great golf instructor Harvey Penick. Best known as Ben Crenshaw's teacher and the author of Harvey Penick's Little Red Book, he once said: "When I tell you to take an aspirin, please don't take the whole bottle. In the golf swing a tiny change can make a huge difference. The natural inclination is to begin to overdo the tiny change that has brought success. So you exaggerate in an effort to improve even more, and soon you are lost and confused again."
Investors are wise to look to the Fed to set expectations about likely future stock returns. When interest rates are rising, expect overall returns in the stock market to be lower. Investors don't, however, need to make dramatic changes in their stock portfolios in reaction to these moves -- they only need to take an aspirin or two.
This article is commentary by an independent contributor. Robert R. Johnson is president and CEO of the American College of Financial Services. At the time of publication, the author held no positions in the stocks mentioned.