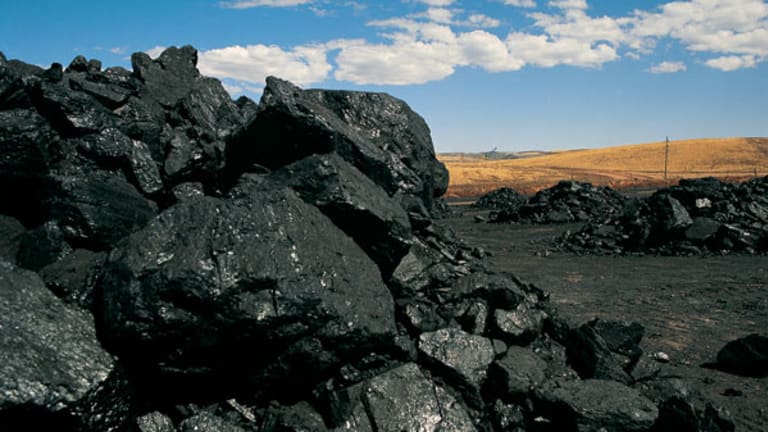 Arch Coal Needs a Spark
For an industry that has had its lunch money stolen for years, confidence matters in the coal game.
NEW YORK (TheStreet) -- "Timing the bottom" of an already depressed stock is virtually impossible, especially when bearish momentum has taken hold. And if that stock happens to be in a high-risk commodity business like Arch Coal (ACI) - Get Albertsons Cos. Inc. Report, which has always been perceived as "having potential," investors will learn fast that things can always get worse.
Second only to Peabody Energy (BTU) - Get Peabody Energy Corporation Report in terms of U.S. coal production, Arch Coal, whose stock has lost 90% of its value during the past five years, has had a hard time overcoming the misery brought upon by weak prices of coal and natural gas. Despite starting 2013 at $7.19 per share, already 80% below its 2011 high, Arch Coal stock has lost another 40% year to date.
Even so, that hasn't been enough to stop investors from insisting "the Street has gotten it wrong" and that Arch Coal stock has finally bottomed. While I'm willing to concede that Arch Coal's valuation is as attractive as that of Alpha Natural Resources (ANR) , which I happen to like, I didn't come away thinking, however, that there was true long-term potential in Arch Coal's stock following its third-quarter earnings results.
With brutal results already in hand from Cloud Peak (CLD) - Get Cloud Peak Energy Inc. Report, which sent its stock plummeting below book value, I don't believe anyone who understands this industry was expecting any upside surprises from Arch Coal. And management certainly didn't go out of its way to make investors feel any better about the current state of the company.
First, the good news: Arch Coal reported a third-quarter loss of only $1.8 million. While I typically don't celebrate quarterly losses from mature dividend payers, I'm willing to give management credit in this case because this is a significant improvement from a second quarter loss of $60.5 million. On a relative basis, this also outperformed the results from Peabody Energy.
Secondly, Arch Coal management was able to reduce operating cost per ton by close to 12%, demonstrating the difference that can be made when there's a strong emphasis on operational efficiency and profitability. This certainly supports the bullishness I've expressed towards Alpha Natural Resources, whose attention towards efficiency was equally as impressive.
Arch Coal's cost reduction also compared favorably to market leader Peabody Energy. Unfortunately, though, the 13% decline in average selling prices per ton negated any positive effects the company should have gained from the operational improvements. Given that this is a "bottom line business," the fact that Arch Coal still couldn't post break-even results was nonetheless disappointing.
Investors will read this and accuse me of focusing too narrowly on setbacks. But given the deficits with which management has had to work -- many self-inflicted -- I'm not yet ready to give Arch Coal the benefit of the doubt. Let's not forget that this is the same management that bet incorrectly on a transformational met coal, burdening itself with significant debt after the industry flamed out, leaving only ashes.
And it doesn't seem as if management has gotten over that poor decision. In fairness, Arch Coal isn't the only one that got burned. Peabody absorbed debt with its 2011 purchase of Macarthur. Alpha Natural Resources over-leveraged with its $7.1 billion deal in 2011 for Massey Energy. The difference, however, is that those deals have not impacted how Alpha Natural and Peabody project for the future.
I won't say Arch Coal management is scared. But I believe they've lost a bit of confidence following an embarrassing deal. Although there is clearly an uptick in coal demand, spurring positive outlooks from Cloud Peak, Alpha Natural, and Peabody, Arch Coal's management does not share in the enthusiasm, stating: "So while we are seeing some signs that coal markets are poised to improve, we aren't ready to predict that turnaround will occur."
I realize my interpretation here is highly subjective. What I do know is that in an industry that has had its lunch money stolen for years, confidence matters. And while it's possible that Arch Coal is just being cautious with its guidance, I don't believe it serves their interest at this point. Nor does it help investors eager to believe in management's ability to deliver.
At the time of publication, the author held no position in any of the stocks mentioned.
Follow @saintssense
This article was written by an independent contributor, separate from TheStreet's regular news coverage.