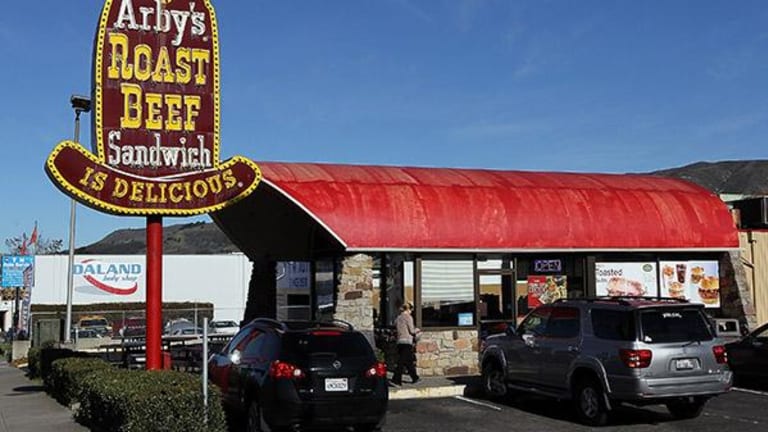 Arby's Just Crushed McDonald's in One Important Area
Arby's doing better than McDonald's? Yes, in U.S. same-store sales.
Penny pinchers in the U.S. preferred to splurge on sliced roast beef from Arby's instead of a Big Mac.
The privately held fast-food chain, which has 3,300 restaurants worldwide, reported U.S. same-store sales gained an impressive 3.7% during the second-quarter due to an increased number of transactions.
Arby's U.S. has now logged a mind-boggling 23 consecutive quarters of same-store sales growth as it continues to curry favor with diners by focusing on the marketing of its meaty sandwiches and a host of limited-time offerings. More recently, Arby's debuted a limited-time meatball sandwich that takes aim at the often lower-quality offerings typically found at Subway.
"I'm particularly pleased to see our continuous growth in guest traffic," said Paul Brown, CEO of Arby's Restaurant Group, in a statement. He added, "In the second quarter we added three successful limited-time sandwiches to our permanent menu -- the Loaded Italian and beef and turkey gyros, and these premium sandwiches promoted alongside our affordable, high-quality sliders continues to reinforce our meat-focused approach at a range of price points that's clearly resonating with guests."
Arby's results stick out among the tepid second-quarter results from fast-food giants including Starbucks (SBUX) - Get Report , Dunkin' Brands (DNKN) - Get Report and McDonald's (MCD) - Get Report at the hands of more cautious U.S. consumers. McDonald's, more of a direct competitor to Arby's, should be especially embarrassed by how its smaller rival kicked its posterior during the quarter.  
McDonald's second-quarter same-store sales in its largest market -- the United States -- rose 1.8% from the prior year, badly missing Wall Street forecasts for a 3.2% increase. Of particular concern, same-store sales growth cooled drastically from a 5.4% increase in the first-quarter.
McDonald's promised it will add additional items to its all-day breakfast menu and enhance its core items this fall in a bid to jump-start sales. Maybe the Golden Arches should consider a few roast beef sandwiches.
Nonetheless, Arby's successful start to the year continues its turnaround under the leadership of Brown, who joined Arby's in 2013. In 2015, Arby's U.S. systemwide sales rose a solid 8.6% to $3.45 billion, notes research firm Technomic. Its growth rate outpaced that of larger chains including McDonald's, Restaurant Brands' (QSR) - Get Report Burger King chain, Wendy's (WEN) - Get Report and Sonic (SONC) , according to Technomic data.