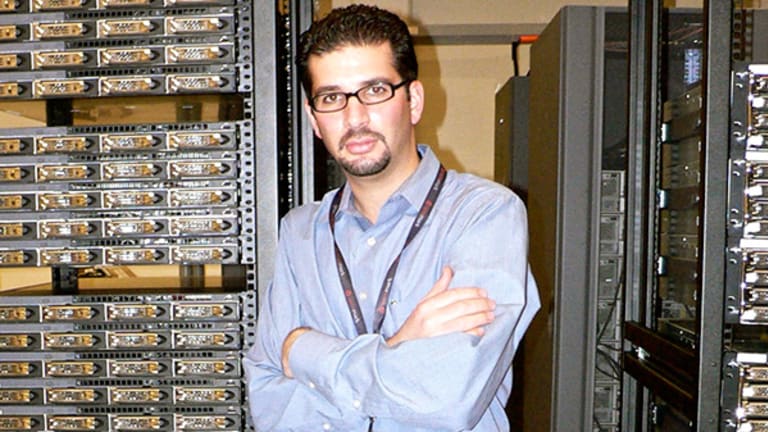 Apple's Steve Jobs Would See Himself in Tech Pioneer Eren Niazi
Open-source tech pioneer Eren Niazi has an overpowering urge to create, which he shared with his childhood neighbor, Steve Jobs. Both were inventors fired from their own companies, and both later rebounded. Niazi talks about his company and the growing demand for open-source enterprise software.
NEW YORK (TheStreet) -- For a genius, every aspect of life is amplified, good and bad. Geniuses have a certain fragility and an overpowering urge to create.
Eren Niazi, a 37-year-old serial entrepreneur, shares this brilliance with his childhood neighbor, the late Steve Jobs of Apple (AAPL) - Get Apple Inc. Report. The two grew up in the same neighborhood in Sunnyvale, Calif., and later both became inventors. And both were at some point fired from their own companies, only to rise again.
Today Niazi develops open-source software and has started several companies. TheStreet spoke with him about his career, his companies and his drive to achieve.
Eren Niazi, like Steve Jobs, never received a university degree. He drew inspiration from Jobs, who promoted Apple computers at the West Valley elementary school that Niazi attended. Niazi was a coder and hacker by the age of 12. At 19, he was already working at server and cluster computing company Amax Engineering, and architecting supercomputers for the federal government. Having developed and run the Linux Networx account, Eren left Amax as an OEM group manager at 22.
A year later, in 2001, he launched Open Source Storage, when he spotted a market opportunity in the growing business need for enterprise data centers built on open-source software. At the time, Niazi found that selling open-source software and commodity hardware to enterprise clients seemed like selling penicillin to doctors who still believed that bleeding patients would be more effective.
Today, the squeeze on I.T. budgets has intensified the need for firms to become more efficient and cost-effective in their storage choices. Businesses generate reams of data, and open-source storage increasingly seems like a good value. That has pushed forward open-source technology adoption and development.
The global data universe is growing by 40% to 50% a year, according to the International Data Corporation, a market research and advisory firm. And total world data will surpass 40 trillion gigabytes by 2020. All that data needs to be stored.
Now the connected world is growing too, with the expansion of the so-called "Internet of Things" -- all of the refrigerators and thermostats and watches and clothes that will be connected to the Internet. Gartner's research estimates that the economic value-add of the Internet of Things will be $1.9 trillion by 2020. Its associated revenues will exceed $300 billion in the technology and telecom sectors alone.
The mass of data generated by the Internet of Things will require scalable, cost-effective solutions to manage data growth and contain the cost of ownership. This is precisely the value open-source technology brings to enterprise businesses.
"There will be a big shift from proprietary data firms to open-source guys," Niazi said. "So, you're going to have to find open-source experts who can do large-scale storage deployments."
On average, Open Source Storage clients have been able to reduce their total costs of data ownership by 30% through scalable solutions that eliminate software-licensing fees and hardware costs from proprietary data storage from technology bigwigs like IBM (IBM) - Get International Business Machines Corporation Report and Oracle (ORCL) - Get Oracle Corporation Report.
A gig with NASA, which was among Open Source Storage's earliest clients in 2002, gave the company the street cred it needed when it won a client engagement with social network Friendster two years later.
As chance would have it, Nicholas Heyman, Friendster's Director of Operations, was impressed with the difference Open Source Storage made to the site's data center operations. When Heyman moved to Facebook (FB) - Get Meta Platforms Inc. Report, he signed up with Niazi again and became its largest client. That helped fuel the open-source storage trend.
Soon Facebook's Mark Zuckerberg declared open-source technology as the future of the business world.
Open Source Storage's efforts for the social media giant fetched $5.5 billion in revenue for open-source storage and commodity hardware. That helped scale Facebook's systems up and saved it considerable money in licensing fees.
But Open Source Storage crashed in the lead-up to the Great Recession. Investors fought to control the enterprise, yet it went bankrupt. Niazi was out.
But that wasn't the end. The company re-launched toward the end of last year, six years after it went out of business -- with Niazi at the helm again.
Since its reentry last year, the Silicon Valley-based company has sold 50 million shares to private investors (with no valuation disclosed), launched 12 new product lines, and exceeded its revenue targets in six months. Now, it is pursuing a private offering at a valuation of $95 million.
So, what convinced Eren Niazi to give Open Source Storage another shot? Many factors, including a growing demand for open-source technology and financial support from a new group of investors. But the decision to re-launch was philosophical too.
"Pioneers are the ones with the arrows in their back," Eren Niazi said, reiterating Steve Jobs' favorite quote. "When the timing is right, your path and light will shine forward."
>>Read More: Bank of America Exec Preaches Gospel of 'Too Big to Fail' Banking
>>Read More: Helping Apple Haters Understand Why Android Is Doomed
>>Read More: How the iPad Can Get Even Bigger
At the time of publication, the author held no positions in any of the stocks mentioned.
This article represents the opinion of a contributor and not necessarily that of TheStreet or its editorial staff.