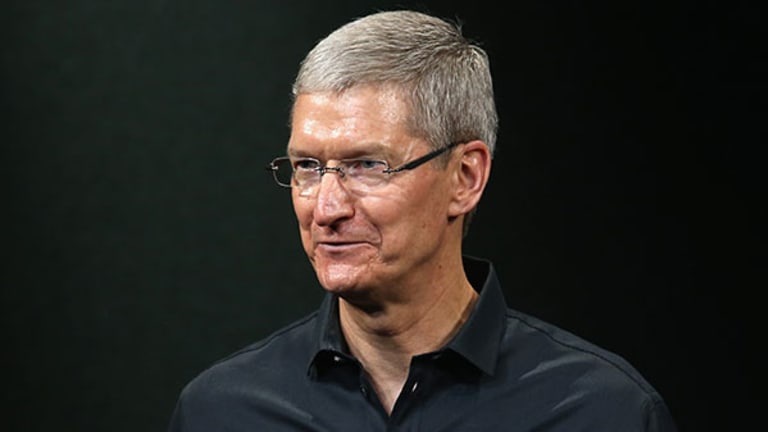 Apple's 'Smart Home' Levels Android All Over Again
If the idea of making your iPhone even more useful comes to life, Android's really toast.
If the idea of making your iPhone even more useful comes to life, Android's really toast.
NEW YORK (TheStreet) -- Here's a link, via MacDailyNews, that provides the quickest, dirtiest and best summary I read over the weekend of Apple's (AAPL) - Get Report purported "Smart Home" software platform.
Nothing there -- scooped by the same guy (Tim Bradshaw of The Financial Times) who broke the Apple/Beats news -- should come as a surprise.
I hit up TheStreet's archives and discovered an article our tech editor, Chris Ciaccia, wrote in August 2013: Apple's iPhone: The Tech Titan's Secret Weapon for TV. That day, I immediately followed Chris's article up with Your iPhone as an Apple TV Remote: What a Concept! where I excerpted a key passage from Ciaccia's effort ...
An Apple patent published by the U.S. Patent and Trademark Office will allow the iPhone to essentially work as a television and smart home remote, allowing users to manage and recall entertainment ...
The patent was first filed five years ago, but was only granted Tuesday ...
This patent allows the iPhone to not only control a television, change a scene or play a game, but it can also be a home theater remote. In his biography, Steve Jobs told biographer Walter Isaacson that there should be no need for several remotes, that one could do the job.
... and connected it to an article I wrote earlier in August 2013. In Whatever Happened to Apple's Halo Effect, I wrote:
For example, if you have an iPhone and love it, you might be more likely to stick with it -- even if it doesn't see revolutionary changes -- if that iPhone works in concert with some sort of living room technology, preferably a television set. Same goes for iPad. Historically, Apple has done a great job making it easy for you to own just one Apple product, but establishing the allure of owning more than one and getting them to easily and efficiently work together.
So looking back and coupling our August 2013 thoughts with what we think we know today about a "Smart Home" reveal at WWDC, I was too focused on the living room and, more specifically, an actual Apple television set. However, the notion of taking iPhone and making it more (in)valuable to the consumer appears spot-on. And I stand by what I have said all along -- Apple will do an actual TV set, most likely integrated with the existing Apple TV set-top box and powered, at least in part, by iPhone and/or iPad. You have these devices in your hand while you're in the home and/or watching television so why not put them to more wide-ranging, utilitarian and dynamic use?
In and of itself, this is huge no matter how it comes together (assuming some iteration of "Smart Home" is a thing). But when you consider it with respect to Apple's competition, it's an even bigger deal. If your iPhone becomes an even more ubiquitous device than it already is today, there's even less hope for Android, particularly in the United States, than there was before talk of connecting iOS mobile devices to key home functions. Yet again ... Apple not only changes the game, but leapfrogs the dawdling competition in the process. Separate from this new development, I've got plenty to say about the hurt Apple's about to put on Android with iPhone 6. "Smart Home" not only supplements and complements all of that, it takes it to an entirely new level. 
Again, it appears everybody else sits back and waits for Apple's cue. That's not a business model, but it's pretty much all you can expect from competitors in a tech world still owned, controlled, dominated and dictated by Apple. Tim Cook's Apple. 
--Written by Rocco Pendola in Santa Monica, Calif.

WATCH: More tech videos on TheStreet TV | More videos from Brittany Umar
Rocco Pendola is a full-time columnist for
TheStreet
. He lives in Santa Monica. Disclosure: TheStreet's editorial policy prohibits staff editors, reporters and analysts from holding positions in any individual stocks.